Activities, Lesson Plans, and More
Age Range Key
Y—Young (PreK-3rd)
M—Middle (4th-6th)
O—Older (7th-12th)
T—Teacher Resources
Curated selection of volcano resource links, including lessons, worksheets, downloads, and more

Jump to:
General Volcanoes
10,000 Years of Volcanoes (Y,M,O,T)
10,000 Years of Volcanoes is an interactive guide to volcanoes around the world from the Smithsonian Institution Global Volcanism Program. It uses Google Earth to explore 1,400 volcanoes, including Kilauea in Hawaii, U.S.; Mount Vesuvius in Italy; Taal in the Philippines; Bezymianny in Russia; St. Helens in Washington, U.S.; Galeras in Colombia; Mount Nyiragongo in the Democratic Republic of the Congo; and more.
Volcano GeoInquiries: Lessons and Interactive Maps (M,O,T)
ESRI, the creator of the popular online mapping software ArcGIS, has a large collection of inquiry-led, map-based activities that cover a range of subjects related to volcanoes, including Plate Type Effect on Volcanoes, Hot Spots, Mountain Building with Volcanoes, and more.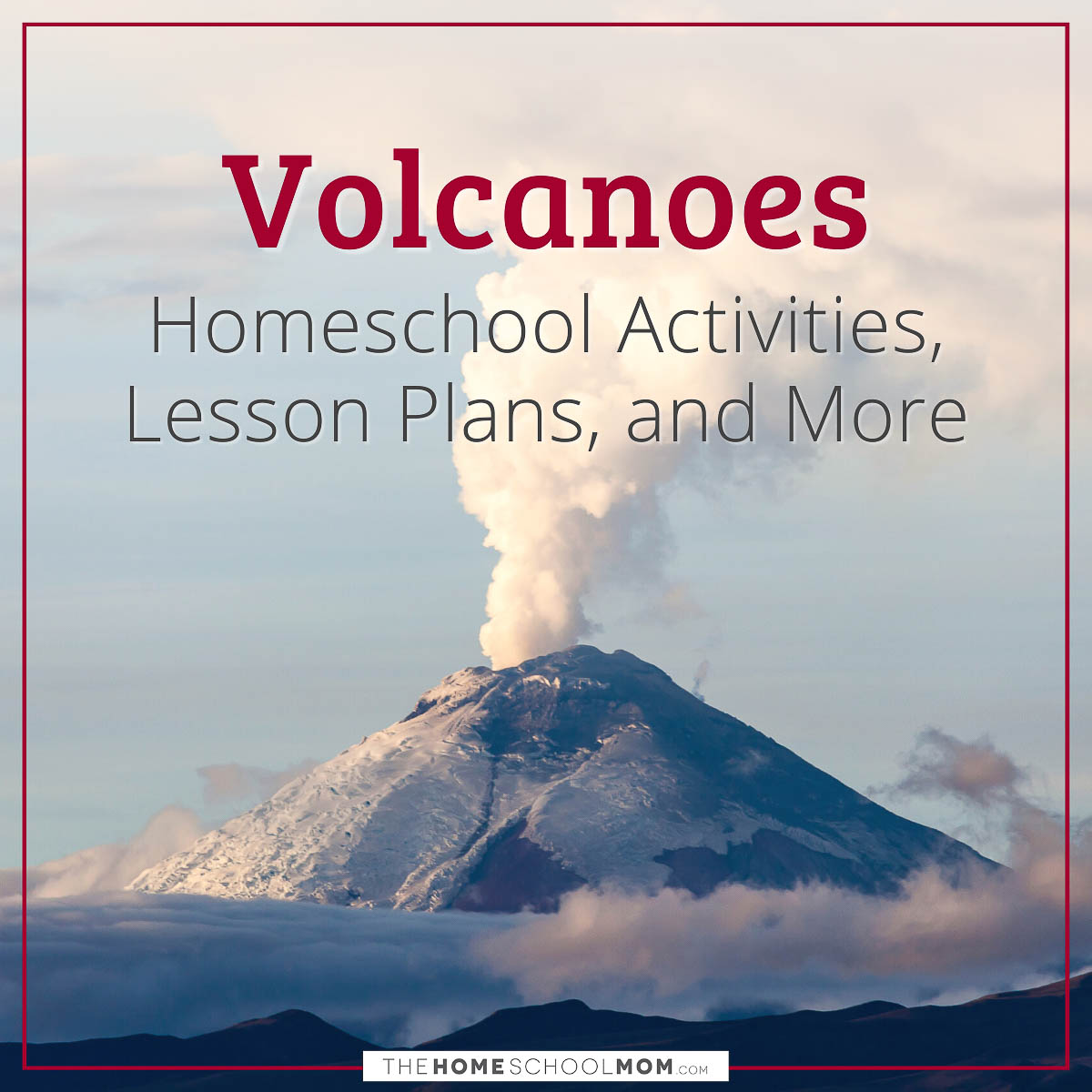 Forces of Nature: Volcanoes (Y,M,O,T)
This interactive educational website from National Geographic has diagrams, videos, maps, and infographics that explain how volcanoes work. It also has a digital "Create a Volcano" activity, an interactive map, and more. From National Geographic.
USGS Volcanic Observatories (M,O)
U.S. Geological Survey monitors volcano activity, assess their hazards, issues warnings, and advances scientific understanding to reduce impacts of volcano eruptions. You can find observatory pages for Alaska, California, the Cascades, Hawaii, and Yellowstone.
Tour of Park Geology - Volcano Parks  (Y,M,O,T)
Volcanic processes are constantly changing the Earth. Eruptions can create new islands, build and destroy mountains, and alter landscapes. Active, dormant, and ancient remnants of eruptions are all contained within our National Parks. Many features we see when visiting the National Parks are created by volcanic processes such as geysers, ash flows, and hot springs. Visit the links on this page to learn more about the different types of volcanoes, the rocks created from eruptions, and the landforms that exist because of volcanic processes in the National Parks.
Mount St. Helens National Volcanic Monument  (Y,M,O,T)
At 8:32 Sunday morning, May 18, 1980, Mount St. Helens erupted. Shaken by an earthquake measuring 5.1 on the Richter scale, the north face of this tall symmetrical mountain collapsed in a massive rock debris avalanche. Nearly 230 square miles of forest was blown down or buried beneath volcanic deposits. At the same time a mushroom-shaped column of ash rose thousands of feet skyward and drifted downwind, turning day into night as dark, gray ash fell over eastern Washington and beyond. The eruption lasted 9 hours, but Mount St. Helens and the surrounding landscape were dramatically changed within moments. In 1982, the President and Congress created the 110,000-acre National Volcanic Monument for research, recreation, and education. Inside the Monument, the environment is left to respond naturally to the disturbance.
Pinnacles  (Y,M,O,T)
An Ancient Volcano: Rising out of the chaparral-covered Gabilan Mountains, east of central California's Salinas Valley, are the spectacular remains of an ancient volcano. Massive monoliths, spires, sheer-walled canyons and talus passages define millions of years of erosion, faulting and tectonic plate movement.
Lassen Volcanic National Park  (Y,M,O,T)
Witness a brief moment in the ancient battle between the earth shaping forces of creation and destruction in Northern California. Nestled within Lassen's peaceful forests and untouched wilderness, hissing fumaroles and boiling mud pots still shape and change the land, evidence of Lassen's long fiery and active past.
Sunset Crater Volcano National Monument  (Y,M,O,T)
Sunset Crater Volcano was born in a series of eruptions sometime between 1040 and 1100. Powerful explosions profoundly affected the lives of local people and forever changed the landscape and ecology of the area. Lava flows and cinders still look as fresh and rugged as the day they formed. But among dramatic geologic features, you'll find trees, wildflowers, and signs of wildlife -- life returns.
Volcanoes of the World  (Y,M,O,T)
Data compiled by Smithsonian volcanologists over the past three decades is available at this free website. You can use the "Find a Volcano by Eruption Date" to find currently active volcanoes. Each volcano also has a link to Google Earth.
National Geographic Volcano Resources (Y,M,O,T)
National Geographic has a large collection of lessons, activities, maps, videos, interactives, and more for learning about volcanoes, calderas, plate tectonics, and specific volcanoes.
Volcanoes in Iceland (Y,M,O,T)
This informational page from the Exploratorium includes an overview of volcanoes in Iceland, the country's geography, and links to additional resources.
Volcanoes Interactive Guide (Y,M,O,T)
Learn all about volcanoes, lava, hot spots, and more in this interactive guide for kids from DKFindOut.
Make Your Own Erupting Volcano (Y,T)
You have heard people talk about this experiment, now you can try it yourself.
Volcanoes (Y)
Enchanted Learning has an encyclopedic page exploring volcanoes. It includes an A-to-Z glossary of volcanic terms, explanation of volcanic activity, types of volcanoes, activities, printables, and more.
Mt. Vesuvius
Recreation of Vesuvius Erupting (Y,M,O,T)
An animated re-creation of the Vesuvius eruption in Pompeii that is accompanied by discussion topics and activities from Museums Victoria in Australia.
Virtual Field Trip to Mt. Vesuvius (Y,M,O,T)
"This is a virtual field trip to Italy's Mt. Vesuvius, which explores the 79AD eruption of the volcano. Students explore the excavated cities of Pompeii and Herculaneum, as well as the different types of volcanic deposits found to have buried those cities. Students use their observations to develop hypotheses about past and future volcanic hazards associated with the volcano." From Carleton College.
The Pompeii Forum Project (Y,M,O,T)
"The Pompeii Forum Project is an interdisciplinary collaborative research venture sponsored by the National Endowment for the Humanities, the University of Virginia, and private contributors." This is a large, educational website that includes archival photos, notes for teachers and students, notes on the volcanic/seismic structural response investigation, and more.
Mount Vesuvius Facts for Kids  (Y,M)
From Soft Schools.com, an education website providing free worksheets, games, and quizzes.
Mount Vesuvius & Pompeii: Facts & History  (M)
An overview of Mount Vesuvius's geography and history from Live Science.
The Destruction of Pompeii, 79 AD  (Y,M,O,T)
A story about the eruption of Mount Vesuvius from someone who survived it. From Eye Witness to History.
Mt. Vesuvius Volcanic Activity Timeline  (Y,M,O,T)
This Mt. Vesuvius profile from Vesuvioinrete.it provides a timeline of volcanic activity from 79 AD to 1944.
Virtual Tour of Pompeii (Y,M,O,T)
A comprehensive virtual tour of the Ancient Roman city of Pompeii from a Christian perspective.
Krakatoa
Krakatoa Lesson for Kids: History & Facts (Y)
Mount Vesuvius Facts for Kids  (Y, M)
From Soft Schools.com, an education website providing free worksheets, games, and quizzes.
Krakatoa Volcano: Facts About 1883 Eruption  (Y,M,O,T)
"The eruption of Krakatoa, or Krakatau, in August 1883 was one of the most deadly volcanic eruptions of modern history." This article from Live Science provides an overview.
The Great Explosion of the Krakatau Volcano   (Y,M,O,T)
An in-depth guide to the 1883 Krakatau eruption that looks at the geography, chronology, effects on the atmosphere and climate, and tons more.
Krakatoa Volcano Eruption in 1883 Was a Worldwide Weather and Media Event  (Y,M,O,T)
An overview of the eruption of the volcano at Krakatoa from ThoughtCo.
The Volcanic Eruption of Krakatoa   (Y,M,O,T)
An original, September 1884 Atlantic Monthly article on the eruption of Krakatoa.
Krakatoa - The Great Volcanic Eruption   (Y,M,O,T)
Krakatoa - The Great Volcanic Eruption is a docudrama from Naked Science, a National Geographic television series that ran from 2004 to 2011. The full episode can be watched for free on YouTube.