Activities, Lesson Plans, and More
Age Range Key
Y—Young (PreK-3rd)
M—Middle (4th-6th)
O—Older (7th-12th)
T—Teacher Resources
Jump to:
Rocketry Lessons & Educational Resources
NASA Rocketry Educational Site  (Y,M,O,T)
This NASA Rocketry site contains profiles of specific rockets, overviews of various NASA missions, biographies of the "Fathers of Rocketry," picture guides, photos, and a large collection of rocketry lesson plans for grades K-12.
Scott Manley: Rockets, Rocket Science, and Orbital Mechanics Videos  (M,O)
The Scott Manley YouTube Channel has a comprehensive collection of videos covering everything from the latest rocket launches, rocket failures and crashes, and spaceflight history to mathematics, orbital mechanics, and rocket science.
Spaceflight Now  (Y,M,O,T)
Curious about the latest rocket launch? Want to watch the next one? Spaceflight Now is a dedicated spaceflight news site that covers spaceflights and launches from around the world.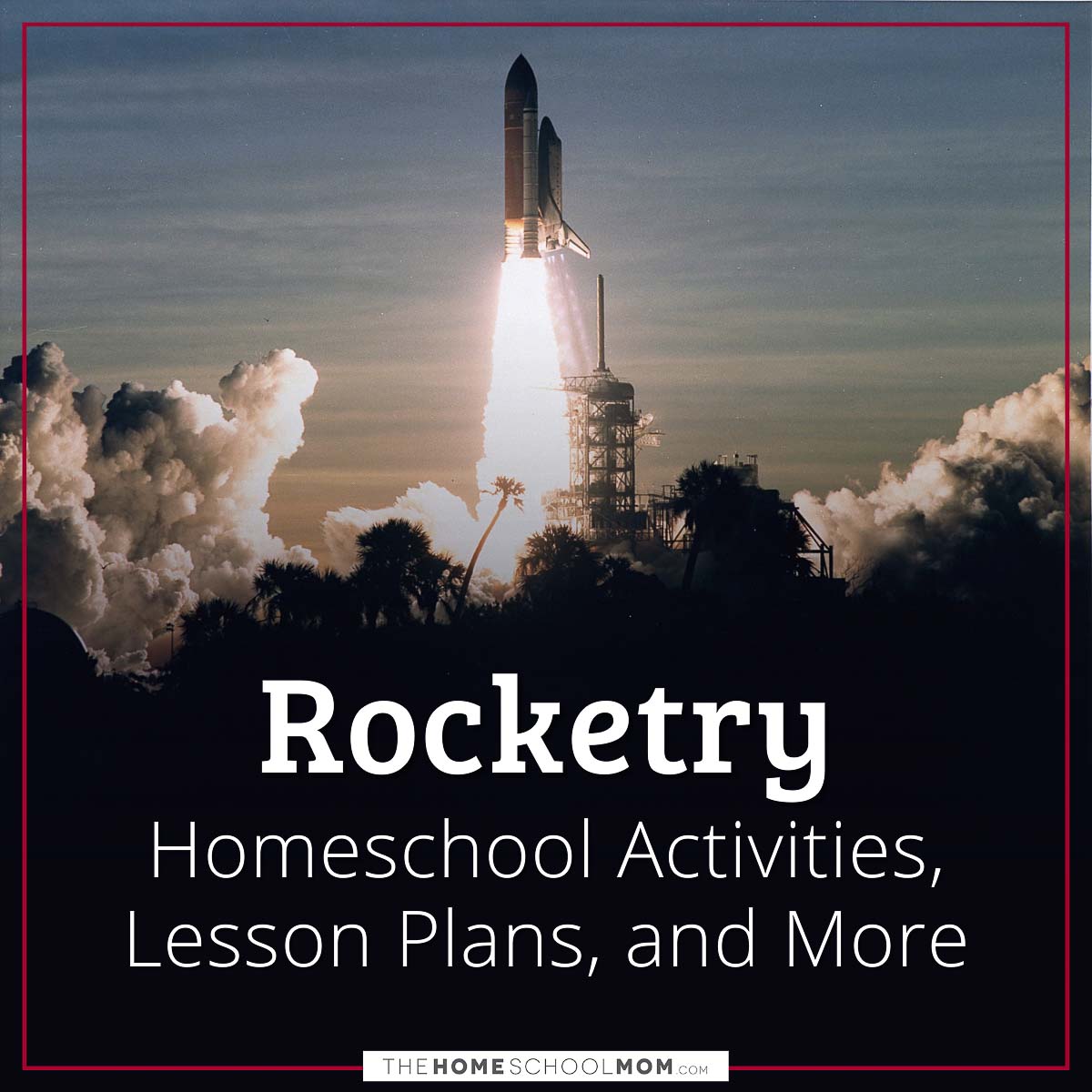 Richard Nakka's Experimental Rocketry Web Site  (O)
Richard Nakka is a mechanical engineer whose personal website contains a wealth of information on amateur experimental rocketry, rockets, rocket science, and more. You can explore launch reports on specific rockets and learn about propellants, motors, and everything you need to know to build model rockets.
Model Rockets and Rocketry Curriculum  (M)
Estes Education has a large collection of rocketry lesson plans, units, activities, and more to accompany its model rocket building kits. For grades 4-10.
Teacher Resources - National Association of Rocketry  (T)
The National Association of Rocketry has a large collection of resources from around the web to learn about rocketry, rocket science, and information on starting, funding, and leading a rocketry club.
Rockets Away  (O,T)
The Rockets Away educational program teaches about the science of rocketry through the use of hands-on experiments, computer software and the building and launching of 2-liter bottle rockets.
Teaching Tips and Curriculum for Model Rockets  (T)
Start your flight journey by launching model rockets. The Apogee Rockets website has everything you need to get started, including rocketry lesson plans, tool kits, how-to guides, and more.
Tripoli Rocketry Association  (O,T)
"Tripoli is a non-profit organization dedicated to education, advancement and safe operation of amateur high-power rocketry." Its website has lots of good information about legalities, safety, how to get started, finding a club, and more.
The American Rocketry Challenge  (Y,M,O,T)
"The American Rocketry Challenge is the world's largest rocket contest with nearly 5,000 students nationwide competing each year. The contest gives middle and high school students the opportunity to design, build and launch model rockets and hands-on experience solving engineering problems." The website also contains plenty of how-tos, guides, lessons, and more.
Free Supercharged Science Activity Manual and Video Collection   (Y,M,O,T)
Ever felt challenged when it comes to teaching science? By special arrangement with Supercharged Science, we have a free collection of experiments and activities from a special science program (including videos and readings) for you to download. Aurora Lipper of Supercharged Science has been kind enough to write several very popular science articles on TheHomeSchoolMom and she has created a remarkable solution to the challenge that homeschoolers face when teaching science. Her K-12 e-Science online science curriculum is a totally fun and exciting curriculum that guides kids step-by-step through science lessons and activities using video instruction combined with lots of hands-on activities and experiments.
How Rocket Engines Work  (M,O,T)
An in-depth article from How Stuff Works that looks at how rocket engines work, thrust, fuel, and more.
Beginner's Guide to Rockets  (Y,M,O,T)
The Beginner's Guide to Rockets from NASA will help you learn the basic math and physics that govern the design and flight of rockets. It covers topics like Newton's Laws of Motion, the Principle of the Rocket, the Evolution of Rockets, and more.
Kennedy Space Center Educator Resources  (Y,M,O,T)
The NASA Educator Resource Center (ERC) at Kennedy Space Center Visitor Complex provides educational resources available include videos, slides, lesson plans, publications and lunar & meteorite samples.
Aerospace Activities and Lessons Educators Page  (Y,M,O,T)
A wide variety of aerospace activities and lesson plans have been generated by active teachers, educators, and NASA engineers and scientists.
National Air and Space Museum Educator Resources  (Y,M,O,T)
The Smithsonian's National Air and Space Museum has a large collection of educator resources, including lessons, activities, videos, posters, and more.
Rocket Lessons and Activities  (Y,M,O,T)
Teach Engineering has a large collection of K-12 rocketry lesson plans and activities covering topics like satellites, thrust, propellants, Newton's third law of motion, and much more.
Rocket Engineering Unit for Kids  (Y,M,O,T)
"Students learn how and why engineers design satellites to benefit life on Earth, as well as explore motion, rockets and rocket motion. Through six lessons and 10 associated hands-on activities, students discover that the motion of all objects—everything from the flight of a rocket to the movement of a canoe—is governed by Newton's three laws of motion. This unit introduces students to the challenges of getting into space for the purpose of exploration. The ideas of thrust, weight and control are explored, helping students to fully understand what goes into the design of rockets and the value of understanding these scientific concepts. After learning how and why the experts make specific engineering choices, students also learn about the iterative engineering design process as they design and construct their own model rockets. Then students explore triangulation, a concept that is fundamental to the navigation of satellites and global positioning systems designed by engineers; by investigating these technologies, they learn how people can determine their positions and the locations of others." From Teach Engineering.
Science Learning Hub Rocket Lesson Plans  (Y,M,O,T)
The Science Learning Hub | Pokapū Akoranga Pūtaiao is a publicly-funded educational website for science in New Zealand. You can find tons of explainer articles and diagrams on rockets and rocket science, activities, videos, slideshows, and even an interactive rocket launch challenge.
ULA Rocket Science Resources  (Y,M)
United Launch Alliance is responsible for launching weather, telecommunications, and national security satellites into space using its its Atlas V and Delta IV rockets. Its educational resources include printable paper model rocket templates, coloring sheets, activity pages, videos, and more.
Rocket Lab Resources  (Y,M,O,T)
Rocket Lab is a space company responsible for delivering satellites to space via its rockets. Its website has lessons, activities, guides, and coloring pages for learning about rockets, satellites, and orbital mechanics.
3...2...1...PUFF!  (Y,M,O,T)
Rocketry Lesson Plans for grades K-4 and 5-8 from the Stem Education Resources division of NASA. IN this lesson, students will construct small "indoor" paper rockets, determine their flight stability and launch them by blowing air through a drinking straw.
Sputnik and the Dawn of the Space Age  (Y,M,O,T)
Sputnik and the Dawn of the Space Age is a NASA feature compiled for the 50th Anniversary of the Space Age. It includes a timeline of Sputnik launches, photos, documents, lesson plans, and links to resources from around the web.
Lunar Landing  (M,O,T)
This AP physics activity from NASA's Math and Science at Work will have students use equations of motion and force to learn about landing on the moon.
NASA SPACESHIP/ROCKET: Space shuttle videos for kids  (Y,M,O,T)
An introductory video on space shuttles for young kids, from Things That Go TV on YouTube.
Space Shuttle Challenger
Day of Rememberance  (Y,M,O,T)
From NASA, this page has memorial videos for Apollo 1, Space Shuttle Challenger, and Space Shuttle Columbia as well as bios for each of the astronauts.
NASA's Overview of the Challenger Disaster  (O,T)
Detailed overview of the Challenger STS 51-L Accident from NASA.
Challenger Shuttle Disaster at 25: NASA Recalls Darkest Moments  (T)
This article from Space.com reviews the Challenger disaster from the perspective of a quarter of a century later.
The Big Picture: Space Shuttle Challenger  (T)
The Challenger disaster is one of those points in history that everyone who is old enough to remember it can remember where they were when they heard the news. Boston.com's Big Picture captures the mission in photos from the announcement of Christa McAuliffe as the teacher selected for the mission to the coverage of the aftermath.
Challenger Disaster - A NASA Tragedy  (M,O,T)
This ThoughtCo. page for the Space Shuttle Challenger details the mission, the crew, what went wrong, and the aftermath.
The Challenger Center  (Y,M,O,T)
The Challenger Centers are located in science and math centers around the US. The website has teacher and student resources including Webcasts, art projects, competitions, games, and science challenges to inspire children to math and science careers.
Space Shuttle Columbia
Day of Rememberance  (Y,M,O,T)
From NASA, this page has memorial videos for Apollo 1, Space Shuttle Challenger, and Space Shuttle Columbia as well as bios for each of the astronauts.
Top 10 myths surrounding NASA's Columbia space shuttle disaster  (Y,M,O,T)
An article by James Oberg, a NBC News Space Analyst, from NBC News.
Space Shuttle Columbia Fast Facts  (Y,M,O,T)
A quick list of facts about the space shuttle Columbia, its crew members, and a timeline of events, from CNN.
NASA Orbiter Fleet - Space Shuttle Columbia  (Y,M,O,T)
The Columbia Space Shuttle was the first of NASA's winged orbiter fleet designed to be reusable. From NASA.
Columbia: First Shuttle in Space  (Y,M,O,T)
A brief timeline and history of the Columbia Space Shuttle. From Space.com
Space Shuttle Columbia and Her Crew  (Y,M,O,T)
This resource honors the STS-107 crew and their dedication to the spirit of exploration and discovery. It includes biographical information about crew members, photos, a timeline, related documents, and accident reports. From NASA.
Columbia Space Shuttle Disaster Explained (Infographic)  (Y,M,O,T)
Schematics and drawings to explain the Columbia disaster. From Space.com.
Profiles of the Columbia Astronauts  (Y,M,O,T)
From InfoPlease.com.