To be truly appreciated, poetry should be heard rather than read. Meter and rhyme, refrain and couplet, sonnet and stanza—they may be important to learn, but only after poetry is experienced.
Listening to poetry and experiencing the emotions that the poet meant to evoke brings the words to life. Experiencing poetry is crucial to appreciating it. Once it has been experienced, the process of creation can be studied with a focus on mechanics and editing.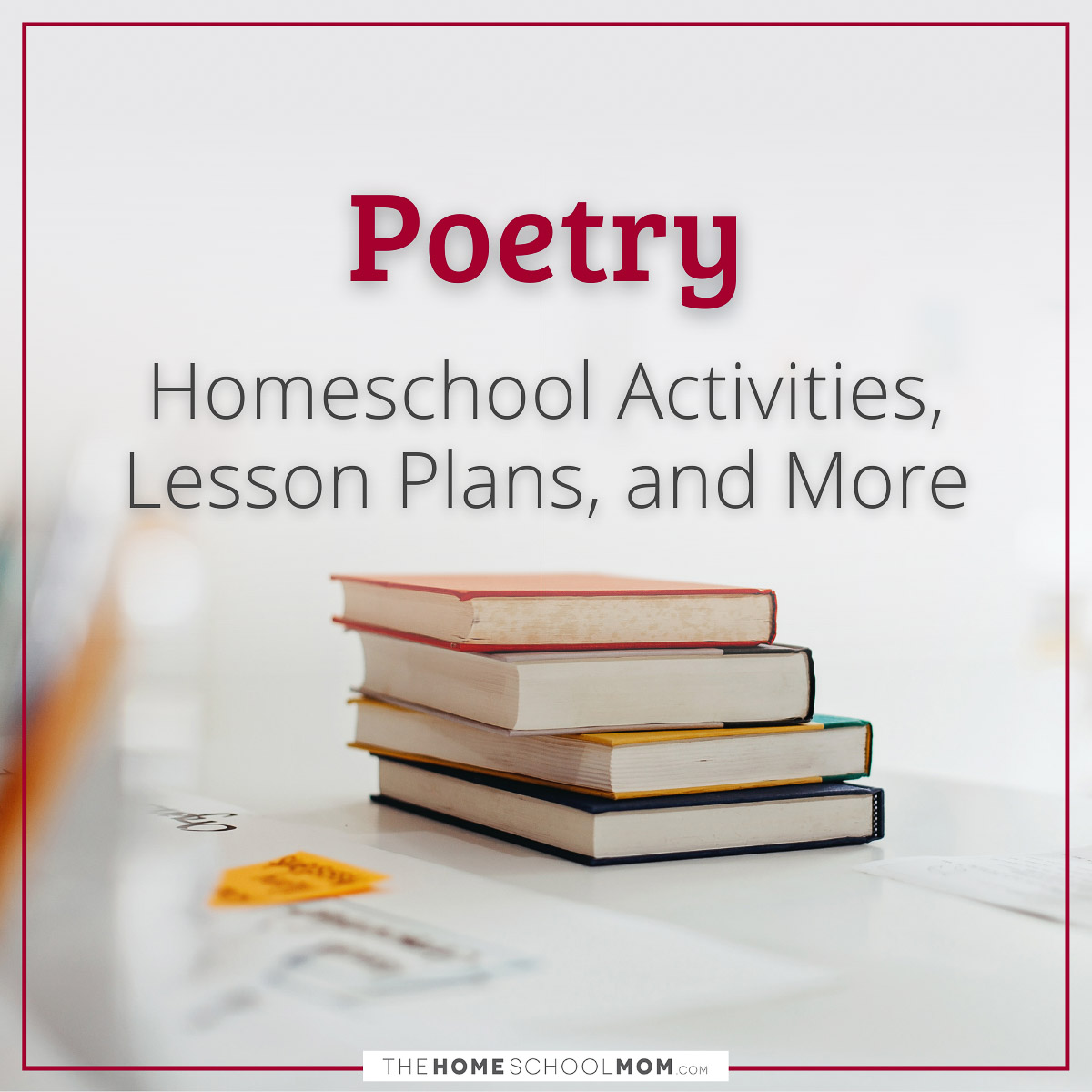 Jump to:
Age Range Key
Y—Young (PreK-3rd)
M—Middle (4th-6th)
O—Older (7th-12th)
T—Teacher Resources
Poetry Resources
The Emily Dickinson Museum  (M, O, T)
The Emily Dickinson Museum contains biographical information about Emily Dickinson and offers a multitude of lesson plans and learning resources to accompany her writing. The lessons encourage students to explore language, environment, and a writer's history when examining poetry.
Glossary of Poetic Terms  (O, T)
This extensive glossary from the Poetry Foundation covers everything from poetic devices, types of poetry, and more.
Maya Angelou Educational Toolkit  (M, O, T)
This teacher's toolkit from KERA provides a good overview for learning about and teaching Maya Angelou. It includes several lesson plan ideas, biographical information, and links to additional resources. Designed for upper elementary to high school students. Be sure to review any content for age-appropriateness.
Learning Poetry: A Guide for Students, Teachers, and Homeschoolers (M, O, T)
Tools for learning, teaching, and writing poetry from the Society of Classical Poets.
TEDed Poetry Video Lessons  (Y, M, O, T)
TEDed hosts a large collection of poetry-related video lessons that cover fascinating and unique topics. You can find lessons on famous historical poets, multicultural poetry, poetry from ancient cultures, and more.
PBSLearning Poetry Lessons  (Y, M, O, T)
PBSLearning has a large collection of K-12 poetry lessons. The lessons include units on famous poets and poetic devices, as well as topics like poetry in pop culture, multicultural poetry, and using poetry to raise awareness.
Hip-Hop & Shakespeare? Akala TED Talk (Video)  (M, O)
An excellent TED talk by Akala, a hip hop artist who fuses rap/rock/electro-punk with lyrical storytelling. He "demonstrates and explores the connections between Shakespeare and Hip-Hop, and the wider cultural debate around language and its power."
Slam Poetry Groups, Events, and Resources  (O, T)
Power Poetry is a site that features and facilitates slam poetry writers and events. Use the resource map to find a poetry group near you, discover numerous online poetry groups under the groups tab, or create your own! Check out the resources page to find lesson plans, teacher guides, and other resources for teaching poetry.
Poetry Lessons from the Pulitzer Center  (O, T)
These five lessons from the Pulitzer Center focus on how poetry reflects current events and culture at the time its written. This page is updated annually with contests and workshops.
Poetry in America Courses  (O)
Poetry in America connects high-school students to online, college-level poetry courses from Harvard University and Arizona State University. Some are audit-only, while others can be taken for college credit.
Printable: Magnetic Poetry  (Y,M)
These printable magnetic poetry templates make it easier than ever to teach poetic forms like diamante, haiku, or cinquain. From Scholastic.com for grades K-8.
Ideas for Teaching Creative Poetry  (Y,M)
A poetry unit study that looks at various poets and forms of poetry. The students get a chance to read and write haiku, cinquain, couplets, limericks, form poems, shape poems, and free verse. From Scholastic.com for grades 3-5.
Master List of Themes for Poetry Teatime  (Y, M, O, T)
Help kids embrace poetry with Poetry Teatime from Brave Writer! Poetry Teatime pairs reading poetry aloud with a special treat and tea, and can be made more engaging with seasonal or holiday themes. Additions to the master list of themes are ongoing. Be sure to check out the links to all kinds of delicious teatime treats for ideas on what to serve!
Newspaper Blackout Poetry  (Y, M, O)
Even students who aren't poetry fans may enjoy this cool way of "writing" poetry. "Using a black marker," Austin Kleon "takes away the words he doesn't need, creating new poetic verses. He has compiled his poetry into a book called Newspaper Blackout and invites others to upload their own blackout poetry on his Tumblr page." Take a look at the examples on the linked page and let your kids try it out. The user submissions on his Tumblr page come from all ages, so if you visit that, preview for appropriateness for your family. Reading through the submissions inspires creativity and may encourage your budding poet to create his or her own blackout poetry.
PoetryFoundation.org  (Y,M,O,T)
The PoetryFoundation.org publishes Poetry magazine. Their goal is to select good poetry and get it out to a large audience. The foundation regularly publishes articles to assist educators in teaching poetry.
Shadow Poetry: Ultimate Poetry Resource  (Y,M,O,T)
Don J. Carlson hosts the site Shadow Poetry as a complete poetry writing and learning resource. Don is a poet, teacher, and a retired activity therapist. His site features a free 21-chapter, online poetry guide, a poetry dictionary, introductions to major poetry types, and guides for learning about many famous poets.
Rhymes with  (Y,M,O,T)
Internet rhyming dictionary. Warning - program does not edit content for words some consider inappropriate.
Knowing Poe  (O,T)
The complete guide to learning Edgar Allan Poe. The site contains biographical information, poems and stories, a collection of primary resources, and lesson plans.
Academy of American Poets Lesson Plans  (Y,M,O,T)
The Academy of American Poets publishes poems, poets' biographies, essays about poetry, and resources for K-12 teachers on its site Poets.org. It offers a large collection of lesson plans and teacher resources for all ages.
Everything You Need to Celebrate Poetry Month  (T)
A large collection of lesson plans, activities, articles, and projects for teaching poetry from Education World. Activities include a PowerPoint poetry slam, illustrating poetry, and several other fun ideas.
Sea Life Poetry  (Y,M)
A collection of poems about the oceans and sea life that features different forms of poetry. This is a fun way to integrate language arts into an ocean unit study.
FREE Online Rhyming Dictionary  (Y,M,O,T)
My daughter loves using this online tool when writing poetry. Just put any word in the form and specify whether you want results with end rhymes, first syllable rhymes, last syllable rhymes, beginning rhymes, or double rhymes. Your child is sure to find a word to use in their poetry or limerick from the results
Modern American Poetry  (Y,M,O,T)
MAPS=Modern American Poetry Site. Includes more than 30,000 pages of critical essays, images, biographies, and syllabi relating to 161 poets.
Walt Whitman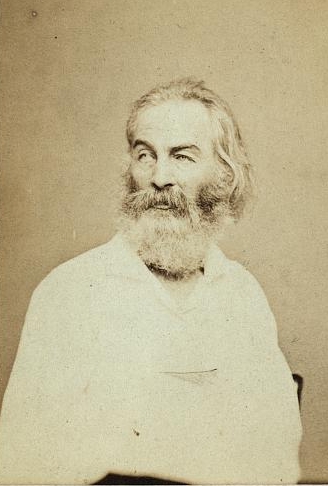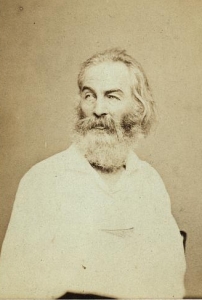 April is both National Poetry Month as well as the anniversary of the assassination of Abraham Lincoln, making it the perfect time to highlight Walt Whitman and his famous poem, "O Captain! My Captain!".
An emotional response to the murder of Lincoln, the poem was published in the Saturday Press in 1865 (those of a certain age will remember the famous scene from Dead Poets Society that led to the salutation being used as a tribute to Mr. Keating).
The Library of Congress calls Whitman "restlessly creative" due to his constant process of revision; he was still revising the verses in "O Captain! My Captain!" decades later.
When sent a proof from his publisher for a new book of his poems in 1888, Whitman returned it with handwritten corrections (the publishers of the "Riverside Literature Series" apparently had included an older version of the poem, which Whitman called "a bad perversion").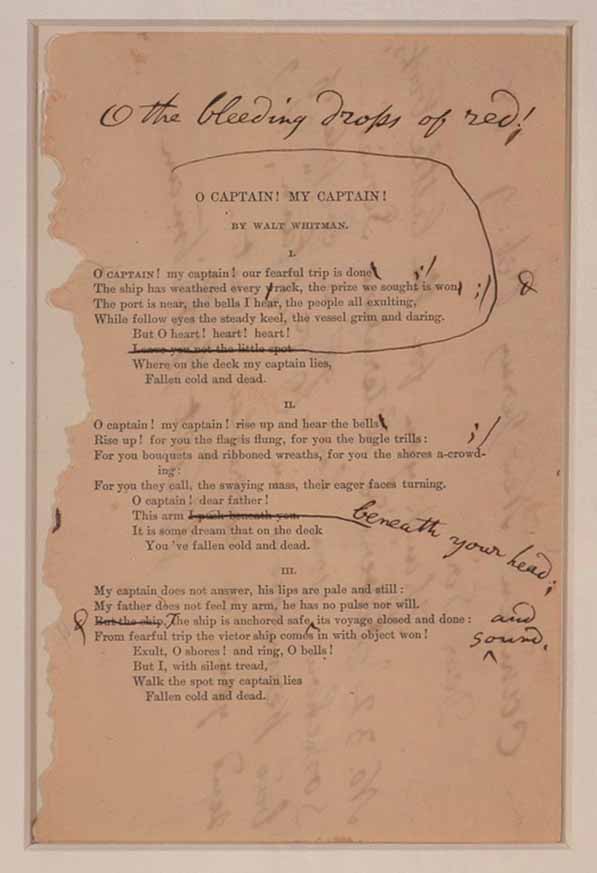 Revision in Poetry and Writing
Although many students are under the impression that successful writers produce immaculate first drafts, Whitman, like most writers, spent hours revising his work. Amy Hollingsworth, an author friend of mine, was recently asked about revisions and replied,
I would say that I'm not so much a writer as a re-writer. I edit everything, 1000 times. I can always think of a way to say it better. Occasionally a sentence or phrase will come out perfectly the first time, but it's rare. And I wouldn't trust it if it happened very often, because, as I said, I can always think of a better way to say it."
Finding the right wording is rarely easy. While working on "Hymn of Dead Soldiers" (later called "Ashes of Heroes"), Whitman kept a list of synonyms related to grief. Such tools are necessary for good writing, in which conciseness and accuracy are paramount. Most of his life was spent continually revising Leaves of Grass.
Whenever possible, have students listen to poetry rather than read it. YouTube has a beautiful version of "O Captain! My Captain!" read by Tom O'Bedlam that you can start with.
For more about Walt Whitman, visit the Smithsonian Institution's National Portrait Gallery feature.