Activities, Lesson Plans, and More
See legend at bottom for explanation of age codes
Patriot's Day Resources (Y,M,O,T)
A large collection of primary sources, articles, and other resources to learn about Patriot's Day from PBS. Inside, you can find timelines, maps, historic news coverage, and information on British leaders, Paul Revere, William Dawes, and more.
Patriot's Day: 5 Things You Should Know (Y,M,O)
Patriot's Day commemorates the Battles of Lexington and Concord and is primarily recognized in Massachusetts and Maine. This USA Today article provides a brief overview of the holiday and answers some FAQs.
Why Does Boston Hold a Marathon on Patriot's Day? (Y,M,O)
Today in Massachusetts, Patriot's Day has become nearly synonymous with the Boston Marathon. Learn about the history of the holiday, the marathon, and how the two relate in this article from the Atlantic.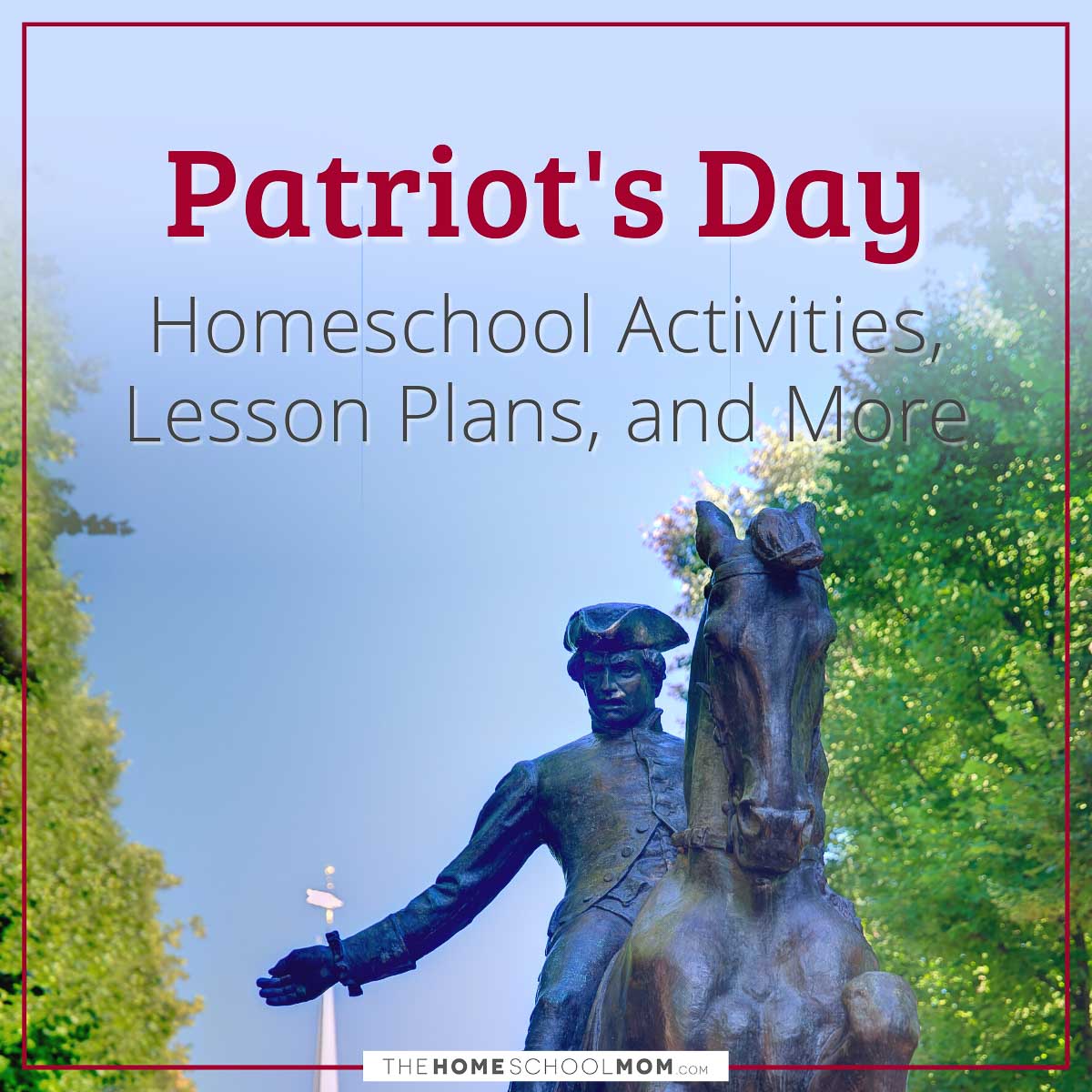 The Real Story of Revere's Ride  (Y,M,O,T)
From The Paul Revers House in Boston. A quick summary of Paul Revere's ride, some trivia questions, and an interactive map to fully understand the famous ride.
Paul Revere Biography  (Y,M,O,T)
Henry Wadsworth Longfellow's poem "Paul Revere's Ride," written in 1860 and published in 1861 in the Atlantic Monthly, transformed Paul Revere from a relatively obscure, although locally known, figure into a national folk hero. As a result, most people know him only for his famous ride to Lexington on the night of April 18-19, 1775. Revere's life, however, was a long and productive one, involving industry, politics, and community service.
One If By Land, and Two If By Sea!  (Y,M)
One If By Land, and Two If By Sea! What do students know about Lexington and Concord, the Old North Church, or the historical poem Paul Revere's Ride?
Minute Man National Park Resources  (T)
"Each year in mid-April, thousands of people flock to historic Lexington and Concord and Minute Man National Historical Park to celebrate Patriot's Day. Patriot's Day is a special Massachusetts State holiday commemorating the opening battle of the American Revolutionary War, April 19, 1775." The Minute Man NPS website contains a large number of educational videos, primary sources, and interactive maps for learning about the American Revolution and the battles that occurred in Minute Man National Historical Park.
April 19: This Day in History (LOC)  (M,O,T)
Resources from the Library of Congress about the Battle of Lexington and Concord.
The War in the North, 1775-1778  (O,T)
This lesson from the National Endowment for the Humanities covers the events during the American Revolutionary War, from 1775 to 1778. "By looking at documents of the time, and using an interactive map, students will see how an army was created and understand the challenges that Washington and his men faced during this critical early stage of the war." For grades 9-12.
Paul Revere Began His Famous Midnight Ride in 1775  (M)
Students learn about primary source documents while studying Paul Revere and researching personal family histories. For grades 4-8.
Paul Revere's Ride  (Y)
This lesson examines the political situation in Boston in 1775, using Henry Wadsworth Longfellow's poem, "The Midnight Ride of Paul Revere". For grades K-2.
Why Do We Remember Revere? Paul Revere's Ride in History and Literature  (M)
This EDSITEment lesson contains four activities for students to examine how the historical Paul Revere's ride differs from the account in Longfellow's poem. For grade 8.
The Paul Revere House  (Y,M,O,T)
The Paul Revere Memorial Association oversees the care and preservation of three historic buildings – the Paul Revere House, the Pierce/Hichborn House, and its Visitor Center in Lathrop Place. The Association's website contains educational materials on each of the buildings, biographical information on Paul Revere, a virtual midnight ride, interactive maps, and more.
Paul Revere's Ride  (Y,M,O,T)
A transcript of the poem, "The Landlord's Tale. Paul Revere's Ride" by Henry Wadsworth Longfellow.
Concord Museum (Y,M,O,T)
The Concord Museum in Concord, Massachusetts is home to a large collection of artifacts, digital exhibitions, and educational resources related to the history of the town, the American Revolution, and colonial America. Some of the digital resources you can explore include a virtual tour of Paul Revere's ride, a virtual exhibition on April 19, 1775, photographs of Paul Revere's lantern, and more.
"Concord Hymn" by Ralph Waldo Emerson (Y,M,O)
"Concord Hymn" is a poem written by Ralph Waldo Emerson in 1837 for the dedication of a monument commemorating the Battle of Concord. It contains the now-famous line, "the shot heard round the world." The full text is available on The Poetry Foundation website.
April 19, 1775: Lexington, Concord, and Beyond (M,O,T)
A resource guide form the Boston Public Library that includes primary resources related to the events leading up to, during, and after the battles of Lexington and Concord. Inside, you can find maps, letters, military correspondence, and other resources.
Mapping Boston and the American Revolution (M,O,T)
A map-based activity from the Norman B. Leventhal Map & Education Center at the Boston Public Library that has students evaluate historic maps of Boston and identify how the city's geography contributed to the American Revolution. For grades 4-8.
Boston 1775 (M,O,T)
Boston 1775 is a history blog created by J. L. Bell, a Massachusetts-based writer and historian. The website contains a wealth of information on the start of the American Revolution in Massachusetts, articles on hundreds of niche topics, primary source guides and analysis, and links to additional resources.
Age Range Key
Y—Young (PreK-3rd)
M—Middle (4th-6th)
O—Older (7th-12th)
T—Teacher Resources