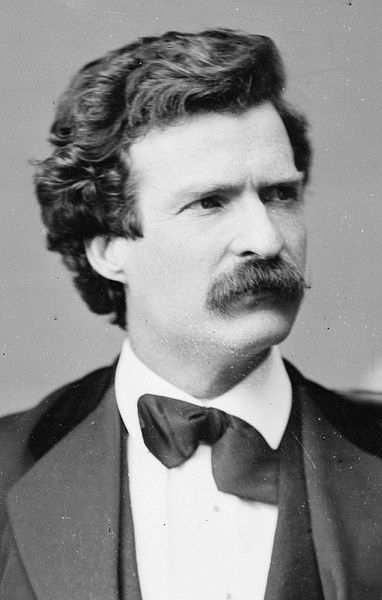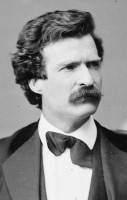 Mark Twain is known for writing The Adventures of Tom Sawyer and The Adventures of Huckleberry Finn. Mark Twain was his pen name. His real name was Samuel Langhorne Clemens. Mark Twain loved to travel and was successful in visiting five continents throughout his lifetime.
Born - November 30, 1835
Died - April 21, 1910
Activities, Lesson Plans, and More
Age Range Key
Y—Young (PreK-3rd)
M—Middle (4th-6th)
O—Older (7th-12th)
T—Teacher Resources
Center for Mark Twain Studies  (Y,M,O,T)
A comprehensive collection of primary resources for all things Mark Twain. Video clips of films portraying Mark Twain, news paper articles, speeches, interactive maps, virtual tours, and published interviews with the famous author are among the many resources provided.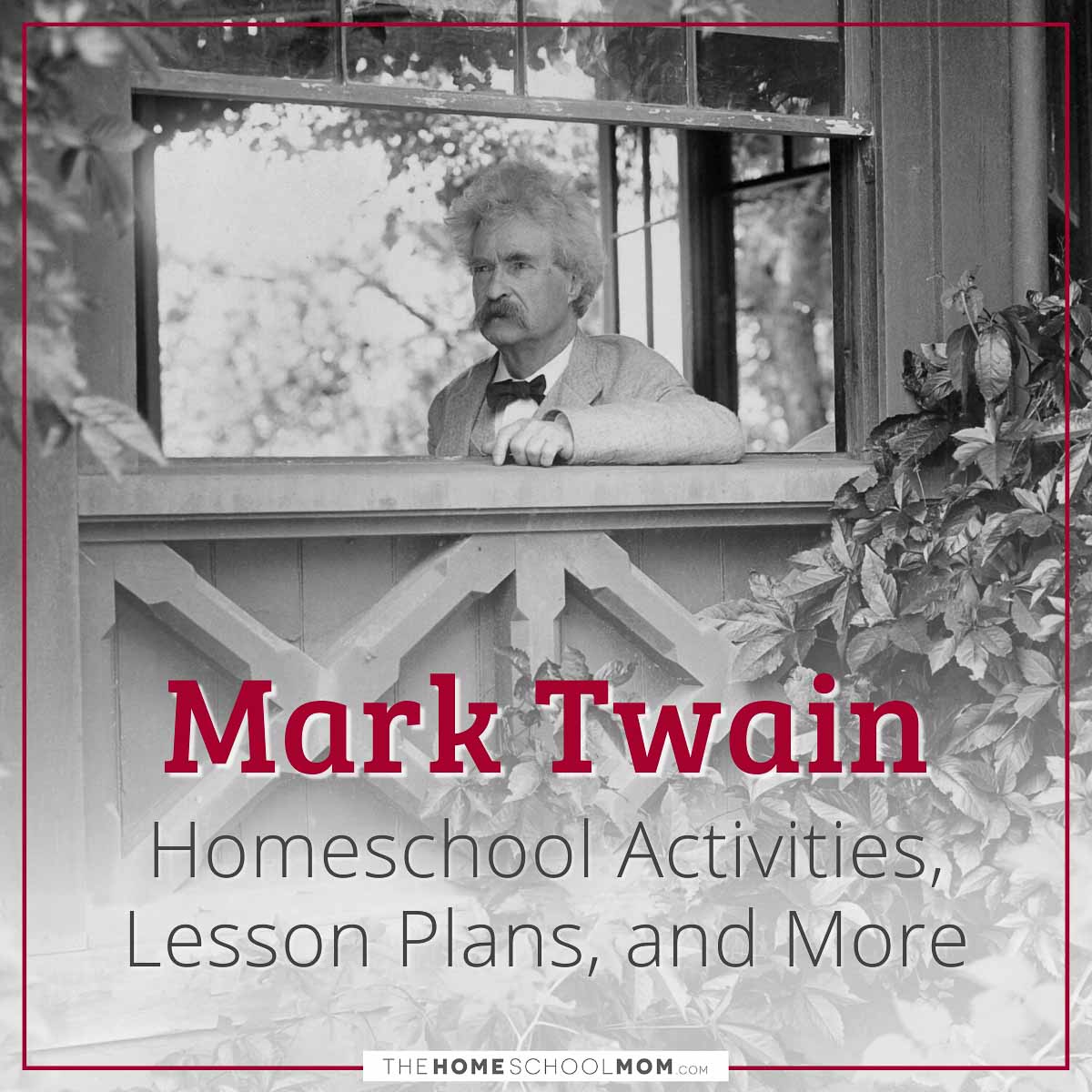 Mark Twain Boyhood Home & Museum  (Y,M,O,T)
A site dedicated to Twain's former boyhood home, now museum, offering in-person and virtual tours. The site includes information on Twain's life, works, family genealogy, as well as lesson plans and guides for teachers.
Mark Twain House & Museum  (Y,M,O,T)
A museum dedicated to the work, life and times of author Mark Twain. If you can't visit the museum in person, the website is home to a large collection of resources, including videos, middle and high school lesson plans, games, puzzles, coloring pages, a virtual tour, and more.
Mark Twain in His Times  (Y,M,O,T)
An interpretive archive project that comes from the University of Virginia Barrett Collection. It views Mark Twain's works from his time and included reviews written, how his works were marketed, voice clips from Twain himself, and letters.
Mark Twain Interactive Scrapbook  (Y,M,O,T)
A large source of material from PBS on the author Mark Twain. The site features a diverse set of selected works by the author, an interactive photographic timeline of Twain's life, clips from a full length PBS documentary, as well as teacher resources for the classroom.
Mark Twain Project Online  (Y,M,O,T)
Mark Twain Project Online applies innovative technology to more than four decades' worth of archival research by expert editors at the Mark Twain Project. It offers unfettered, intuitive access to reliable texts, accurate and exhaustive notes, and the most recently discovered letters and documents.
Mark Twain Birthplace State Historic Site  (Y,M,O,T)
The rented cabin Mark Twain (Samuel Clemens) was born in is now preserved inside the museum at Mark Twain Birthplace State Historic Site. Activities include: fishing, hiking, and tours.
Mark Twain's Cave  (Y,M,O)
The Mark Twain Cave Complex boasts America's Oldest and Newest Show Caves. Mark Twain Cave is Missouri's first Show Cave.
Mark Twain Quotes  (M,O,T)
Extensive collection of quotes arranged alphabetically by topic.
Portraits Visual and Written  (M,O,T)
"The lessons in the Smithsonian in Your Classroom introduce students to the life and work of an American author, Samuel Clemens, through four sources: A portrait from the Smithsonian's National Portrait Gallery, a commemorative stamp from the Smithsonian's National Postal Museum, a piece of autobiographical writing, and an abridged passage from a novel."
Biography Mark Twain  (Y,M)
A simple introductory biography for younger students on the life, works, and death of Mark Twain. It includes famous quotes and fun facts. From Duckster's.
Mark Twain - Mini Biography (Video)  (Y,M,O,T)
From Biography.com. A short verbal video of people talking about snippets of Mark Twain's life and work.
The Adventures of Mark Twain (Video)  (Y,M,O)
A feature length claymation fantasy film directed by Will Vinton and starring James Whitmore. The film features a series of vignettes extracted from several of Mark Twain's works. (Run-time 1:26:13)
Short Animated History of Mark Twain (Video)  (Y,M)
A short biography of the life of Mark Twain geared towards a younger audience.
Biography of Mark Twain  (M,O)
A general overview and biography of Mark Twain's life and career from Britannica. Includes several videos, images, and quotes as supporting material, as well as quizzes and fun facts.
Illustrating Slavery in Mark Twain's Writings  (O,T)
A detailed look at the many publications Mark Twain wrote referring to slavery and his views upon it. Includes dozens of pictures he included with his books and articles with explanations on how they were perceived at the time, why he included them, and how it shaped the context Americans' viewed the subject.
Full Works of Mark Twain  (M,O,T)
A full archive of all published works of the famed author including books, short stories, and essays.
Mark Twain at Large: His Travels Here and Abroad  (Y,M,O,T)
Mark Twain at Large: His Travels Here and Abroad is an online exhibition from The University of California Berkeley that uses letters, notebooks, photos, and other primary source docs to showcase the life and work of Mark Twain.
Mark Twain: A Skeptic's Progress  (Y,M,O,T)
Mark Twain: A Skeptic's Progress is an online exhibition by The Morgan Library & Museum and the New York Public Library that contains a large collection of manuscripts, letters, drawings, photos, and other artifacts and documents related to Mark Twain.