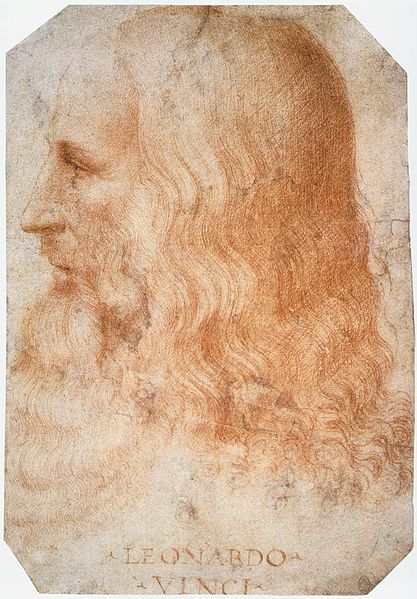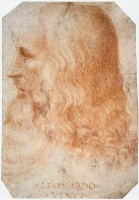 Leonardo daVinci is one of the greatest and most influential artists of all time. His most famous works include: the Mona Lisa , The Last Supper, Vitruvian Man, Lady with an Ermine, and Self-portrait in Red Chalk. He is considered a Polymath for his extensive knowledge in painting, sculpting, architecture, music, math, engineering, anatomy, geology, cartography, botany, and writing.
Born - April 15, 1452
Died - May 2, 1519
Age Range Key
Y—Young (PreK-3rd)
M—Middle (4th-6th)
O—Older (7th-12th)
T—Teacher Resources
Leonardo da Vinci: The Genius - Biography and Activities (Y,M,O,T)
Explore Leonardo da Vinci as the artist, the inventor, and the scientist in this biographical page from the Museum of Science, Boston. Inside, you'll also find lessons, activities, and interactives.
Leonardo da Vinci: A Life in Drawing (Y,M,O,T)
This Leonardo da Vinci digital exhibition by the Royal Collection Trust contains a wealth of information, photos, films, and educational resources. Learn about da Vinci as the artist, engineer, scientist, and anatomist. Different works are accompanied by interactive learning materials and activities for primary and secondary students. Some of the activities include learning about the anatomy of a hand, exploring plants, recreating Leonardo's catapult, and more.
Leonardo da Vinci's Notebooks (Y,M,O,T)
The Victoria and Albert Museum in London is home to the largest digital collection of Leonardo da Vinci's notebooks. Browse the notebooks via three large collections of high-resolution images on the VAM website.
Universal Leonardo (Y,M,O,T)
Universal Leonardo is a digital project by the University of the Arts in London that is based on a series of European exhibitions, scientific research, and web-based resources. Explore Leonardo da Vinci via various special topics, timeline, his artwork, inventions, manuscripts, and more. Also included are a fun collection of online games and activities for further learning.
Loadstar's Lair: Leonardo da Vinci (Y,M,O,T)
The Loadstar Lair website contains detailed analysis and histories of selections of Leonardo da Vinci's artwork, as well as information on his anatomy, astronomy, botany, and geography work.
Face to face with Leonardo da Vinci: An Interactive Guide (M,O)
This interactive guide from the Guardian takes an in-depth look at sketches of the Last Supper and 13 other drawings from Leonardo da Vinci's notebooks.
Leonardo 500 Interactive Timeline (Y,M,O)
Learn about Leonardo da Vinci's life and work via this interactive timeline from CNN that allows to browse his work by age.
Leonardo da Vinci Facts for Kids (Y,M)
A Leonardo da Vinci biography, fun facts, and information on selected works for kids. From Kiddle.
Leonardo da Vinci's Workshop: Virtual Tour (Y,M,O)
"Visit the workshop of the Renaissance polymath and his most influential inventions and works of art" in this virtual tour and lesson from Mozaik Education. You will need to download the free, mozaik3D app to view. The app is available for Apple, Android, and Windows desktop.
Leonardo da Vinci's Inventions in 3D (Video) (Y,M,O)
In 2014, Dassault Systèmes held a 3D design competition to digitally recreate Leonardo da Vinci's inventions in 3D. This video highlights the top entries to the contest and offers a totally new view of some of da Vinci's work.
Leonardo da Vinci Paintings and Sketches (Y,M,O,T)
Leonardo da Vinci was an Italian painter, draftsman, sculptor, architect, and engineer whose genius, perhaps more than that of any other figure, epitomized the Renaissance humanist ideal. A selection of his paintings, sketches, and background information can be found on ibiblio.
Leonardo da Vinci: Fossils and Geology (Y,M,O,T)
In addition to being an artist, Leonardo da Vinci was a keen observer of the natural world. An overview of his geological and paleontological observations and hypotheses can be found on the University of California, Berkley website.
Leonardo Da Vinci's 10 Best Ideas (Y,M,O,T)
Leonardo Da Vinci's inventions include flying machines, weapons, and more. This article from Live Science covers the top 10.