Activities, Lesson Plans, and More
Age Range Key
Y—Young (PreK-3rd)
M—Middle (4th-6th)
O—Older (7th-12th)
T—Teacher Resources
The Black Candle (Kwanzaa Documentary)  (M, O)
The Black Candle is one of the best ways to learn about Kwanzaa and experience the celebrations via film. The documentary traces the holiday through its origins in the 1960s to today. It does a good job explaining the reasoning behind and the need for the holiday. Narrated by Maya Angelou.
The History of Kwanzaa  (M, O, T)
Kwanzaa is a relatively modern holiday and is a cultural celebration, not a religious one. Learn more about how Kwanzaa was founded and the origins of its symbols and traditions in this article from History.com.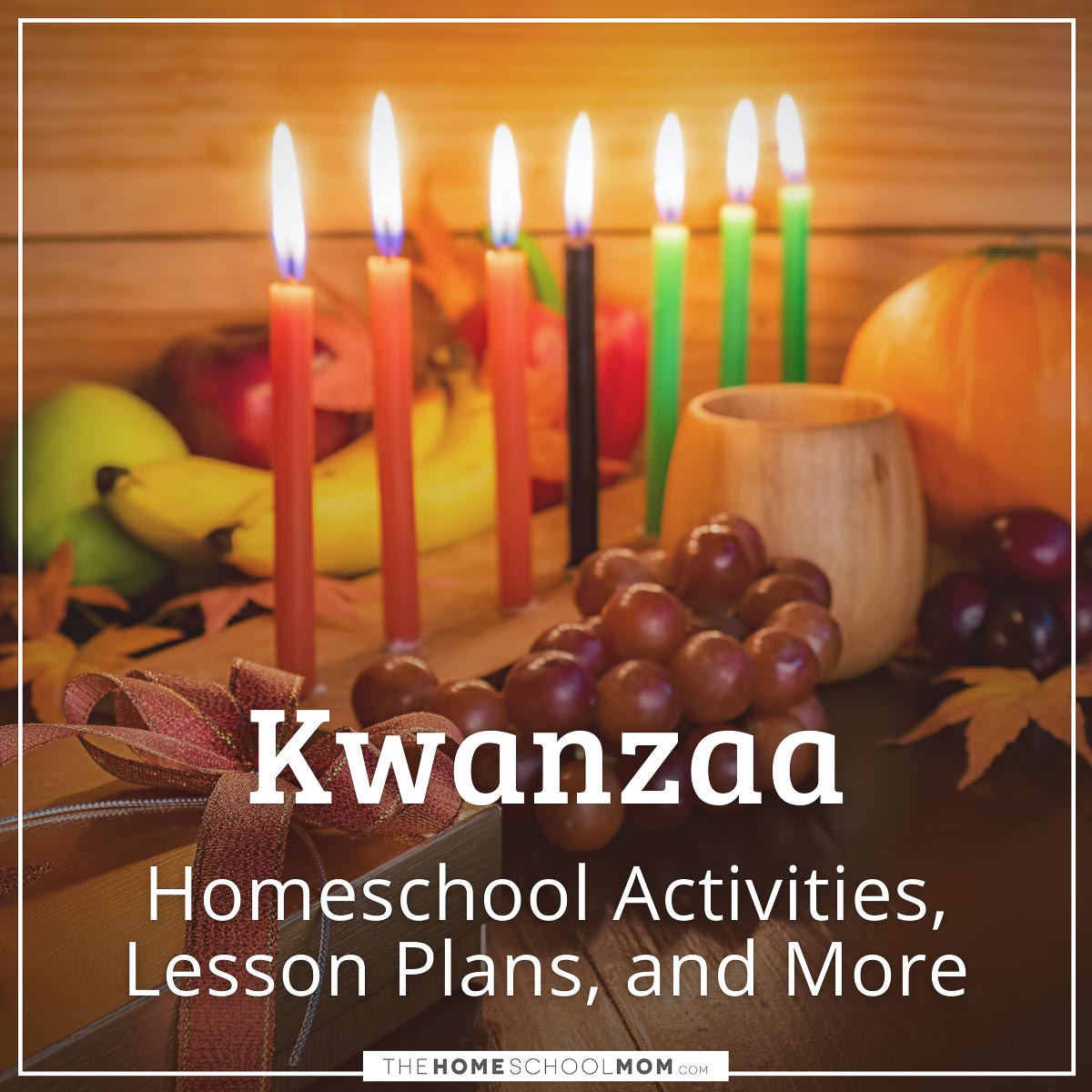 The Official Kwanzaa Website  (Y, M, O, T)
Kwanzaa has its very own website, updated annually with a message from its founder. You can find information about the holiday, its symbols, and an informative FAQ section on the site.
A Non-Black Person's Guide to Kwanzaa  (T)
Teaching holidays and celebrations from a different community can be a sensitive subject and leave many with questions they might not feel comfortable asking. This article addresses some of those questions and clears up some common misunderstandings about the holiday.
Kwanzaa and Cultural Misappropriation  (O, T)
How can we teach about different cultures and religions while still honoring the traditions from which they originated? This article from the Unitarian Universalist Association attempts to tackle that topic. It is mostly an informative article for teachers, but it also includes many thought-provoking questions that would make great discussion topics for older students.
Kwanzaa Printables from Crayola  (Y)
Crayola offers a collection of Kwanzaa-themed coloring pages and bingo cards that will be fun for younger students.
Kwanzaa Activities from Family Education  (Y, M)
This collection of activity ideas from FamilyEducation.com includes crafts, recipes, and recommending reading.
Kwanzaa Lesson Plans from Education World  (Y, M, O, T)
These lesson plans from EducationWorld.com include Kwanzaa-themed activity ideas for a range of subjects and links to fun games and printables. These lesson plans can be adapted for multiple age ranges.
Kwanzaa Lessons, Activities, and Worksheets from Teach-nology  (Y, M, O, T)
Teach-nology.com offers up a large collection of Kwanzaa-themed lessons, activities, and worksheets that are sure to get kiddos thinking. There's a little something in there for everyone.
Kwanzaa Recipes  (Y, M, O)
Kwanzaa meals vary from home to home, but dishes typically include a blend of African, US Southern, and Caribbean cuisine. This is a good list that includes a little bit of everything.
Kwanzaa Primary Sources  (O)
Though not a national holiday, Kwanzaa has been recognized numerous times by the US government. You can find primary sources to legislation from the Library of Congress.
Seven Spools of Thread: A Kwanzaa Story  (Y, M, T)
In this classic Kwanzaa story, seven brothers work together to weave a cloth and learn important Kwanzaa lessons along the way. This study unity from Teachingbooks.net offers a variety of activities and discussion points to accompany the book.
Black History Museums to Visit for Kwanzaa  (Y, M, O, T)
One of the best ways to honor the celebration of Kwanzaa is to learn about Black History. This big list includes Black History museums for every state. During December, you may also be able to attend Kwanzaa celebration events.
Kwanzaa Theme Crafts & Activities  (Y)
Kwanzaa is an African- American holiday that celebrates the harvest and teaches principles that go far beyond ethnic boundaries. From ChildFun.com