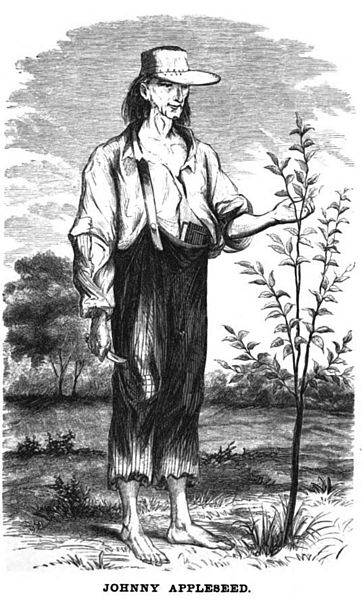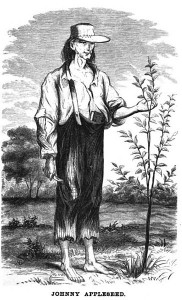 Johnny Appleseed is known for wandering the American wilderness and planting apple seeds to create apple orchards in Pennsylvania, Ohio, Indiana and Illinois. Johnny Appleseed was a nickname. His real name was Jonathon Chapman.
Born - September 26, 1774
Died - March 11, 1845
Activities, Lesson Plans, and More
Age Range Key
Y—Young (PreK-3rd)
M—Middle (4th-6th)
O—Older (7th-12th)
T—Teacher Resources
Johnny Appleseed (Y,M,O,T)
Lesson Ideas and Activities to Celebrate this Historical Figure from ThoughtCo.com
Johnny Appleseed Day (Y,M,O,T)
Johnny Appleseed Day honors one of America's great legends. Johnny Appleseed was a real person. John Chapman was among the American settlers who were captivated by the movement west across the continent. As Johnny Appleseed travelled west, he planted apple trees along the way, and sold trees to settlers. With every apple tree that was planted, the legend grew.
DLTK's Apple Activites for Kids (Johnny Appleseed Crafts) (Y)
From dltk-kids.com. Johnny Appleseed's birthday is on Sept 26th.
Johnny Appleseed Unit Study (Y,M)
From thevirtualvine.com
Apple Exploration! (Y)
Find several center station activities for a theme on apples and Johnny Appleseed. Grades K-2