Activities, Lesson Plans, and More
Age Range Key
Y—Young (PreK-3rd)
M—Middle (4th-6th)
O—Older (7th-12th)
T—Teacher Resources
Virtual Jerusalem Tour  (Y,M,O,T)
Virtually explore Jerusalem in a fully immersive 360-degree experience.
Jerusalem The Wailing Wall - Live Webcam  (Y,M,O,T)
Skyline Webcams runs a 24/7 live stream of the view over the Western Wall and Temple Mount in Jerusalem.
CIA World Factbook: Israel  (Y,M,O,T)
The Israel World Factbook page from the CIA website contains photos, maps, and a detailed profile of Israel's geography, demographics, environment, government, economy, and more.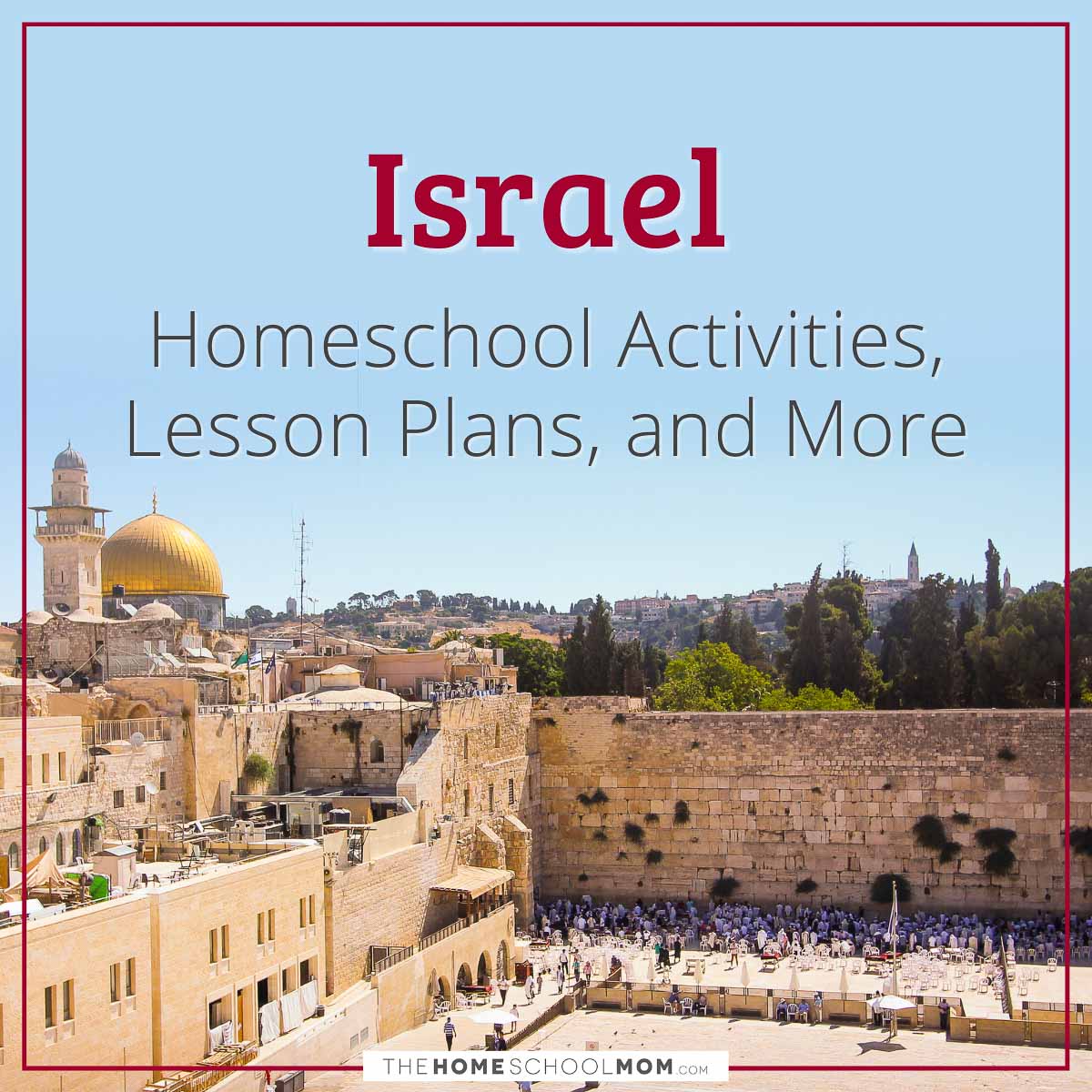 Embassy of Israel  (Y,M,O,T)
The Embassy of Israel website is a great place to learn about recent events and political and economic affairs. The website also hosts a large amount of cultural and geographic information on the country.
Israel Tourism Information  (Y,M,O,T)
Take a virtual tour of Israel's destinations and sites via the Israel Tourism website. Includes information on historic locations, geographical sites, events, celebrations, and more.
Jewish Virtual Library  (Y,M,O,T)
The Jewish Virtual Library is a digital project by the American-Israeli Cooperative Enterprise. You can find anything and everything on Jewish life and Israel, including a large collection of biographies, information on anti-semitism around the world, ancient and modern history, the holocaust, demographics, religious information, and much more.
Taglit-Birthright Israel  (O,T)
Birthright Israel provides free educational trips to Israel for Jewish young adults ages 18 to 26, with the goal of allowing young people to explore their Jewish identity and fostering Jewish communities worldwide.
Israel Ministry of Foreign Affairs  (O,T)
Israel Ministry of Foreign Affairs website contains information about Israel, its foreign policy, society, economy, and more.
Travel for Kids: Israel  (Y,M)
The Travel for Kids website gives background information and photos of Israel's notable sites, including Jerusalem, the Dead Sea, Tel Aviv, Haifa, and more. You can also find a top literature picks for children with themes related to Israel.
Israel for Children - Learn About Israel  (Y,M,O,T)
Israel fun facts for kids, including a timeline, maps, and information on cities, symbols, currency, and presidents. From AKHLAH, the Jewish children's learning network.
Israel Virtual Tour Videos (Y,M,O)
Take a virtual tour of Israel's cities, geographic features, and cultural locations through a series of high-definition videos from ISRAEL21c.
Nations Online: Israel Country Profile and Resources (Y,M,O,T)
The Nations Online Israel resource page contains a wealth of geographic information, demographic information, cultural information, statistics, fun facts, photos, maps, and more. Each section is accompanied by a large list of links to related government bodies, organizations, and cultural institutions.
Israel UNESCO World Heritage Sites (Y,M,O)
Israel is home to nine UNESCO World Heritage Sites. You can find a description, maps, photos, and videos for each location.
Israel National Parks and Nature Reserves (Y,M,O)
Israel is home to a diverse and broad-ranging landscape and climate, from arid desert to fertile oasis. Learn about Israel's national parks and nature reserves, as well as archaeological sites, on the Israel Nature and Parks Authority website.
Jerusalem Resources and Activities (M,O,T)
A large collection of activities, reference materials, and other resources on the physical and cultural geography of Jerusalem from National Geographic. Students will learn about the Israeli-Palestinian Conflict, Jewish and Muslim cultures, archaeological projects, and more.
Geography Now! Israel (Video) (M,O)
Geography Now on YouTube has an easily-digestible, non-biased overview of Israel's geopolitics, geography, the Israeli-Palestinian Conflict, and political history.
Israel Geography Game (Y,M,O)
The My Jewish Games geography game has an interactive map where students can learn about over 100 cities, geographical features, and archaeological sites in Israel and then test their knowledge in a game. Games of varying difficulty are available for multiple ages.
Israel Geography for Kids (Y,M)
A kid-friendly overview of Israel's geography, culture, government, and history from National Geographic.
Teaching Ancient Israel (M,O,T)
"Using archaeology, ancient texts, and current research, this free lesson explores ancient Israelite society in the context of ancient Mesopotamian and Egyptian civilizations. Focusing on the daily life, religion, and law of ancient Israel, students will be able to develop a fuller picture of the Israelites' role in the ancient world and the development of Judaism as we know it today." A lesson plan for grades 6-12 from the Institute for Curriculum Services.