Activities, Lesson Plans, and More
See legend at bottom for explanation of age codes
Jump to: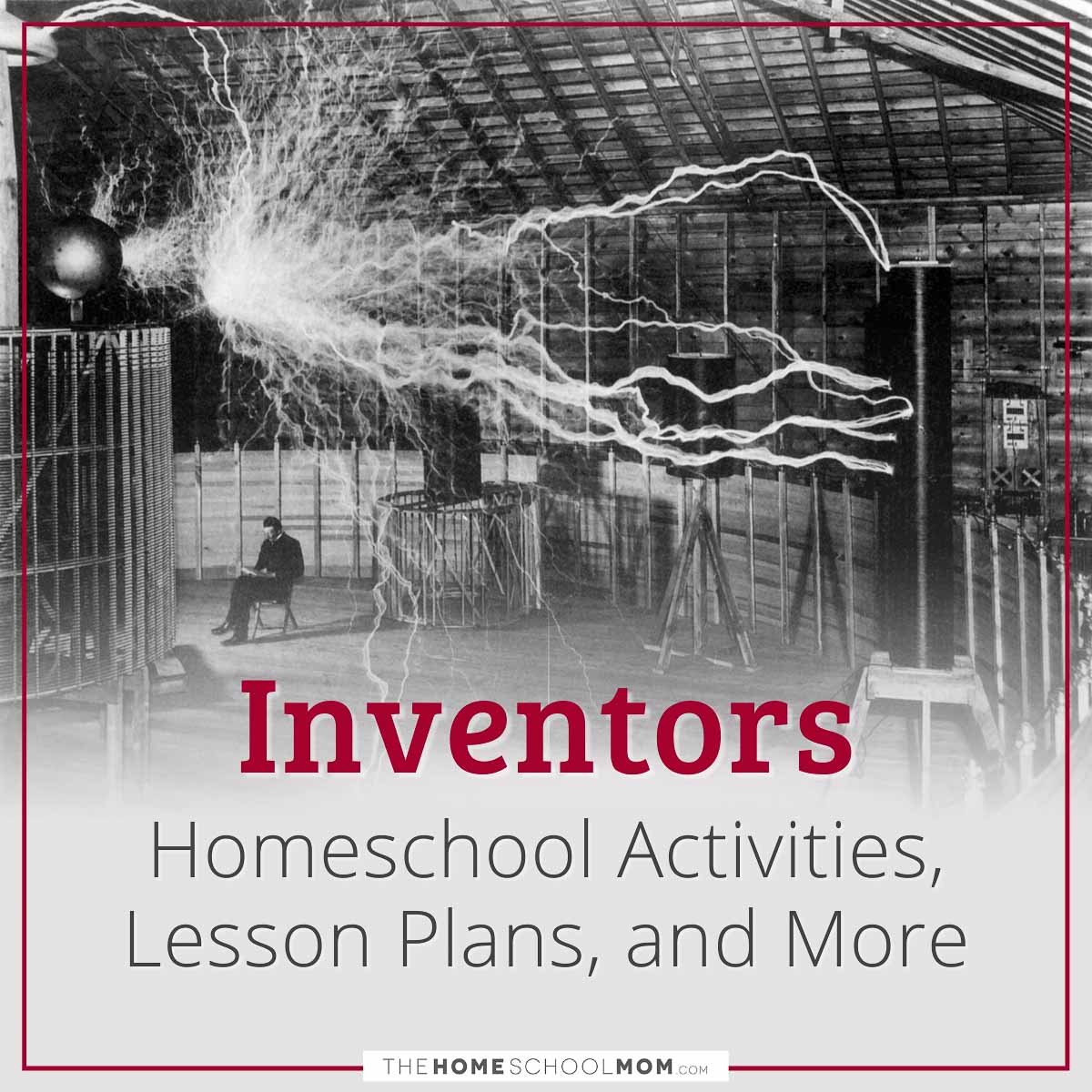 Inventor Resource Links
National Inventors Hall of Fame Museum  (Y,M,O,T)
From Invent.org, offering a comprehensive list of all Hall of Fame inductees. Each inventor has a profile, including his or her invention, its impact, and the inventor's bio.
United States Patent and Trademark Office (Y,M,O,T)
Curious about the latest inventor news? Want to search trademarks and patents? The US Patent and Trademark Office is where to go. Visit the Kids & Educators page for lots of fun activities, videos, downloads, coloring pages and worksheets, virtual events, and more.
Inventions and Science (Y,M,O)
"Inventions from the telephone to the Model T and the computer have defined human history, and inventors like Leonardo da Vinci, Nikola Tesla, Thomas Edison, Eli Whitney and Alexander Graham Bell have transformed our society." A large collection of articles on all things inventions and inventors from History.
Famous Inventor Biographies (Y,M,O)
"Discover the men and women behind some of the most famous inventions and innovations of history. Research almost any famous historical or current inventor with these biographies, A-to-Z lists, photo galleries, and timelines." From ThoughtCo.
Inventors and Inventions, A-Z Index (Y,M)
A large, A-Z list of inventors and inventions that includes a brief overview of each. From Enchanted Learning.
Ancient Inventions (M,O)
The Smith College Museum of Ancient Inventions has a large online exhibition featuring images and overviews of inventions dating back to pre-7000 BCE.
Henry Ford Museum of American Innovation (Y,M,O,T)
The Henry Ford Museum of American Innovation features not just the work of Henry Ford, but also the work of hundreds of American inventors and innovators. Search the online collection for numerous inventive artifacts or visit the Education Center for an extensive collection of PreK-12 lessons and resources.
Tesla Science Center at Wardenclyffe (Y,M,O,T)
Nikola Tesla was a mathematician and a physicist who invented Alternating Current Power, Hydroelectric Power, the Tesla Coil, and more. Learn about Nikola Tesla's life and inventions on the Tesla Science Center website, and visit the Virtual Science Center page for activities, resources, and virtual events.
The Invention Factory: Thomas Edison's Laboratories  (M)
A curriculum kit created by the National Park Service. Lesson is good for teaching units on the industrialization of the United States, the development of science and technology, and social change in the United States in the late 19th and early 20th centuries.
Design and Technology KS2: You Too Can Be an Absolute Genius (Y,M,T)
A series of lessons from BBC Teach that explores what makes someone an inventor, how to develop ideas for and test inventions, and what ideas young inventors are working on today. Designed for students 7-11 years old.
Inventions that Shape History (Y,M,O,T)
TEDEd has a large collection of video lessons that look at both modern and historical inventions and explore the connections between different types of inventions.
Famous Black Inventors  (Y,M,O,T)
ThoughtCo. has a large database list of African American patent holders and individual biographies of African American inventors.
Black Inventors and Inventions (Y,M,O)
A large database of Black Inventor profiles listed by time period on Black Past.
Black Scientists and Inventors  (Y,M,O,T)
An encyclopedic article and index of Black Scientists and Inventors from Infoplease.com.
10 Black Women Inventors (Y,M,O,T)
In 1885, Sarah Goode became the first Black woman to file a patent for her spacing-saving, fold-able furniture design. You can learn about her, the inventor of the heating furnace, the inventor of modern home security, and more in the Yes! Magazine article.
George Washington Carver Biography  (Y,M,O,T)
"George Washington Carver (January 1, 1864-January 5, 1943) was an agricultural chemist who discovered 300 uses for peanuts as well as hundreds of uses for soybeans, pecans, and sweet potatoes." You can learn more about his life in this biography from ThoughtCo.
The Life of Henry Ford  (Y,M,O,T)
Learn about the life of Henry Ford and how he came to revolutionize the automobile industry from the Henry Ford Museum of American Innovation.
Biography of Samuel Morse 1791-1872  (Y,M)
Learn about the life of Samuel Morse, inventor of the electric telegraph and Morse code, on ThoughtCo.
Thomas Alva Edison Resource Links  (Y,M,O,T)
A collection of resources for learning about Thomas Edison, inventor of the light bulb, the phonograph and much more, from SurfNetKids.
The Wright Brothers National Memorial (Y,M,O,T)
Wilbur and Orville Wright, together known as the Wright brothers, invented and flew the first motor-operated airplane. If you can't visit the National Memorial in person, you can take a virtual field trip and find lessons and activities on the National Parks Service Website.
Ada Lovelace Biography (Y,M,O)
Ada Lovelace is sometimes called the world's first computer programmer based on her work with inventor Charles Babbage on his Analytical Engine, a precursor to the calculator from the 1800s. From National Geographic.
Alan Turing Biography (M,O)
Alan Turing was a mathematician, computer scientist, and openly gay man who is credited with developing early computing and artificial intelligence. His test, designed to evaluate machine intelligence, would go on to be called the Turing Test. From Live Science.
Inventor Pages on TheHomeSchoolMom
Invention Resource Links
Invention Dimension  (Y,M,O,T)
From MIT, this site features an Inventor of the Week with archives, the Inventor's Handbook, Invention Related Links and Resources, and more.
The Lemelson Center (Y,M,O,T)
The Smithsonian Institute's Lemelson Center is dedicated to the study of invention and innovation. It's an excellent resource for learning about both modern and historical inventors. You can browse inventor stories by who – such as Black Inventors, Women Inventors, Immigrant Inventors, Asian Pacific American Inventors – or what: Art Inventions, Air & Space Inventions, Environment Inventions, Food & Drink Inventions, and more. Visit the "Try" page for young inventor activities you can do at home.
Communication Activities - The Telegraph  (Y)
From Teaching with Primary Sources (TPS) funded by the Library of Congress.
Invent It, Build It  (M)
Six activities to spark the inventive spirit of kids. Each one is designed to show how invention improves people's lives. Grades 4-6
Design Squad Nation Activity Guide  (M)
Activity Guide from PBSKids.org. Five engineering challenges: Watercraft, Paper Table, Zip Line, Paddle Power, and Helping Hand. Grades 4-6
United States Patent and Trademark Office  (M,O,T)
TESS, the search engine at the US Patent and Trademark Office, allows you to search patents and see the drawings and information submitted with the patent application. The search tool can be a fun way to learn about inventions.
Greatest Engineering Achievements of the 29th Century  (Y,M,O,T)
Welcome! How many of the 20th century's greatest engineering achievements will you use today? A car? Computer? Telephone? Explore our list of the top 20 achievements and learn how engineering shaped a century and changed the world.
Inventors and Inventions Theme Page  (Y,M,O,T)
From the Community Learning Network, a website offering free learning resource links on inventors and inventions.
Internet Scavenger Hunt: Inventors & Inventions  (Y,M,O,T)
From Education World accessed through Wayback Archives
Factory Tours  (Y,M,O,T)
This site can help you plan an educational visit to tour a factory during your travels.
Age Range Key
Y—Young (PreK-3rd)
M—Middle (4th-6th)
O—Older (7th-12th)
T—Teacher Resources