Activities, Lesson Plans, and More
Age Range Key
Y—Young (PreK-3rd)
M—Middle (4th-6th)
O—Older (7th-12th)
T—Teacher Resources
Jump to:
General Insect Resources
Lesson: Classifying Insects  (M,O,T)
In this Lesson plan from the Natural History Museum Los Angeles County, students will learn about insect classification and then put their new skills to the test. Designed for middle school and high school students.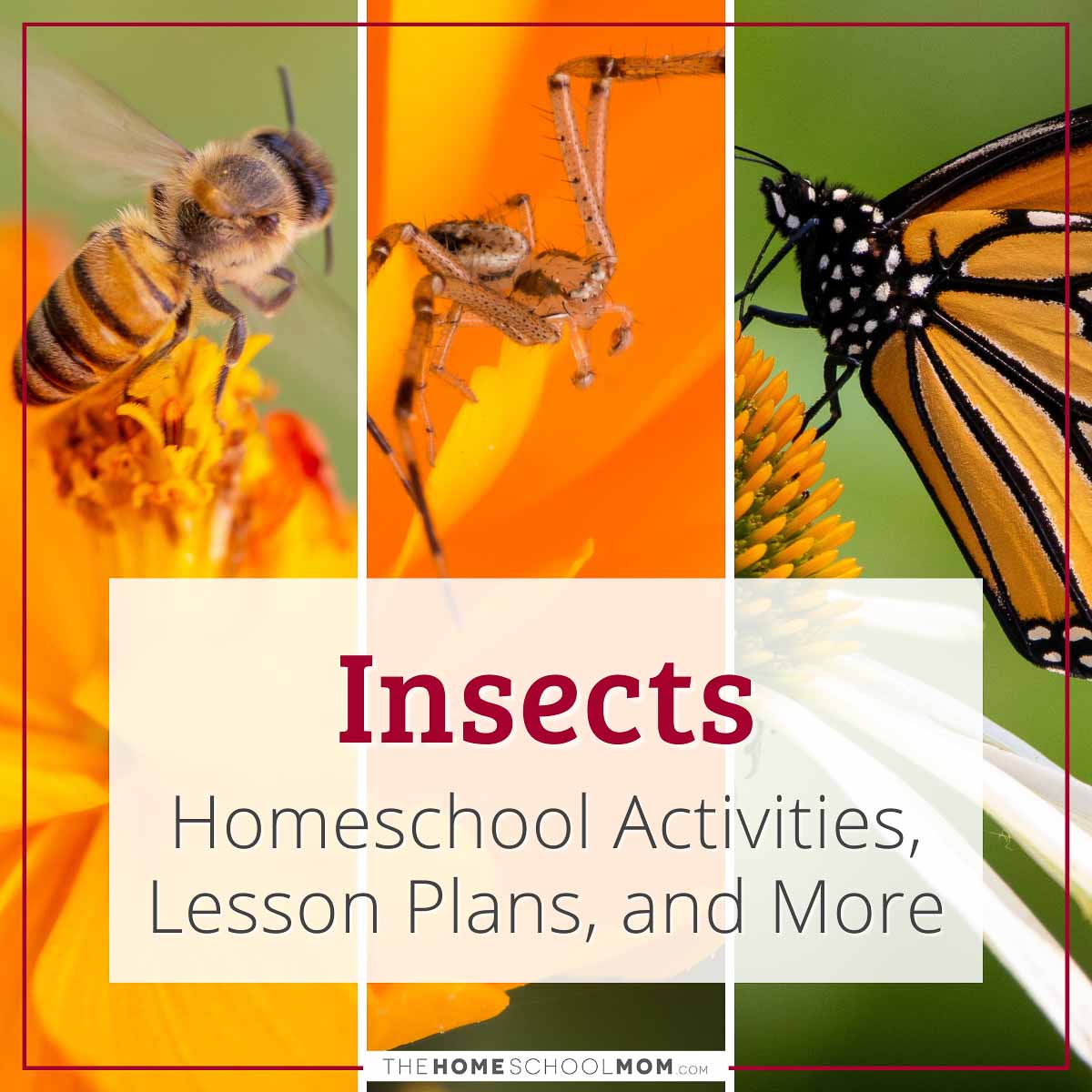 Unit Study: Amber - Freezing Gold  (Y,M,O,T)
Free lapbook, notebook, and unit study resources for homeschoolers from Tina's Dynamic Homeschool Plus.
Insect Crafts  (Y)
A large collection of insect crafts, worksheets, and printables from Enchanted Learning. For Ages 3 through 6.
Studying Dragonflies Around the World  (Y,M,O)
Learn about dragonflies, their history, and biology from Entomologist and museum curator, Jessica Ware. Video from American Museum of Natural History.
Talking to Fireflies  (Y,M)
Talking to Fireflies is an interactive educational page from the American Museum of Natural History that explains firefly, or lightning bug, communication.
Ants
antARK  (Y,M,O,T)
antARk is an introduction to Myrmecology: the study of ants. This site aims to introduce and uncover the impossibly large world of ants.
Myrm's Ant Nest  (Y,M,O,T)
This site has tons of information about the species of ant in Britain and Europe, ant life cycles, anatomy, communication, nests, and more. Also includes a great guide on how to set up an ant farm and keep ants as pets.
Bees
Planet Bee Foundation  (Y,M,O,T)
Planet Bee Foundation is a nonprofit dedicated to providing bee education to teachers and schools. Their website hosts information on bees, beekeeping, and planting pollinator gardens, as well as a large collection of educator resources, including lessons, worksheets, printables, fact pages, and more.
Bee Tales From the Hive  (Y,M,O)
NOVA chronicles a year in the life of a bee colony with stunning images that take viewers inside the innermost secrets of the hive. The documentary team spent a year developing special macro lenses and a bee studio to deliver the film's astonishing sequences. These include the "wedding flight" of the colony's virgin queen as it mates in mid-air with a drone; the life-and-death battle between two rival queens for the colony's throne; and the defeat and death of a thieving wasp at the entrance to the hive. The show also explores such mysteries as the famous "waggle dance" with which scout bees signal the exact direction and distance of nectar sources to the rest of the hive. A vivid picture emerges of the bee's highly organized social life, revolving around the disciplined sharing of construction tasks, the collection of nectar, and warding off enemies.
Honey Bee Lapbook  (Y)
This free, printable honeybee lapbook from Homeschool Share includes lessons and activities to learn about "honeybee communication, types of bees, how bees make honey, honeybee senses, lifecycle of the honeybee, hive construction, and so much more!"
Honey Bee Anatomy  (Y,M)
A printable from Enchanted Learning.
Butterflies & Moths
Teacher Resources: Butterflies and Sunflower Labs  (Y,T)
Although this site is geared toward selling caterpillars and other insects (which can be a fun science integration), it also has fact sheets and printables available for free. If you have elementary-aged children and have never raised butterflies, consider doing so. Kids love watching the transformation.
Butterfly School  (Y,M,T)
From the Butterfly House at the Missouri Botanical Gardens. We raised butterflies one year and the children thoroughly enjoyed it. In addition to step-by-step instructions for raising butterflies, this site has enough background information for a mini unit study.
Virtual Field Trip to the AMNH Butterfly Conservatory  (Y,M)
Take a virtual field trip, via 360 video, to the American Museum of Natural History's butterfly conservatory garden, and see if you can find and identify all of the butterflies included in the accompanying guide and worksheet. Includes activities designed for K-2 students.
The Science Learning Hub Butterflies and Moths Resources  (Y,M,O,T)
The Science Learning Hub | Pokapū Akoranga Pūtaiao is a publicly-funded educational website for science in New Zealand. You can find tons of explainer articles and diagrams on butterflies and moths, identification, anatomy, lifecycles, and more.
Butterfly Education Resources  (Y,M,O,T)
These resources from Butterfly Conservation of England include tons of crafts, activities, and handouts for kids.
Monarch Education Resources  (Y,M,O,T)
The Monarch Joint Venture has a large collection of educational resources, including lessons, activities, games, handouts, and more.
Butterflies and Moths: Life Written on Wings  (Y,M,O)
This digital exhibition from the Natural History Museum on Google Arts & Culture takes a deep dive into butterflies and moths, their evolution, anatomy, and more.
Spiders
Collecting Arthropod Specimens  (Y,M,O,T)
This guide from the American Museum of Natural History details six methods for collecting and keeping arthropods safely.
Spider Lesson Plans  (Y,T)
This collection of lesson plans from Southwest Educational Development Laboratory take a look at spiders, their webs, life cycle, and more. Designed for grades K-3.