Activities, Lesson Plans, and More
Age Range Key
Y—Young (PreK-3rd)
M—Middle (4th-6th)
O—Older (7th-12th)
T—Teacher Resources
Nations Online: India Country Profile  (M,O,T)
Nations Online has a complete database of resources for studying the people and places of India. It provides a brief overview as well as a comprehensive collection of resource websites to learn about India's government, geography, environment, culture, business, tourism, and more.
India.gov.in  (Y,M,O,T)
India.gov.in is the homepage of India's national government, where you can find information on its government, economy, industry and commerce, agriculture, environment, arts and culture, education, and more.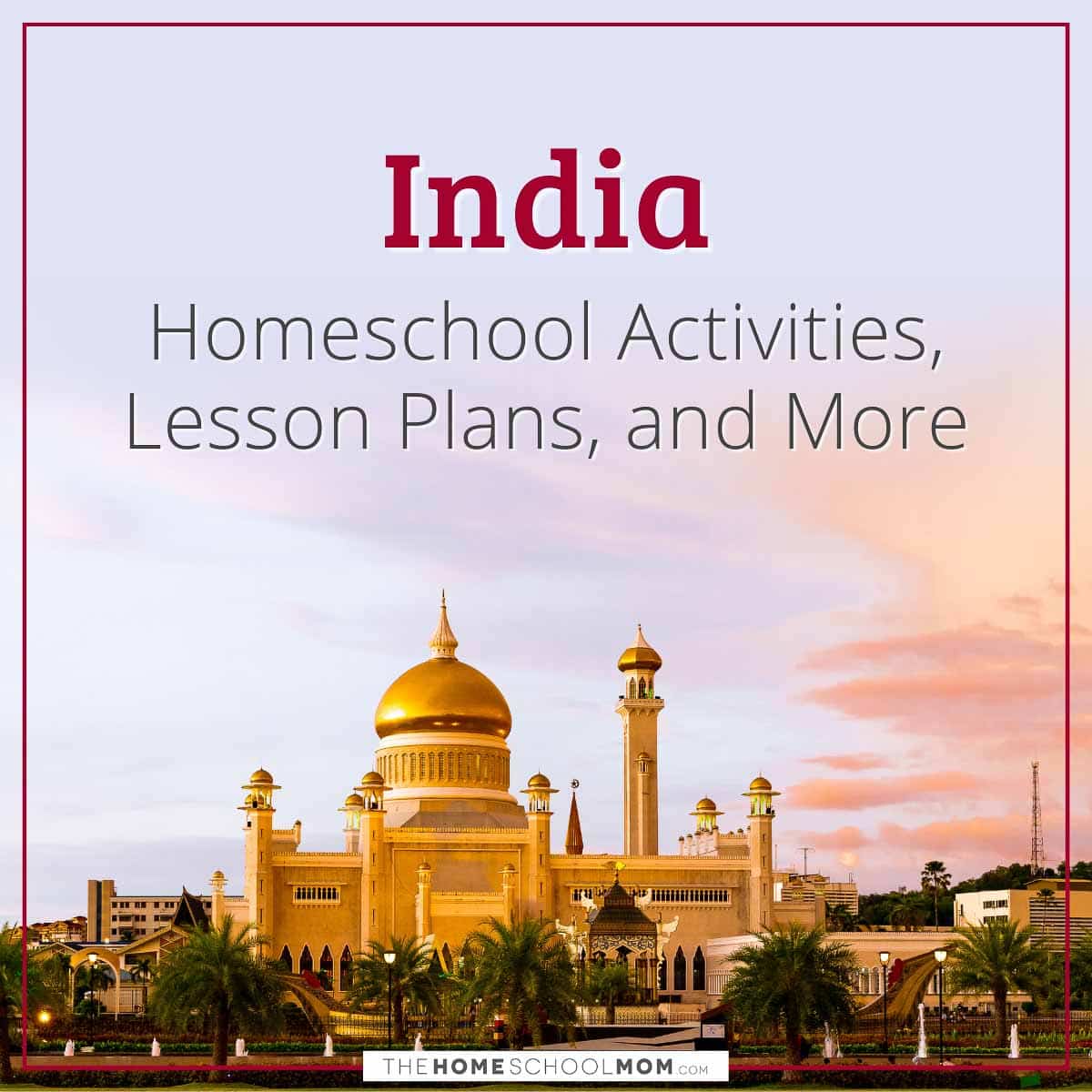 National Parks in India  (Y,M,O,T)
The Global Alliance of National Parks has cataloged all of the national parks in India, where you can learn about each park's wildlife, landscapes, and visitor information.
Google Arts & Culture: Wonders of India  (Y,M,O,T)
Google Arts & Culture is collaboration of various museums, universities, and other cultural institutions. Wonders of India is a special Google Arts & Culture project that will take you on a virtual tour of India's most iconic sites and locations, its mythology, yoga, chess, Indian holidays and festivals, arts and crafts, women in India, and more.
Unit Study: India Virtual Field Trip  (Y,M,T)
This India unit study from the Local Passport Family blog includes children's books, history, STEAM projects, crafts, recipes, videos, and other hands-on activities to learn about India.
Indif.com  (Y,M,O,T)
Indif.com is "your one stop to Discover and Explore India." You can find a massive amount of information on India, its geography, culture, and government. Included are language-learning resources; recipes and cooking tips; information on holidays, festivals, and symbols; fun facts; travel information; and more.
Indif: Learn Hindi  (Y,M,O,T)
Indif.com has webpages to learn Hindi, Punjabi and Marathi languages. Provides worksheets and coloring pages to make learning Hindi fun.
UT Hindi Urdu Flagship: Hindi Language Learning Resources  (M,O,T)
A large collection of Hindi language-learning resources from the Hindi Urdu Flagship at the University of Texas Austin. Includes downloadable pdf textbooks, an audio thesaurus, worksheets, podcasts, and more.
Akhlesh.com: Learn Hindi  (Y,M,O,T)
Akhlesh.com, the easy resource center for elementary Hindi learning needs. You can find resources geared toward the children of native speakers, as well as second-language learners who do not know Hindi at all. Includes the Hindi Alphabet, writing practice sheets, words, phrases, stories, poems, grammar, quizzes, and more.
Kids One Hindi  (Y,M)
The Kids One website has a Hindi page to help students learn about Indian culture through festivals, Indian heroes, and children's stories. Includes games, e-books, worksheets, and more.
Kids' Literature Featuring India  (Y,M)
Top literature picks for children with themes related to India from Travel for Kids.
The Story of India  (Y,M,O,T)
The Story of India is a PBS website that covers the history and culture of India. It has a massive photo gallery, an interactive timeline, lesson plans, and a large collection of resource website links for learning more.
Ancient India Unit  (Y,M,T)
Mr. Donn's Site for Kids and Teachers has a large study unit covering India, past and present. Topics covered include Ancient India, India/Pakistan Dispute over Kashmir, History of India, Animals of India, Festivals of India, National Symbols of India, Arts of India, Geography of India, and more.
Puratattva.in: India's History  (O)
Puratattva.in is a blog that chronicles India's history through historical and archaeological locations. You can explore by site, state, dynasty, or time period.
History of India's Caste System  (M,O)
This article from ThoughtCo. provides an overview of the Caste System in India from its origins and theological background, its prevalence through history, to today.
The British Raj in India  (M,O)
An article from ThoughtCo. that explores the British Rah, or the British rule of India, how it started, significant events, and how it ended.
History Maps: The History of India  (Y,M,O)
Explore India's history with this interactive map from HistoryMaps.com. Begins in 30000 BCE with the arrival of humans from Africa and ends with the Partition of India in 1947.
India, Empire, and the Army: A Timeline  (M,O,T)
"An interactive timeline for KS3-5 learners exploring the history of the British Army in India and the British Empire's Indian armies through the National Army Museum's collections." For U.S. middle school and high school students.
India-Pakistan Timeline  (M,O)
This interactive timeline from the BBC covers the history of India-Pakistan relations from its partition in 1947 to its role in the Iraq-Afghanistan Wars in 2001.