Activities, Lesson Plans, and More
Age Range Key
Y—Young (PreK-3rd)
M—Middle (4th-6th)
O—Older (7th-12th)
T—Teacher Resources
Teachers Guide: Hispanic and Latino Heritage and History in the US  (Y, M, O, T)
A large collection of articles, resources, lesson plans, and more focusing on Hispanic culture and history from National Endowment for the Humanities.
Hispanic Heritage Month for Kids  (Y, T)
The Multicultural Kids Blog has a large collection of activities, crafts, recipes, games, songs, fun facts, and more for celebrating Hispanic Heritage Month with younger students.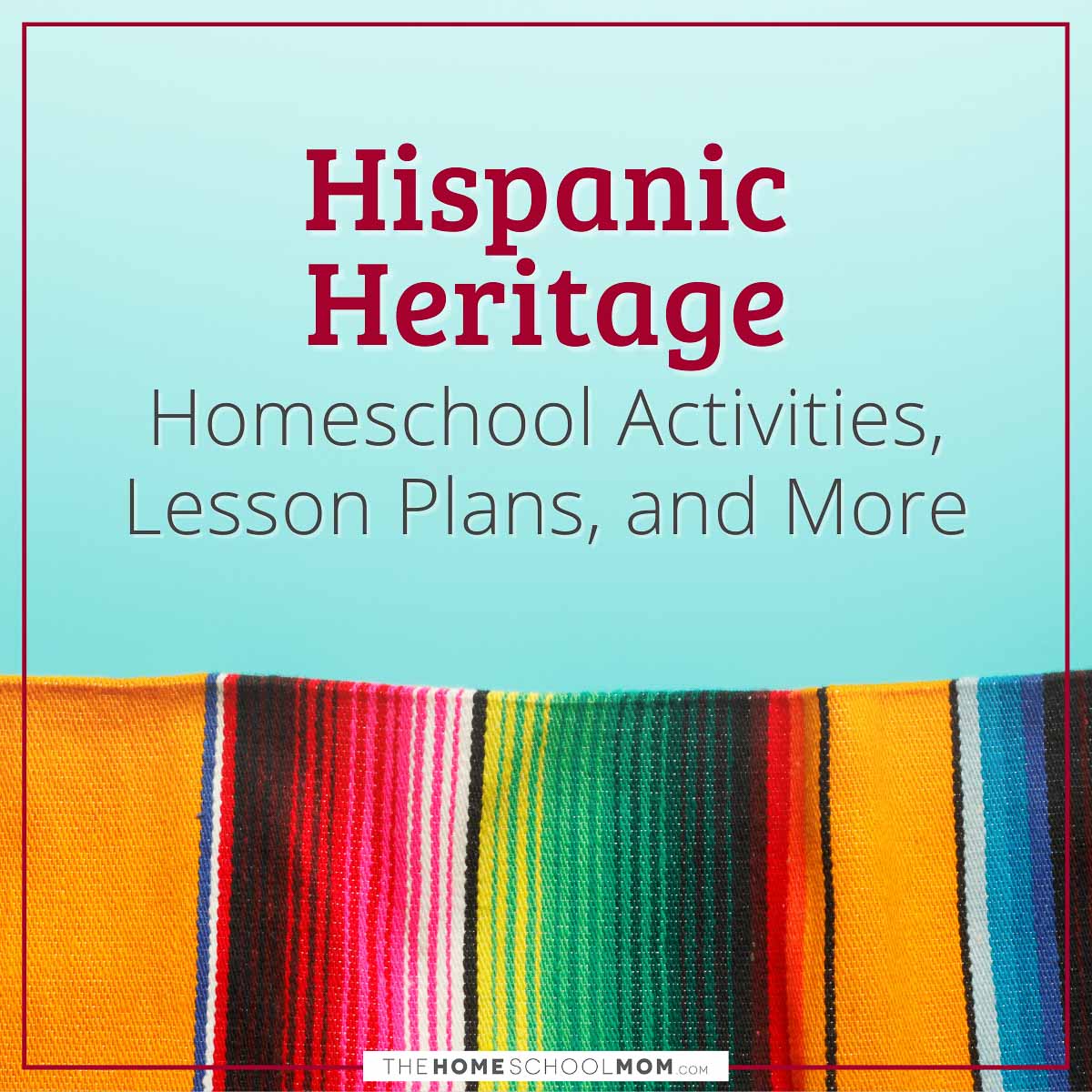 The Alma Project: Multicultural Lesson Plans  (Y, M, O, T)
The Alma Project is an educational resource from the Denver Public School System that contains numerous lesson plans for learning about Hispanic and Latino heritage and culture. You can find lesson plans and information about famous Hispanic and Latino writers, activists, public figures, and artists, as well as ancient history, current events, holidays, and more.
Hispanic Heritage Children's Books  (Y, M, T)
A collection of both fiction and nonfiction books to celebrate Hispanic Heritage Month from Reading Is Fundamental. You can find lesson plans, worksheets, games, and other activities to accompany each book. For Pre-K to 8th grade.
Hispanic Heritage Printables  (Y, T)
A collection of printable coloring pages and worksheets from Classroom Doodles to celebrate Hispanic Heritage Month. Features Cesar Chavez, Ellen Ochoa, Frida Kahlo, Sonia Sotomayor, Pelé, and Jaime Escalante.
Latino USA  (M, O)
Latino USA is a public radio program dedicated to covering Latino news and cultural programs. It's an excellent resource for finding stories of both everyday and famous Latino Americans and learning about current events, culture, and history.
Hispanic Heritage Lessons and Activities  (Y, M, O, T)
A large collection of K-12 lessons, activities, videos, and other resources to celebrate and learn about Hispanic Heritage from the National Education Association.
Latino History Project in Colorado  (Y, M, O, T)
The Latino History Project is a community education group devoted to sharing the history and culture of Latinos in Colorado. The site features a large collection of primary sources, searchable by region of the state, and offers educational workshops and K-12 lesson plans.
Hidden Hispanic Heritage  (M, O)
Hidden Hispanic Heritage is an online project by professor and journalist Miguel Pérez that chronicles his own travels through the US, documenting little-known Hispanic History in each location. The website includes hundreds of articles on various topics and locations, maps, photos, timelines, and other resources. Available in Spanish and English.
Latino/Latina Studies Primary Sources  (M, O, T)
This is a large primary source database from Cal State Los Angeles for further Latino studies. You can information on Immigration, Latin America, US Latino History, Arts, Culture, the Latino Civil Rights Movement, and more.
Chicano! (Documentary)  (M, O)
Chicano! is a docu-series from PBS that details the Mexican American Civil Rights Movement from 1965-1975. You can stream the series for free on Facing History.
Latino Americans: Documentary, Lessons, and Activities  (Y, M, O, T)
Latino Americans is a docu-series from PBS, chronicling more than 500 years of history. Its website is full of educational resources to accompany the series, including a timeline, video segments, lesson plans, and activities for grades 4-12.
Latino Civil Rights Timeline and Lesson Plans  (Y, M, O, T)
This timeline, and its accompanying lesson plans from Learning for Justice, outlines the Latino Civil Rights movement in the US from 1903 to 2006.
Hispanic History Timeline  (M, O)
This timeline from History.com follows notable events in Hispanic American history from the 1500s to today.
Latino Cultures in the US: A Google Online Exhibition  (Y, M, O, T)
Latino Cultures in the US is a Google Arts and Culture project produced in collaboration with 50+ museums, libraries, and cultural institutions and features a large collection of searchable artwork, artifacts, articles, biographies, maps, videos, current events, online programs, and lesson plans. You can search the collection by Icons and Heroes; Art and Entertainment; History and Traditions; and Latino Communities Today.
Museum of International Folk Art  (Y, M, O, T)
The Museum of International Folk Art features artifacts and artwork from around the world, both ancient and modern. You can browse its online collection via geographic regions, attend virtual events, or utilize some of the many educator resources on its website.
Museum of Latin American Art  (Y, M, O, T)
The Museum of Latin American Art features modern and contemporary work from Latin American and Latino artists. In addition to artwork, it's a great source for cultural programs and information. If you can't visit MOLAA in person, you can find a large collection of artwork, articles, online events, and other educator resources online.
HispanicHeritageMonth.gov  (Y, M, O, T)
HispanicHeritageMonth.gov is the official online home of Hispanic Heritage Month. You can find online collections of both modern and historic art, architecture, photos, videos, and other resources for educators.
American Latino Heritage at NPS  (Y, M, O, T)
The National Park Service has a large collection of resources and articles detailing the history of people and places from Latino American heritage. You can read stories of individuals, study historic architecture and archeology, and find ready-made lessons and activities.
The Difference Between Hispanic and Latino  (T)
What is the difference between Hispanic and Latino? What do either of those terms mean about race? This article from Thought Co. breaks down what you need to know.
Hispanic Heritage for Kids  (Y,M,T)
This is an interactive mini-site celebrating Hispanic Heritage from Scholastic. Included is an interactive map, biographies of famous and notable Latino Americans, games, printables, and lesson plans for Pre-K to 8th grade.
Hispanic Heritage Teaching Resources  (Y,M,O,T)
A collection of user-created lessons and presentations on various topics in Hispanic Heritage utilizing artwork and artifacts from the Smithsonian. Includes both online teaching resources and information for visitors to the museums.
National Register of Historic Places' Hispanic Heritage Listings  (T)
This site highlights various properties listed in the National Register, travel itineraries, education lesson plans and National Parks that deal directly with the cultural and political experiences of Hispanic Americans.
Hispanic Heritage Month Resources from FactMonster  (T)
Large list of facts, background information, quizzes, and statistics
US Census Bureau: Hispanic Facts for Features  (T)
Quick facts and stats from the US Census Bureau on Hispanic people living in America.
Ethnic Heritage Museum  (Y,M,O,T)
Local history lives on in a quaint home built in 1850 and known today as The Ethnic Heritage Museum . Here, you will find six fascinating galleries devoted to the primary immigrant groups that settled in southwest Rockford, IL. African-American, Hispanic, Irish, Italian, Lithuanian and Polish. Through displays of early Rockford's maps, everyday artifacts, vintage clothing and more, visitors of all ages can learn about Old Worldcustoms and traditions. Historical photographs tell the stories of the earliest settlers who established factories near the old "waterpower district" and built their homes nearby. By comparing early with current lifestyles, the museum strives to bridge the gap between yesterday and today ... encouraging visitors to relive the past with a clear focus on Rockford'sbright future.
SRJC Museum  (Y,M,O,T)
Located in Bussman Hall on Santa Rosa Junior College's Santa Rosa Campus. The SRJC Museum houses collections of ethnographic art from throughout the Americas and parts of Africa, Asia, and the Pacific. Permanent exhibits include the following: Pomo Roundhouse Model and Basketry,Plains and Plateau, Southwest Jewelry, Hopi Pueblo Model with Kachina Dolls, and Pueblo Pottery. There are a number of rotating, temporary exhibits that change on a regular basis to serve the needs of Santa Rosa Junior College classes. These temporary exhibits include additional Native North American art, Mesoamerican and South American art, Hispanic art, African and African-American art, and Asian art.