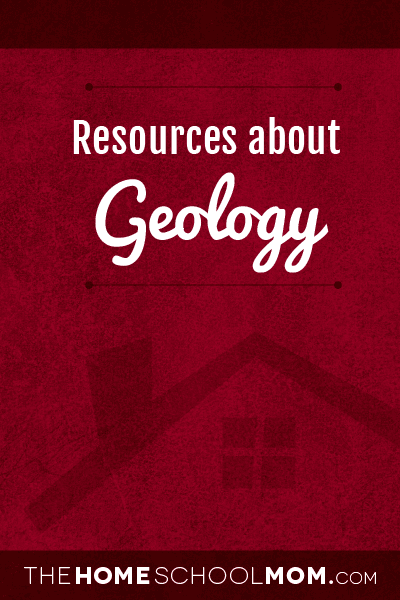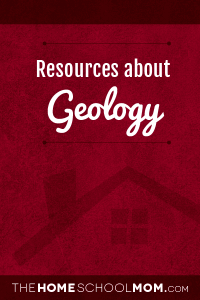 See legend at bottom for explanation of age codes
Here on Earth (T)
The purpose of Here on Earth "is to explain the Earth science of every region of the United States. We are beginning with coverage of the northeastern United States, focusing upon upstate New York and western Pennsylvania. This area, known as the "Inland Basin" for the shallow sea that once covered it, shares a geologic history that explains the rock layers and landforms we observe today. The Paleontological Research Institution, which brings you Earth@Home, is based in this region." The website also includes Earth Science and Ancient Life digital encyclopedias for reference, as well as a virtual collection of over 500 interactive 3D models of fossil specimens from their collections and museum exhibits.
Amber - Freezing Gold (Y,M,O,T)
Free lapbook, notebook & unit resources for homeschoolers from Dynamic 2 Moms.
Geology (Y,M,O,T)
From Quatr.us formerly Kidipede. Quatr.us is a study guide website for anybody interested in history.
Tour of Park Geology - Glaciers and Glacial Landforms (Y,M,O,T)
Glaciers are important as indicators of climatic change, as objects of beauty, and as sources of water and recreation. Because glaciers store snow and ice during cold seasons and release it as water during hot, dry weather, they are natural and effective regulators of their water supply. Glaciers have covered almost a third of the world's land throughout time. Evidence of past and present glaciation can be found across our national parks. Explore the parks that exhibit glaciers and glacial landforms.
Tour of Park Geology - Fossils (Y,M,O,T)
National Parks contain a rich array of plant, invertebrate, vertebrate, and trace fossils. Fossils are non-renewable and often fragile resources which, with the exception of microfossils and those that make up minerals, such as coal, are relatively rare and have significant scientific, educational and recreational values. Fossils in the National Parks are a part of America's heritage.
Tour of Park Geology - Colorado Plateau (Y,M,O,T)
This region is one of the world's premier natural showcases for Earth history. Encompassing 240,000 square miles, the Colorado Plateau straddles the region known as Four Corners, where the states of Arizona, Utah, Colorado, and New Mexico meet. Ancient volcanic mountains, plateaus and buttes, deeply carved canyons, and amazing ranges in color are the region's defining characteristics. Elevation for the Colorado Plateau starts at about 2,000 feet above sea level, with plateau tops ranging from 5,000 to 7,000 feet and mountaintops reaching nearly 13,000 feet.
Tour of Park Geology - Basin and Range Parks (Y,M,O,T)
The Basin and Range province has a characteristic topography that is familiar to anyone who is lucky enough to venture across it. Steep climbs up elongate mountain ranges alternate with long treks across flat, dry deserts, over and over and over again! This basic topographic pattern extends from eastern California to central Utah, and from southern Idaho into the state of Sonora in Mexico. Within the Basin and Range Province, the Earth's crust (and upper mantle) has been stretched up to 100% of its original width. The entire region has been subjected to extension that thinned and cracked the crust as it was pulled apart, creating large faults. Along these roughly north-south-trending faults mountains were uplifted and valleys down-dropped, producing the distinctive alternating pattern of linear mountain ranges and valleys of the Basin and Range province.
Tour of Park Geology - Cave and Karst Parks (T)
Cave and karst systems are important because the overwhelming majority of the nation's freshwater is groundwater. About 25% of the groundwater is located in cave and karst regions. The protection and management of these vital water resources are critical to public health and to sustainable economic development. Also, caves are storehouses of information on natural resources, human history and evolution. Recent studies indicated that caves contain valuable data that are relevant to global climate change, waste disposal, groundwater supply and contamination, petroleum recovery, and biomedical investigations. Caves also contain information related to anthropologic, archaeologic, geologic, paleontologic, and mineralogic discoveries and resources.
Descent into the Ice (Y,M,O,T)
Support authoritative science programming by NOVA
All About Glaciers (Y,M,O,T)
From the National Snow and Ice Data Center
The difference between an Iceberg and Glacier (Y,M,O,T)
From Sikumi Custom Alaska Cruises
Iceberg (Y)
Kids.Net.Au - kids safe portal for children, parents, schools and teachers.
National Park Service Tour of Park Geology (Y,M,O,T)
Explore Geology. Virtual and literal tours of geological entities in through the National Parks Service. Looks at Caves, Fossils, Glaciers, Hot Springs, Plate Tectonics, River Systems, Sand Dunes, Shoreline Geology, Soils, Volcanoes and more!
USGS Geology in the Parks (M,O,T)
This new site is produced as a collaborative effort of the US Geological Survey and National Park Service. Our presentation is structured to inform and entice virtual and future park visitors with a non-technical approach to geology. We hope that everyone from middle-school age and up will find something of interest.
Tour of Park Geology - Volcano Parks (Y,M,O,T)
Volcanic processes are constantly changing the Earth. Eruptions can create new islands, build and destroy mountains, and alter landscapes. Active, dormant, and ancient remnants of eruptions are all contained within our National Parks. Many features we see when visiting the National Parks are created by volcanic processes such as geysers, ash flows, and hot springs. Visit the links on this page to learn more about the different types of volcanoes, the rocks created from eruptions, and the landforms that exist because of volcanic processes in the National Parks.
Soil Resources (Y,M,O,T)
Soil Resources from the National Park Service Explore Nature series
Tour of Park Geology - Shoreline Geology (Y,M,O,T)
The National Park Service has 97 coastal park units including National Seashores, Lakeshores, Recreational Areas, Memorials and Monuments. These coastal parks contain more than 7,300 miles of shoreline, and a wide diversity of geological, biological, and cultural resources.
Tour of Park Geology - River Systems (Y,M,O,T)
National Park Service Explore Nature Series
Tour of Park Geology - Oldest Rocks (Y,M,O,T)
National Park Service Explore Nature Series
Tour of Park Geology - Mountain Building (Y,M,O,T)
National Park Service Explore Nature Series
Unofficial National Register of Geoheritage Sites (Y,M,O,T)
National Park Service Explore Nature Series
Tour of Park Geology - Hot Springs/Geothermal (Y,M,O,T)
National Park Service Explore Nature Series
Pinnacles (Y,M,O,T)
An Ancient Volcano: Rising out of the chaparral-covered Gabilan Mountains, east of central California's Salinas Valley, are the spectacular remains of an ancient volcano. Massive monoliths, spires, sheer-walled canyons and talus passages define millions of years of erosion, faulting and tectonic plate movement.
Lava Beds National Monument (Y,M,O,T)
A land of turmoil, both geological and historical. Over the last half-million years, volcanic eruptions on the Medicine Lake shield volcano have created a rugged landscape dotted with diverse volcanic features. More than 700 caves, Native American rock art sites, historic battlefields and campsites, and a high desert wilderness experience await you!
Village Creek State Park (Y,M,O,T)
Here you can enjoy the unique geology of Crowley's Ridge, a landform of rolling hills in eastern Arkansas's Mississippi Alluvial Plain. A geologic anomaly, the ridge is covered with a lush hardwood forest featuring oak, sugar maple, beech, butternut, and tulip poplar. Park interpretive programs and exhibits share the story of the natural and cultural heritage of Crowley's Ridge. Five park trails totaling five miles allow hikers the opportunity to explore this forest on their own, or on guided trail walks with park interpreters. Anglers can fish for bass, bream, catfish, and crappie at the park's two lakes, Lake Austell and Lake Dunn. Launch ramps, boat docks, bait, fishing boats, electric motors, and pedal boats are available late-spring through Labor Day
Cape Krusenstern National Monument (Y,M,O,T)
A coastal plain dotted with sizable lagoons and backed by gently rolling limestone hills. Nearly 5000 years of prehistory are represented on the 114 well- preserved beach ridges located adjacent to Krusenstern Lagoon (Giddings and Anderson 1986). Sites on the bluff behind the beach ridges may date as early as 9,000 year before present.
Denali National Park & Preserve (Y,M,O,T)
Features North America's highest mountain, 20,320-foot tall Mount McKinley. The Alaska Range also includes countless other spectacular mountains and many large glaciers. Denali's more than 6 million acres also encompass a complete sub-arctic eco-system with large mammals such as grizzly bears, wolves, Dall sheep, and moose.
Katmai National Park & Preserve (Y,M,O,T)
Famous for the Valley of Ten Thousand Smokes, a spectacular forty square mile, 100 to 700 foot deep ash flow deposited by Novarupta Volcano. A National Park & Preserve since 1980, today Katmai is still famous for volcanoes, but also for brown bears, pristine waterways with abundant fish, remote wilderness, and a rugged coastline.
Kenai Fjords National Park (Y,M,O,T)
Where the ice age still lingers! In Kenai Fjords, glaciers, earthquakes, and ocean storms are the architects. Ice worms, bears and whales make their home in this land of constant change. Native Alutiiq used these resources to nurture a life entwined with the sea. Explore this site to discover Kenai Fjords, its history, science and remote splendor.
Kobuk Valley National Park (Y,M,O,T)
The Great Kobuk Sand Dunes lie 40 miles above the Arctic Circle, yet summer temperatures there can soar to 100 degress Fahrenheit! One of Alaska's true oddities, in some places, the sand stands 100 feet high. The three clusters of dunes within the park
Yukon-Charley Rivers (Y,M,O,T)
Geology, cultural history, remnants of the last great gold rush, wildlife and scenery. But, best of all, solitude. Your adventure awaits.
The Pleistocene Gubik Formation, Skull Cliff, Alaska (Y,M,O,T)
This virtual field trip for earth science and geology was compiled from images and data collected under a research permit (NSB 96-093) from the North Slope Borough Planning Department, Barrow, Alaska.
Bering Land Bridge (Y,M,O,T)
The Bering Land Bridge connects Asia to North America. The website offers historical information about the park for those who cannot visit in person.
Age Range Key
Y—Young (PreK-3rd)
M—Middle (4th-6th)
O—Older (7th-12th)
T—Teacher Resources