Earth Day comes around April 22 each year, offering homeschoolers the perfect opportunity for powerful science learning.
While Earth Day may conjure mental pictures of those important litter clean-ups, it's also a perfect time for you and your kids to explore:
back yard birds, bees, butterflies and other creatures
wildlife habitats
nature journaling
pollution
your ecological footprint
streams, rivers and wetlands
conservation
recycling
endangered plant and animal species
We've already done the research for you, pulling together videos, websites, lesson plans, game ideas, nature guide apps, projects, and ways you and your family can take action.
Whether your family chooses to plant a tree or learn about solar power, you can help your kids and teens learn about investing in a healthy Earth.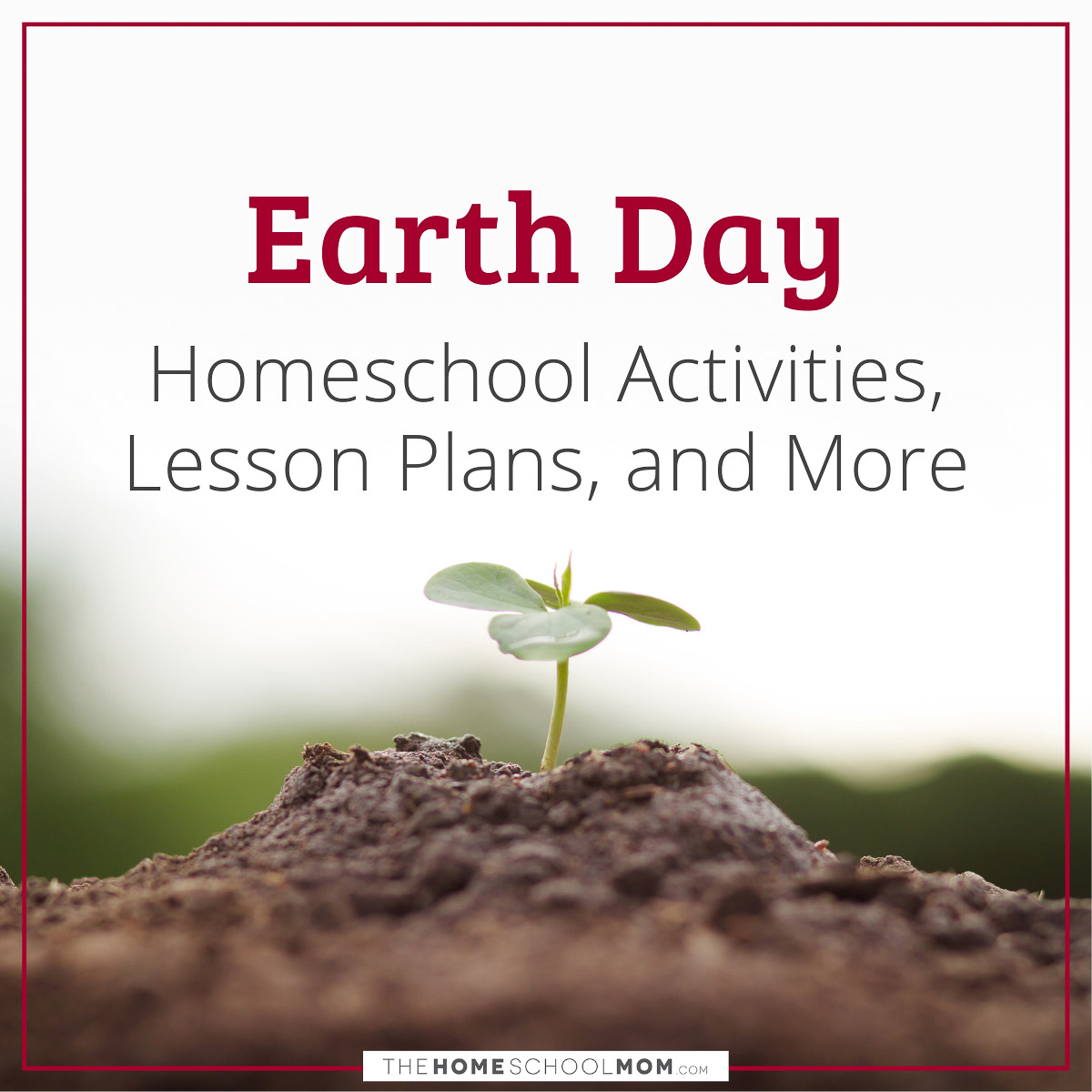 Pollution Prevention Curriculum  (M)
Teaching Pollution Prevention to Middle School Students. Four free, easy-to-implement science units that tackle important environmental issues and inspire action by empowering students with the tools to make a difference. Students will learn to define problems, evaluate evidence, and develop their own solutions. Grades: 6-8
Nature Lab Curriculum from The Nature Conservancy  (Y, M, O)
The Nature Conservancy is a one-stop shop for teaching earth sciences. The organization offers K-12 curriculum, complete with videos, downloadable teacher guides, hands-on activities, interactive simulation tools, and virtual field trips.
Earth Day Volunteer Ideas  (Y, M, O, T)
Earth Day is the perfect opportunity for outdoor volunteer opportunities. These ideas from Live Science include volunteering in habitat reconstruction projects, community clean ups, planting trees, invasive species removal, and more.
Celebrate Earth Day by Focusing on Environmental Justice and Awareness (M,O)
Explore the history of the environmental justice movement, the racial implications of pollution and waste disposal, and the role of new technologies in conservation efforts. Use these resources to inspire students to preserve the health of our planet and its inhabitants.
Environmental Current Events from National Geographic  (M, O, T)
Teach Earth Day using current events. National Geographic is an excellent resource for non-biased environmental news around the world.
Earth Science Merit Badge Activities  (Y, M, O)
These activities from Boy Scout Trail can be adapted for all ages of prospective science students. They will teach students to research, observe, experiment, and report on various earth science topics.
Earth School from TEDed  (Y, M, T)
Earth School is a 6-week curriculum from TEDed that features a different video topic each day, focusing on how humans interact with nature. Each week has a different theme: The Nature of Our Stuff, The Nature of Society, The Nature of Nature, The Nature of Change, The Nature of Individual Action, and The Nature of Collective Action.
Discover the Forest Activities and Resources  (Y, M, O, T)
Discover the Forest is a project from the U.S. Forest Service that is designed to encourage parents and kids to spend time in and learn about the outdoors. They offer a range of activities, lesson plans, and games that can all be completed outdoors.
Earth Day Activities from Family Education  (Y, M)
These Earth Day activities from Family Education are a good way to get the whole family involved. Included are art and craft ideas, recommended reading, coloring pages, and more.
Nature Journaling with John Muir Laws  (Y, M, O, T)
John Muir Laws is not related to John Muir, but he was named after him. His site hosts tons of lessons, resources, and tutorials to start nature journaling and for using it as a tool in your classroom.
The Happy Earth Day Coloring and Activities Book  (Y)
An 11-page (pdf) coloring book full of tips for making the Earth a better place.
Wetlands  (Y, M, O, T)
An overview and information from World Wildlife Fund. WWF is one of the world's leading conservation organizations.
Earth Day Grocery Bags Project  (Y,M,O,T)
The Earth Day Groceries Project is a cost-free environmental awareness project in which students decorate paper grocery bags with environmental messages for Earth Day.
Wetlands: Why Are They Endangered  (M,O)
Students explore the damaging effects of human environment interaction on wetlands. Grade 8-10
National Geographic Earth Day Lesson Plans  (Y)
"Students read and discuss a magazine article about Earth Day. They discuss environmental problems that affect their daily lives and brainstorm ways to make every day Earth Day by making small changes that have a big impact on the environment." For grades 3-5.
EarthDay.org  (Y,M,O,T)
EarthDay.org is a large site dedicated to Earth Day. It hosts many resources such as news articles, types of Earth Day Programs, how to find and participate in events near you, and how to host your own Earth Day event.
Earth Day Resources  (Y,M,O,T)
A collection of Earth Day educator resources from the EPA, including K-12 lesson plans, science kits, activities, downloadable info sheets, and more.
DLTK's Custom Dominos  (Y)
Great tool for any holiday or unit study theme. Choose the Earth Day theme for your dominoes and then choose color or black and white before printing.
Your Ecological Footprint Calculator  (Y,M,O,T)
Take this "quiz" to find out how much impact your lifestyle has on the environment.
Earth Day Lesson Plans  (Y,M,O,T)
In honor of Earth Day, Education World offers the following articles and activities for classroom teachers.
Earth Day Crafts and Projects  (Y)
Earth Day celebrates planet Earth and encourages anti pollution ideas. Some people celebrate Earth Day on April 22; some celebrate Earth Day on the Vernal Equinox.
The Imagination Factory - Recycling Art Projects  (Y,M,O,T)
Kids at Art is a website dedicated to teaching how to use recycling in art. In addition to many projects, the site includes an exploration of various artwork around the country.
The National Wildlife Federation Education Resources  (Y,M,O,T)
The National Wildlife Federation is home to lots of information on wildlife, habitats, and the environment. It also educational resources such as lesson plans, apps, and online guides like the Advanced Bird Finder for those species you can't find in your filed guide. The apps have powerful search features to help you narrow down your results by family, shape, color, habitat and, more. Look in the dropdown menu under Educator Resources for the link to the Nature guide apps.