Activities, Lesson Plans, and More
Age Range Key
Y—Young (PreK-3rd)
M—Middle (4th-6th)
O—Older (7th-12th)
T—Teacher Resources
Free Plays and Worksheets  (Y, M, O)
Drama Notebook has more than 60 plays available to watch for free online, which are categorized by age. Students can watch the plays and then fill out a free play report worksheet.
How to Teach Homeschool Drama (T)
This 16-page teacher's guide from Drama Notebook includes everything you need to start teaching drama from home, including basic elements of drama, activities and instructions, different areas of study, and more.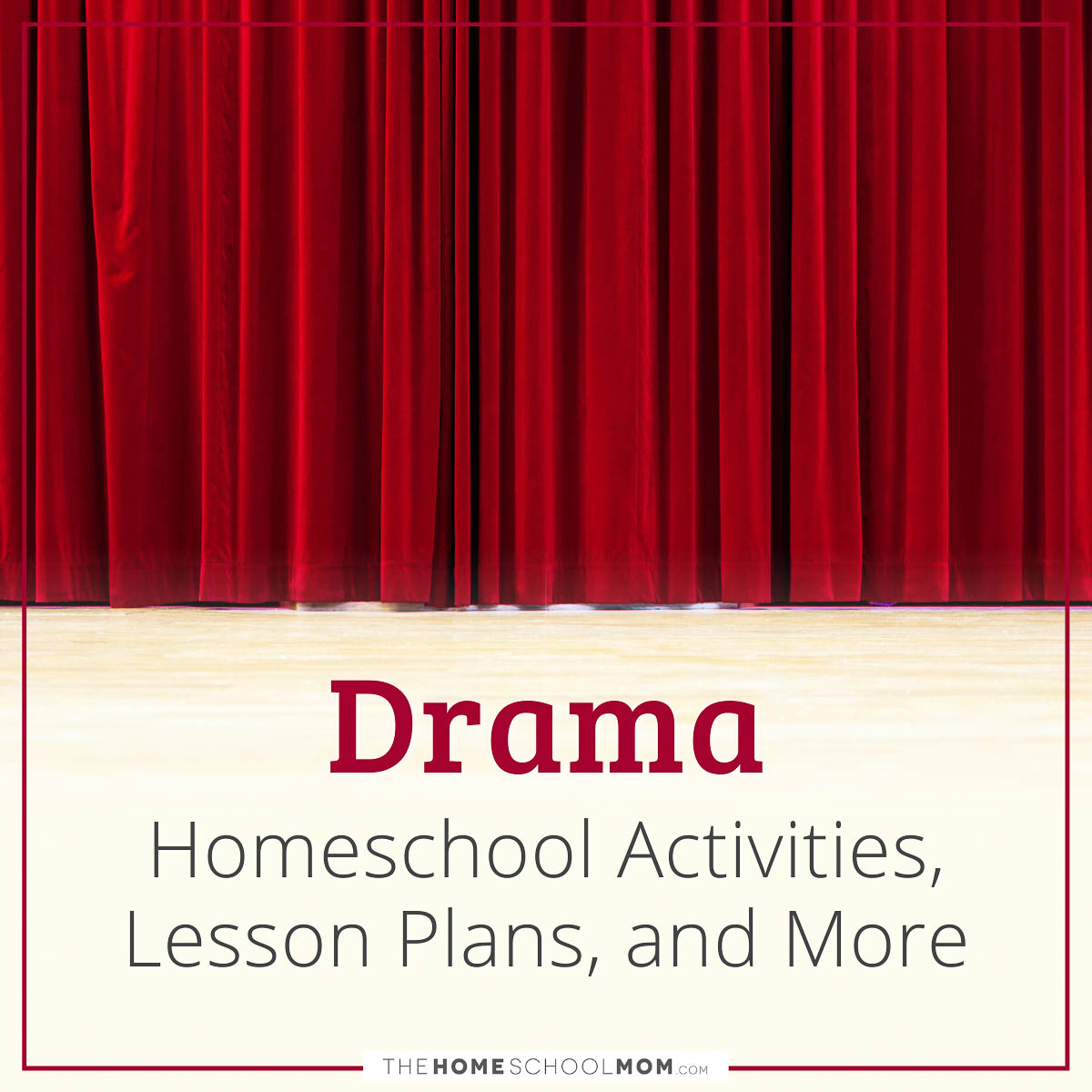 Kennedy Center Theater Lessons and Resources (M,O,T)
"Take a peek behind the red curtain and discover the artistry and history behind the world of theater. Explore the playwriting process first-hand, learn about the cultural impact of performance, and read and perform some of the most influential works of the 20th century."
VAM Theater and Performing Arts Resources (M,O,T)
These lesson plans from the Victoria and Albert Museum cover specific plays and playwrights, film, different aspects of stage performance and production, and more. Designed for ages 11-18.
High School Theatre Arts Lessons (O,T)
These Theatre Arts lesson plans from Arts at the Core cover all of the basics for high-level theater production and appreciation, including movement and voice, directing and playwriting, tech, classical theatre, and more.
Drama Momma Speaks (Y,M,O,T)
Drama Momma Speaks is the personal blog of drama teacher Deborah Baldwin. The blog is an excellent resource for learning about various aspects of drama teaching, provides lots of free lessons and units, and has roundups of resources from around the web.
Creative Drama (Y,M,O,T)
Creative Drama is a large website dedicated to online drama teaching resources. You can find lessons, teacher guides, production resources, exercises and activities, games, plays available for use, and more.
Know it All: Theater Lessons and Resources (Y,M,O,T)
Know it All has a large collection of theater and drama lessons, videos, interactives, and other resources for K-12 students.
Baltimore Center Stage Resources (Y,M,O,T)
Baltimore Center Stage hosts several fun, free educational resources for K-12 students, including a virtual drama camp and a library of video plays and accompanying lessons.
Drama Basics and Advice  (T)
Actors, drama students, instructors, and theater lovers will find essential drama resources here. This section provide guides to auditioning, line memorization, and stage direction. English students will also find resources for studying and writing about dramatic literature.
Reader's Theater Editions  (M,O,T)
Reader's Theater Editions are free scripts for reader's theater (or readers theatre) adapted from stories written by Aaron Shepard and others--mostly humor, fantasy, and world tales from a variety of cultures. A full range of reading levels is included, with scripts aimed mostly at ages 8--15.
Reader's Theatre Basics  (T)
Reader's Theatre is a valuable tool for any classroom. It allows students to take virtually any piece of literature, analyse it and adapt it into a script. This script can then be performed with a minimum of preparation, props or scenery. This site will provide you with the knowledge, experience, resources and sources to conduct a reader's theatre workshop in your classroom.
How to Write a Radio Play  (Y,M,O,T)
Radio is an extraordinary medium. A radio play can travel through time and space, between centuries and continents... We asked two award-winning radio dramatists, Marcy Kahan and Mike Walker, to share their secrets and to explain what makes an effective radio play. (Note that the navigation through the information is on the right of the page) From the BBC.
Method Acting  (M,O,T)
This page will lead interested individuals to descriptions of various techniques and procedures of so-called "method" acting. From TheatrGroup.
Theater on a Shoestring  (O,T)
The Theater on a Shoestring blog publishes tons of helpful articles concerning various aspects of theater, including acting exercises, stage and prop design, stage makeup, lighting, special effects, and other resources for putting on your production with a shoestring budget.
The Costume Page  (M,O,T)
The Costume Page hosts guides, information, and resources for reproducing just about any period of costume, from Ancient Rome and Medieval Era to the Victorian Era and 20th Century.
Teaching Shakespeare Through Exercises on Acting and on the Basic Emotions  (O,T)
A series of activities and exercises from educator Gerald Grow that have students analyze Shakespearean plays via identifying and reproducing emotions, character analysis, and more. Plays mentioned: Romeo and Juliet, King Lear, and The Winter's Tale.
Radio Days: A Webquest  (M,O,T)
Back before there were televisions and computers, there was radio. Families of the 1930s and 1940s would gather around the radio and listen to their favorite programs such as Little Orphan Annie, Amos and Andy, The Guiding Light, and The Shadow. Millions of Americans tuned in daily to their favorite programs, just as today we tune in to our favorite television shows. Radio allowed the listener to create their own images of characters and settings, a luxury that we no longer have in these days of television. Take a journey back to the "Golden Age of Radio" as you learn about Radio Days.