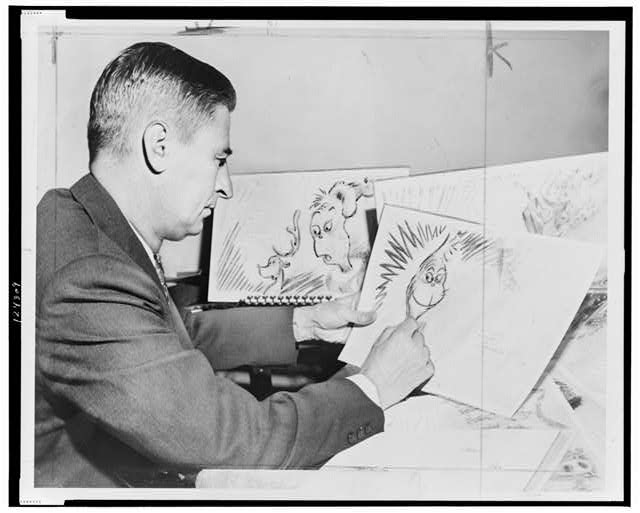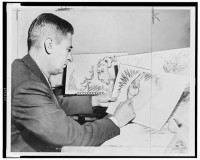 Dr. Seuss is known for writing and illustrating children's picture books. Theodor Seuss Geisel, also known as Dr. Seuss, was an American writer, poet, and cartoonist. Dr. Seuss' most famous book, The Cat in the Hat was written because he was worried children were not learning to read.
Born - March 2, 1904
Died - September 24, 1991
Activities, Lesson Plans, and More
Age Range Key
Y—Young (PreK-3rd)
M—Middle (4th-6th)
O—Older (7th-12th)
T—Teacher Resources
Dr. Seuss Art  (Y,M,O,T)
Dr. Seuss Art is an extensive site of all things about the famous illustrator. Includes a comprehensive biography, his entire art collection and a list of museums across the country you can see exhibitions on the artist.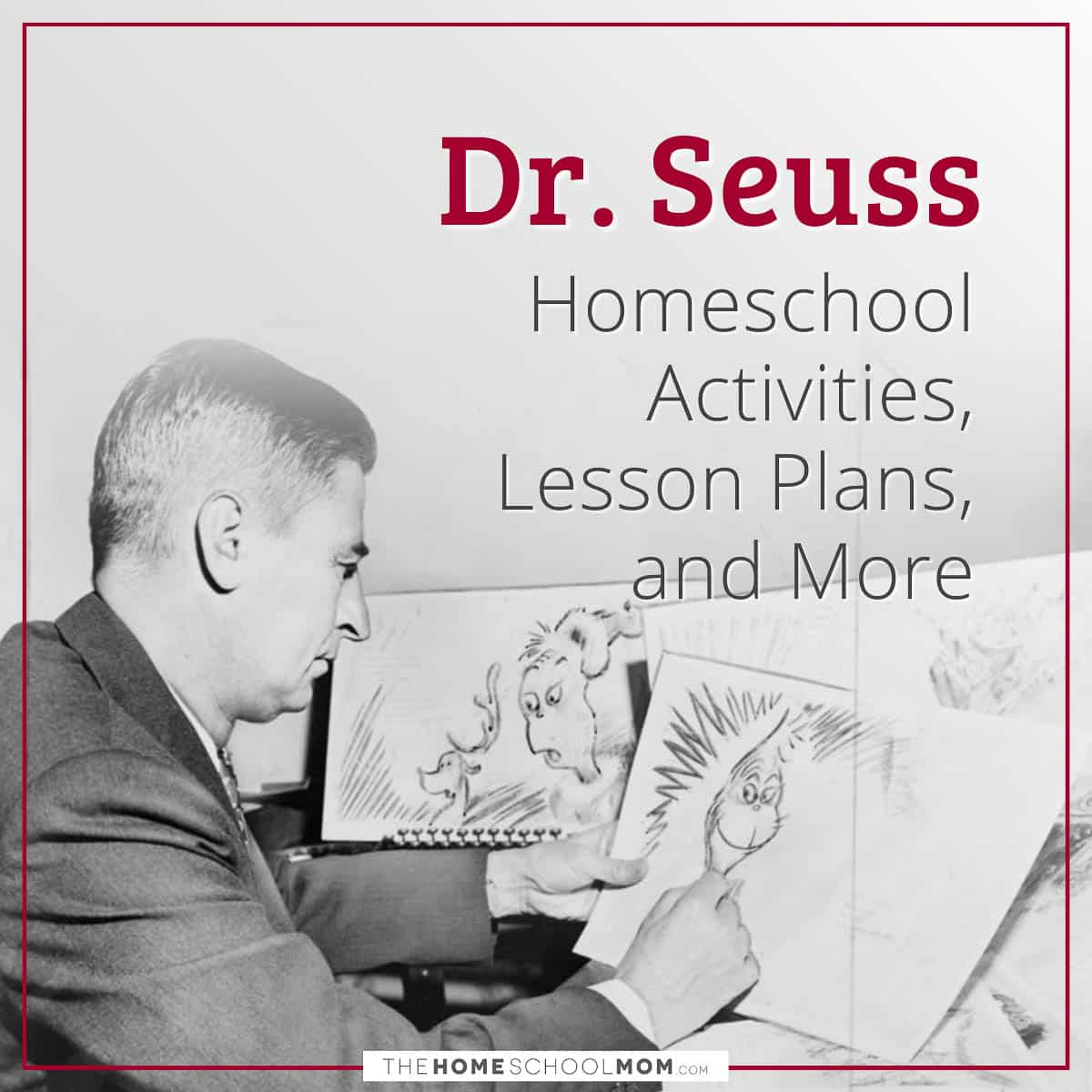 Dr. Seuss Biography  (Y,M,O,T)
A detailed biography of Dr. Seuss ranging from his upbringing and college years, to his start in advertising, his role in WWII, and his later life and legacy. By Thought Co.
The Dr. Seuss Experience  (Y,M,O,T)
The Dr. Seuss Experience is an immersive, traveling exhibit that features a maze of rooms that bring the scenes and characters of Dr. Seuss books to life. Sign up for their email newsletter to find out when it will be in your area.
Dr. Seuss National Memorial Sculpture Garden  (Y,M,O,T)
An exhibition that tells the story of Theodor Geisel's (Dr. Seuss's) childhood in Springfield with family photographs and genealogical information about the Seuss-Geisel family history. The exhibit features comparisons of Dr. Seuss's fanciful illustrations with actual places in Springfield that he would have known.
Seussville  (Y)
A fun site for younger students to help them interact and learn about Dr. Seuss. The site provides videos, games, an overview on characters from the books, and more! Includes a recipe for Green Eggs and Ham, Click & Play games, and Print & Play Activities. From Random House, inc.
Dr. Seuss Fun  (Y,M,T)
Dr. Seuss Fun is a Google site that rounds up the best Dr. Seuss games, activities, lessons, printables, videos, and other resources on the web.
The Political Dr. Seuss  (M,O,T)
Reveals how popular children's author Theodor Geisel advocated social change, teaching generations of children not only how to be better readers, but better people as well. From PBS.
Use Dr. Seuss's The Lorax to Explore Environmental Issues  (M,T)
Students analyze the actions of a fictional character on his environment and suggest possible ways that the character could have made a less harmful impact on his environment. Grade 6-8. From the Arizona Geographic Alliance.
The Advertisements of Dr. Seuss  (Y,M,O,T)
A complete collection of hundreds of advertisements Dr. Seuss created when he was getting his start as an illustration artist, by the University of California.
Dr. Seuss Went to War: A Catalog of Political Cartoons  (O,T)
In addition to children's books and advertisements, Dr. Seuss or Theodor Seuss Geisel, illustrated hundreds of political cartoons during WWII for the New York newspaper PM. A large collection of those drawings are available on this site from the University of California San Diego library. They can be browsed in chronological order or searched by topic, including people, places, issues, and battles. A disclosure from the site: "Some content in this collection includes images or language that may be discriminatory or offensive. The content is intended to serve as valuable evidence for analyzing and challenging the legacies of history both as it occurred and how it unfolds in the modern-day, rather than to perpetuate or endorse any discriminatory or offensive attitudes or acts." Please review for appropriateness.
Beyond Green Eggs and Blue Fish: The Art and Life of Dr. Seuss  (M,O,T)
This site from Tufts University discusses and analyzes the art of Dr. Seuss. The site provides breakdowns on different periods in Seuss' life with examples and descriptions, studying the differing styles. A short biography is also included, as well as a complete list of works.
Seuss-like' Sea Creatures Discovered  (Y,M,O)
By LiveScience.com. A new species of sea squirt was discovered in the deep sea off Australia. The creature traps nearby fish in a manner similar to a Venus flytrap. Not really a Seuss resource - but a very cool side trip while celebrating his birthday.
Dr. Seuss FREE Unit Study  (Y,M,T)
This free unit study from Peanut Butter Fish Lessons takes a look at Dr. Seuss's life and work and includes notebooking pages, a timeline activity, a game, videos, drawing tutorials, and more.
Dr. Seuss Unit Activities, Lessons and Printables  (Y,T)
A comprehensive list of lessons, activities, recipes, games, printables, and more covering Dr. Seuss. From A-to-Z Teacher Stuff for grades K-2.