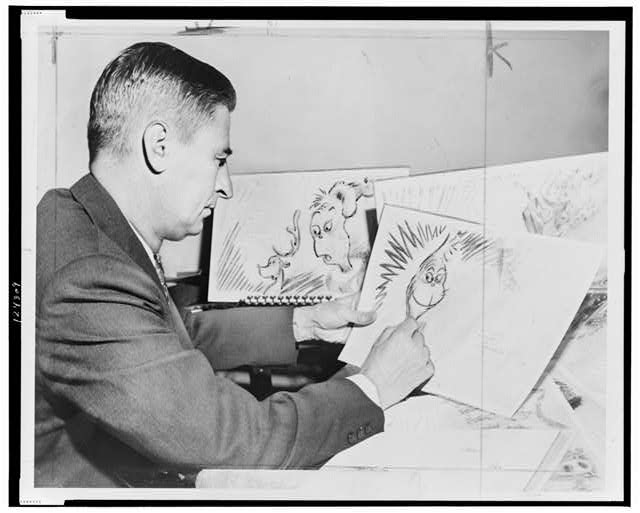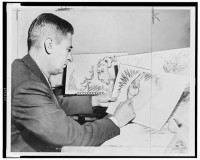 Dr. Seuss is known for writing and illustrating children's picture books. Theodor Seuss Geisel, also known as Dr. Seuss, was an American writer, poet, and cartoonist. Dr. Seuss' most famous book, The Cat in the Hat was written because he was worried children were not learning to read.
Born - March 2, 1904
Died - September 24, 1991
Activities, Lesson Plans, and More
Age Range Key
Y—Young (PreK-3rd)
M—Middle (4th-6th)
O—Older (7th-12th)
T—Teacher Resources
Use Dr. Seuss's The Lorax to Explore Environmental Issues (M)
Students analyze the actions of a fictional character on his environment and suggest possible ways that the character could have made a less harmful impact on his environment. Grade 6-8.
Seussville (Y)
From Random House, inc. - Celebrate Read Across America, Enter a Happy Birthday to you Sweepstakes, take the Seussville Survey and many more activities.
Dr. Seuss National Memorial Sculpture Garden (Y,M,O,T)
An exhibition that tells the story of Theodor Geisel's (Dr. Seuss's) childhood in Springfield with family photographs and genealogical information about the Seuss-Geisel family history. The exhibit features comparisons of Dr. Seuss's fanciful illustrations with actual places in Springfield that he would have known.
Dr. Seuss Art (Y,M,O,T)
The Art of Dr. Seuss
Dr. Seuss Theme Unit (Y)
From abcteach.com
The Cat in the Hat (Y)
Lessons for Dr. Seuss' birthday. Students love the rhyme and imaginative creatures that Dr. Seuss shares in his stories!
Seuss-like' Sea Creatures Discovered (Y)
By LiveScience.com. A new species of sea squirt was discovered in the deep sea off Australia. The creature traps nearby fish in a manner similar to a Venus flytrap. Not really a Seuss resource - but a very cool side trip while celebrating his birthday.
The Political Dr. Seuss (M,O,T)
Reveals how popular children's author Theodor Geisel advocated social change, teaching generations of children not only how to be better readers, but better people as well.
Before Green Eggs and Ham: See the early advertising works of Dr. Seuss (Y,M)
Seuss is one of many cultural icons who cut his teeth in advertising
Seussville (Y)
All things Seuss. A recipe for Green Eggs and Ham, Click & Play games, and Print and Play Activities.