Activities, Lesson Plans, and More
Age Range Key
Y—Young (PreK-3rd)
M—Middle (4th-6th)
O—Older (7th-12th)
T—Teacher Resources
Nations Online: Australia  (M,O,T)
Nations Online has a complete database of resources for studying the people and places of Australia. It provides a brief overview as well as a comprehensive collection of resource websites to learn about Australia's government, geography, environment, culture, business, tourism, and more.
Directory.gov.au  (M,O)
Directory.gov.au is the homepage of Australia's governing bodies, where you can find links to its national and state government sites, departments and agencies, and more.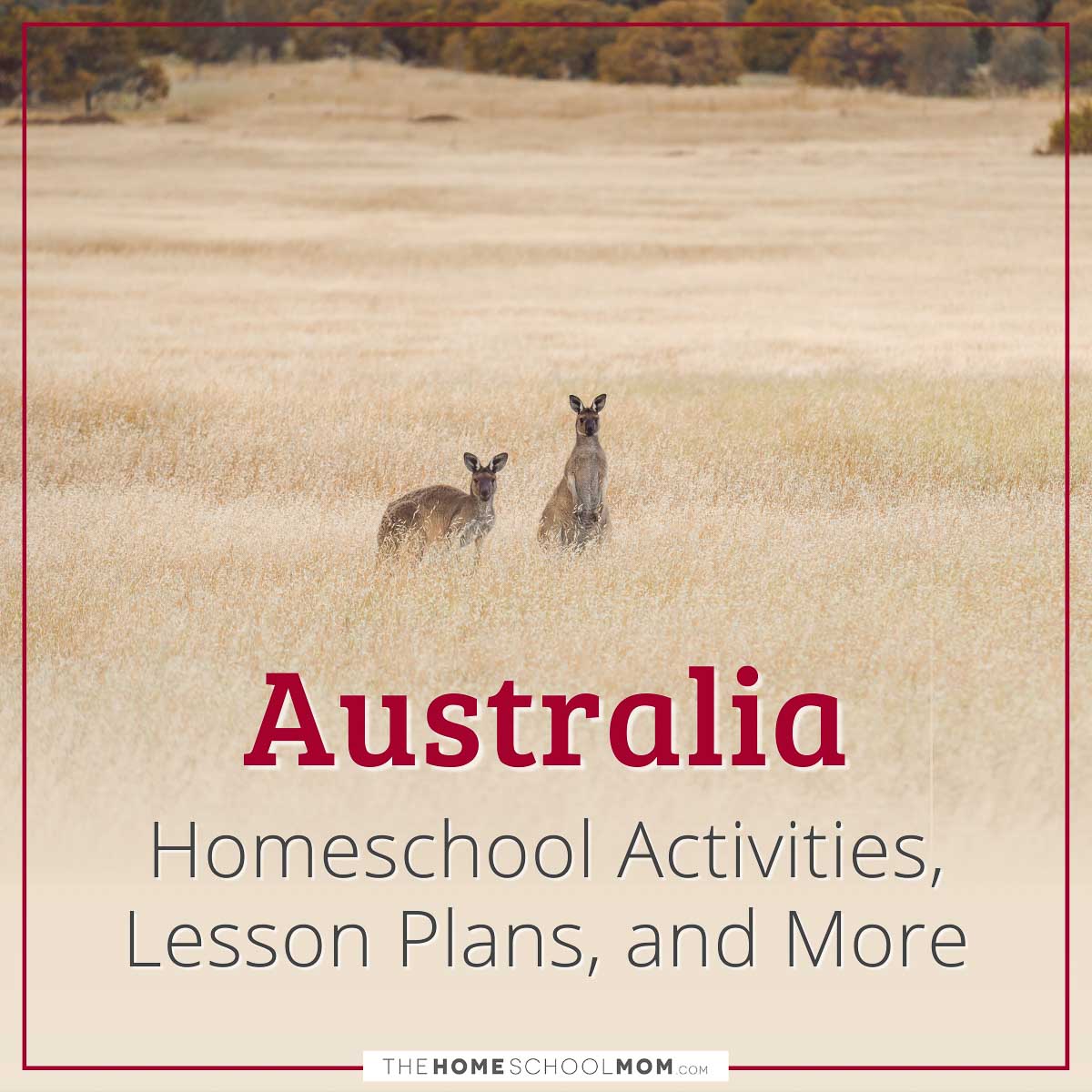 National Parks in Australia  (Y,M,O,T)
The Global Alliance of National Parks has cataloged all of the national parks in Australia, where you can learn about each park's wildlife, landscapes, and visitor information.
Australia Geography Unit  (Y,T)
This 6-part unit on Australia's Geography from the Royal Geographical Society provides an overview on Australia's landscape, climate, population, cities, and culture. Included are lessons, handouts, and activities for each topic.
Interactive Map of Australia  (Y,M,O,T)
Explore the popular landmarks, sites, and destinations of Australia with this interactive map by Australias.Guide.
Australia UNESCO World Heritage Sites  (M,O)
Australia is home to 20 UNESCO World Heritage Sites. You can find a description, maps, photos, and videos for each location.
Australian Museum  (Y,M,O,T)
The Australian Museum is an excellent resource for learning about Australia's natural and cultural history. You can find comprehensive resources covering Australian first nations, climate, geology, wildlife, dinosaurs, and much more. In addition to information on the site, the museum provides educational resources such as virtual learning excursions, lesson plans, and activities.
Australian History: Interactive Timeline & Curriculum  (Y,M,O,T)
This interactive timeline from National Museum Australia starts 65,000 years ago with evidence of Australia's first peoples and concludes in the 2000s. You can use the timeline to find information and lessons related to Australia's indigenous history, its Colonial history, and modern history.
Mr. Nussbaum's Australia Geography Resources  (Y,M,T)
Mr. Nussbaum's site for Learning and Fun has a large unit on Australia's geography that includes lessons, handouts, activities, and interactives for grades 1-6. Students will learn about Australia's states and provinces, wildlife, the Sydney Opera House, the Great Barrier Reef, and more.
Mr. Donn's Australia Unit  (Y,M,T)
Mr. Donn's Site for Kids and Teachers has a large study unit covering Australia. Topics covered include history, Aboriginal art, Australian animals, Australian government, geography, the Great Barrier Reef, early exploration, and tons more. Included are lesson plans, activities, and presentations PowerPoint format.
Australia: Lessons About the 'Land Down Under'!  (Y,M,O,T)
From Education World.com, a collection of K-12 lessons about the continent of Australia and its culture. Included: Activities to involve students in using maps, creating an ABC picture book of Australian animals, preparing Australian foods, growing corals, and much more!
Australia's Geography  (Y,T)
A large unit from Enchanted Learning on Australia's Geography that includes fun facts, stats, and printable maps, worksheets, and more.
Australia Day  (Y,M,O,T)
The official Australia Day website from New South Wales. You can find information on events, photos of celebrations, and fun activities for kids, including an Aussie Slang Dictionary, trivia, coloring pages, and more.
Australian Animal Teaching Resources  (Y,M,O,T)
Zoos Victoria is the nonprofit organization that oversees four zoos in Australia. Its website contains a large collection of educational resources for learning about Australia's native wildlife, including animal toolkits, e-books, Ask a Zoo Expert resources, video showcases, and teacher's guides.
Australian Wildlife Curriculum  (Y,T)
This curriculum from The Glideways Program provides an overview of Australia's wildlife, ecosystems, habitats, and invasive animals. Included are lessons, activities, and factsheets.
Greet Barrier Reef: Endangered Species  (Y,M)
Online tutorial for great barrier reef animals: Corals, Green Sea Turtles, Humpback Whales and Dugongs. From Sheppard Software.
Australian Animals  (Y,M,O,T)
An extensive, A-Z collection of photographs of Australian animals. From the Australian Explorer.com.
Australian Aboriginal Didgeridoo Music  (Y,M,O,T)
Australian Aboriginal music includes the music of Aboriginal Australians and social, cultural and ceremonial observances of these people, down through the millennia of their individual and collective histories to the present day, and has existed for 40,000 years. YouTube submission from Traditional Music Channel.
Didjeridoo  (Y,M,O,T)
The didgeridoo is a sacred Australian Aborigine instrument that dates back more than 40,000 years. YouTube video submitted by Planet Doc Express Documentaries.
Travel for Kids: Australia  (Y,M)
The Travel for Kids website gives background information and photos of Australia, as well as top literature picks for children with themes related to Australia.
Australia Themed Coloring Pages  (Y,M,O,T)
Coloring.ws has a large collection of printable maps, famous sites, animals, the Australian flag, and more.