The day for fireworks, cookouts, and patriotism is almost here! While there is no doubt that barbecues and family get-togethers make the 4th of July exciting and memorable, Independence Day is about so much more than that.
A poll by the Colonial Williamsburg Foundation at the time of the nation's 225th birthday found that 14% of U.S. teens believed that the 4th of July celebrates the day that America declared independence from France. Homeschoolers have a wonderful opportunity to ensure that their children understand the meaning behind the holiday that is the foundation of our nation's existence.
There are plenty of fun 4th of July lessons and activities that also help children learn about the importance of Independence Day. This year, try some of these ideas to make the holiday memorable and educational at the same time!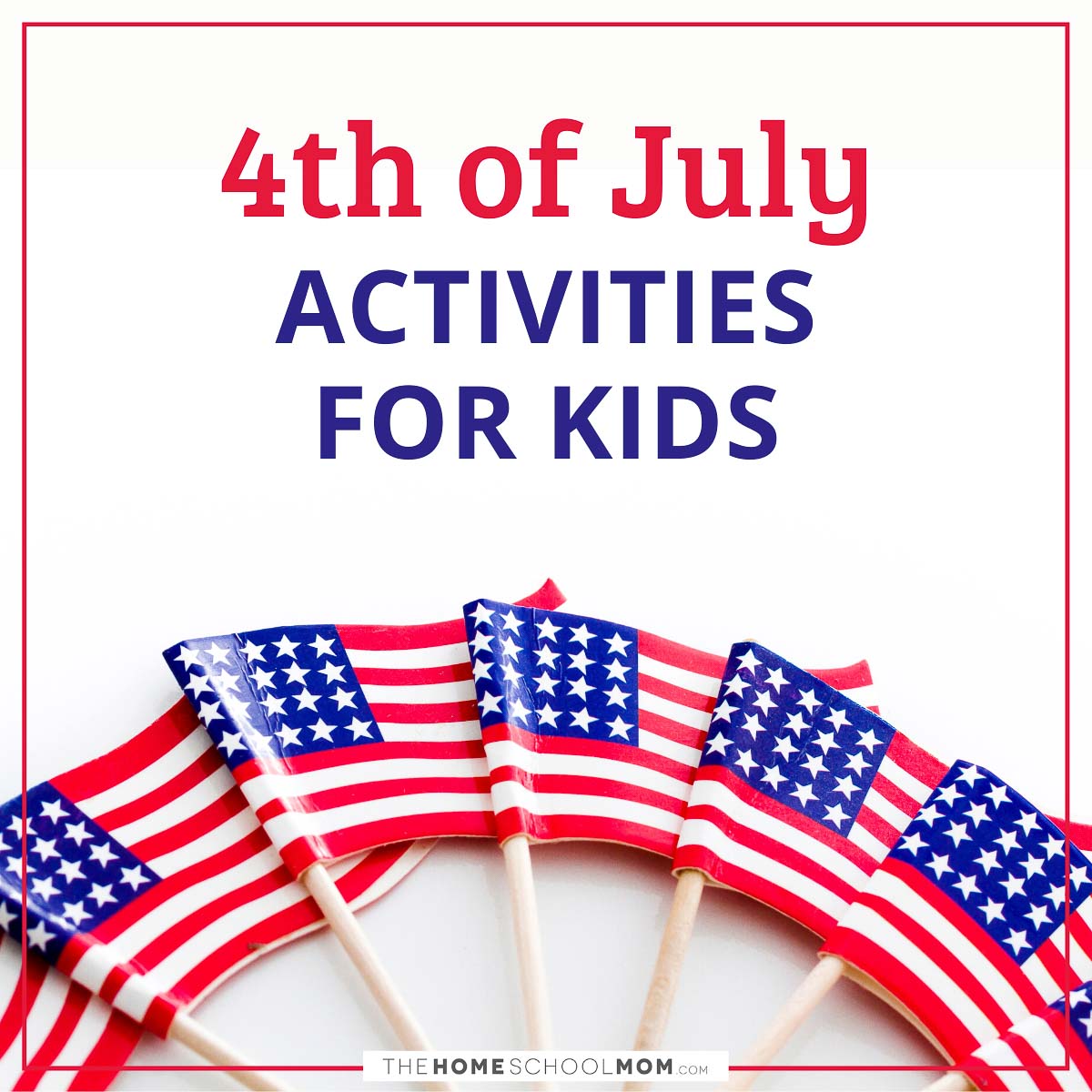 1. Learn the history – In addition to at-home history resources, there are wonderful online options to help children learn about the people, documents, and events behind July 4th. Some choices:
2. Watch educational videos – These child-friendly teaching videos address everything from the independence of the 13 colonies to the role of George Washington.
3. Listen to old radio shows – Listen online to old radio shows with 4th of July themes at Old Time Radio Catalog. Includes one show about the signing of the Declaration of Independence, true stories from the radio of a squad car on July 4, 1934, and more!
4. Make a Fourth of July lapbook – The Speech Addict at TeachersPayTeachers is offering free resources for creating a lapbook to celebrate Independence Day. This is a great way to have fun doing crafts, while helping kids learn about the holiday!
5. Make some patriotic food! What better way for kids to remember than for them to eat what they learn? Have kids help make these patriotic recipes, and talk to children about what the colors red, white, and blue represent for America, as well as the meaning behind the symbols of patriotism as they eat their way into the spirit of the holiday!
6. Read eyewitness accounts – Read the original letter from John Adams, reporting on his meeting with the British King in 1785, after America's victory in the Revolutionary War. This online resource comes from the National Archives, and features a variety of eyewitness accounts from people throughout history.
7. Do some crafts. Link Independence Day learning with some hands-on activities!
8. Go on a scavenger hunt. Kids can learn about Independence Day and national symbols with this printable 4th of July scavenger hunt.
9. Listen to patriotic songs. If you don't have any patriotic music of your own, listen online to songs such as Stars and Stripes Forever, My Country 'tis of Thee, and America the Beautiful. As you listen to the music, read and discuss the lyrics and how they relate to Independence Day.
---