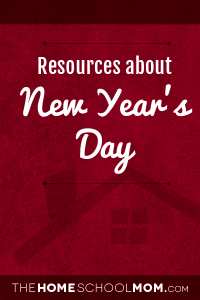 Online Social Studies Lessons
With A Student-Paced Approach
Get history, geography, civics & more
Teaches concepts with a sense of humor
Available to elementary & middle schoolers
Children's New Year Fun Games and Activities (Y,M,O,T)
From Apples4the teacher.com
Celebrations, Customs and Traditions of New Year (Y,M,O,T)
From The Holiday Spot.com
New Year's Eve Treats for Kids (Y,M,O,T)
From Family Corner.com
New Year's Eve Party for Kids (Y,M,O,T)
New Year's Eve party ideas from Birthday in a Box.com
New Year's Traditions (Y,M,O,T)
From infoplease.com
A History of New Years (Y,M,O,T)
From SimpleToRemember.com
Family New Year's Eve (Y,M,O,T)
Activities for kids from Tip Junkie.com
New Year's Fun and Games (Y,M,O,T)
Kids-style New Year's from Sponnful.com, formerly FamilyFun
Happy New Year! (Y,M,O,T)
Lots of cool crafts to ring in the new year with your family. Webpage is from 2012 but crafts are still fun for kids.
New Years History and Customs (Y,M,O,T)
From AdoptionWorld.org
Happy New Year Activity Page (Y,M,O,T)
From Activity Village.co.uk
Living With a Clean Slate (Y,M,O,T)
An article for the teacher (or student) who didn't live up to last year's resolutions, and isn't ready for more.
Auld Lang Syne (Y,M,O,T)
The history behind the song from Robert Burns