This post is by Jamie G, a homeschooling mom, and is from our contributing sponsor, Time4Learning.
3 Ways to Relocate Your Enthusiasm!
So, you've been homeschooling a while now... Whether you're a pro or just starting, a new year of homeschooling always seems to start out like the beginning of a marathon. Yet, after a while, it's easy to lose steam and find your enthusiasm has hit an all-time low. All of those amazing reasons that you started homeschooling for in the first place seem like a distant foggy memory, all while the day to day trials of reading struggles and multiplication amnesia begin to make homeschooling look more like a swamp of dashed hopes and dreams. This, of course, can lead you to wonder if you did the right thing in the first place. Homeschooling can have issues. After all, you could go get a pedicure if you weren't knee deep in long division, right?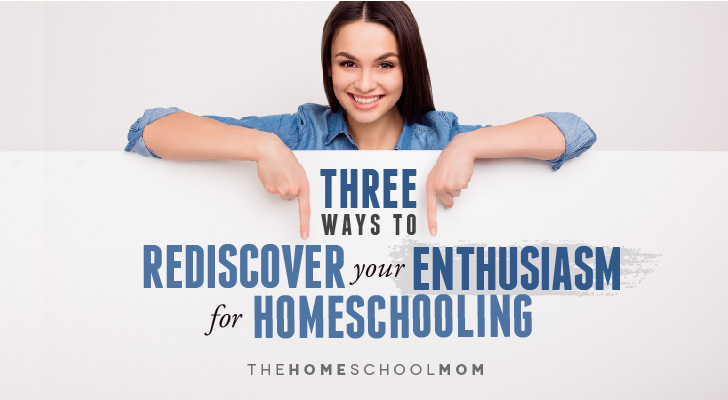 The "Too Much of a Good Thing" Issue
Most homeschoolers will honestly say that they've chosen this path because they want to spend more "one on one" time with their children. That's such a lovely picture until you've spent every waking moment for the last 30 days with them and need a break before your hair falls out. Have you locked yourself in the bathroom just to have some quiet time? GET HELP. Ask a spouse, family member, or friend if they can help out with just a small aspect of your homeschooling. If your spouse is amazing at math, that might be the answer to climbing out of the long division swamp you're in.
The "Not Enough Time" Issue
This is more common than most people realize. Homeschoolers are often not just homeschooling when they are at home. For many families, the homeschooling parent is also working at home, working outside of the home, or even a business owner. Add to that all of the typical parental duties of housekeeping, meals, taxi-ing kids to lessons and sports - it can feel never-ending. But, wait -there's a light at the end of that time warp tunnel. GIVE UP. I know what you're thinking, but that's not the intention. Give up something that is robbing your time, for something else that is better. Delegate some of your household tasks to the children. Give up a couple hours of television for game night with your family, or to finish that amazing novel you've been dying to read.
The "Difficult Curriculum" Issue
Many homeschoolers have shared that as a new homeschooler they felt like they had to use a big box curriculum. Sure, those contain every subject and tell you every word to say as you teach your child every step of the way. But, the sad thing is most of those curricula don't account for families with multiple children or busy lifestyles and require intensive effort. If you're stuck in that quicksand, here's a rope! MOVE ON. Finding a curriculum that is flexible, fun, and encourages independent learning can be liberating! Ditch the draining curriculum and use one that fits your lifestyle!
You've gotten this far, and you've faced your fears. With a little effort and some restructuring, you'll find you've got this. Go on, take the first step toward draining the swamp of despair and bringing back your enthusiasm for homeschooling!