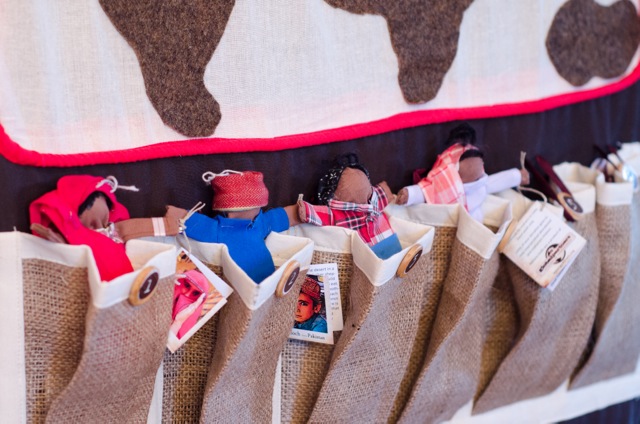 It hadn't even turned December when we were already starting to hide the Christmas boxes from the girls. The niggling question pricks every year at the same time: What do we do about Christmas giving? As irony works, I sifted through the most recent wave of gifts arrived via mail right after coming home from set-up efforts for the weekend Christmas Fair to raise money for impoverished orphans in India. Sometimes it's those ironies of life that wake us up and allow us to see in a new way.
I went downstairs and just contemplated the abundance. The toys piled high, the books overflowing, the craft supplies and dress up clothes and technological gadgets -- knowing that our biggest challenge was how to keep it all organized. I thought about how we'd had to go through the old toys and throw out discarded playthings that the children in India would cry in gratitude to receive one of, in order to make room for all the new that was coming. That we'd made a pile of four bags of things to give away, and that so many of the "I really want"s become "I don't need anymore"s before we've even found a good place to store them.
I saw it all, and then I looked at the dolls. The little dolls made by orphans in India -- dolls, representing people groups who don't have, as part of an Advent calendar that counts down the days until Christmas. (Wait, isn't that the day celebrating God's gift to the world?) The dolls made by the orphans who didn't have any gifts. The orphans who were dropped off in the middle of the city because their parents were so poor they couldn't feed them, and knew that they would have a better chance on the street corner than at home. The orphans who, when they ate rice for their one meal a day, squeezed the rice to get out the moisture to drink so they would have one more meal. I thought about them, and peered back at my girls' toy-erupting playroom, and I couldn't help the sting.
Christmas gift-giving becomes complicated by a world with so few gifts.
I know there isn't a specific line in the sand, a "right" or "wrong" meter on how much is enough. One toy? Three toys? Ten? Or is it about quality, not quantity? I certainly would never attempt to draw that line for someone else, especially when I'm not sure where it is myself. I mean, even in our own family, the meter keeps changing as we try to navigate giving at Christmas while living in a world of need. But it is interesting that the more we are involved with those who do not have, the more we question our own having.
There is joy in giving to our children. And we always give Christmas gifts, as much for ourselves as for our children. But when I see my girls dumping toys into bins without discrimination, and leaving their abundance on the floor to be trampled and broken, I begin to wonder what message I am sending. I'm willing to bet the Indian orphan to whom we sent a Christmas gift won't discard the toys inside it so quickly.
When you have little of something, it becomes more precious.
So, then, how do I teach gratitude for what we have when I keep giving my children more? Even more specific: "What do we do about Christmas giving?" It's such a hard question to answer. And mixed in the response are elements of family history, personal values, love languages (how we give and receive love), individual desires, and family traditions. This year, as the first Christmas after losing our son, we are trying to wade through the murky waters and find neutral ground upon which we can stand and move forward. This year we see, in a whole new way, what gifts matter and what gifts don't. For us, this year, it does mean scaling down the "stuff" and scaling up the giving to those in need. It means making a list of the gifts we already have, rather than a list of the gifts we want. And it most certainly means focusing our attention on the greatest Gift of all -- Christ.
What do we do about Christmas giving in a world of tremendous need? Every family has to determine for themselves how to respond. However, regardless of the answer, I believe that entertaining the question is worthwhile. As we enter the Christmas season of giving, humbly looking poverty in the face, and counting our own blessings, not only helps us to have some perspective on the "How much is enough?" question, but it helps us to appreciate the gifts we do receive (and those we already have) so much more deeply.
And that, in and of itself, is a true gift.