This post was originally published as the introduction to an issue of TheHomeSchoolMom newsletter. Sign up here and get access to subscriber exclusive resources.
I adopted my new rat terrier from a rescue organization that scooped him out of an animal shelter, which reported he'd had two homes in quick succession before he was surrendered. Somewhere between three and five years of age, Hershey is in dire need of both stability and an education, so he can learn to be his best dog self.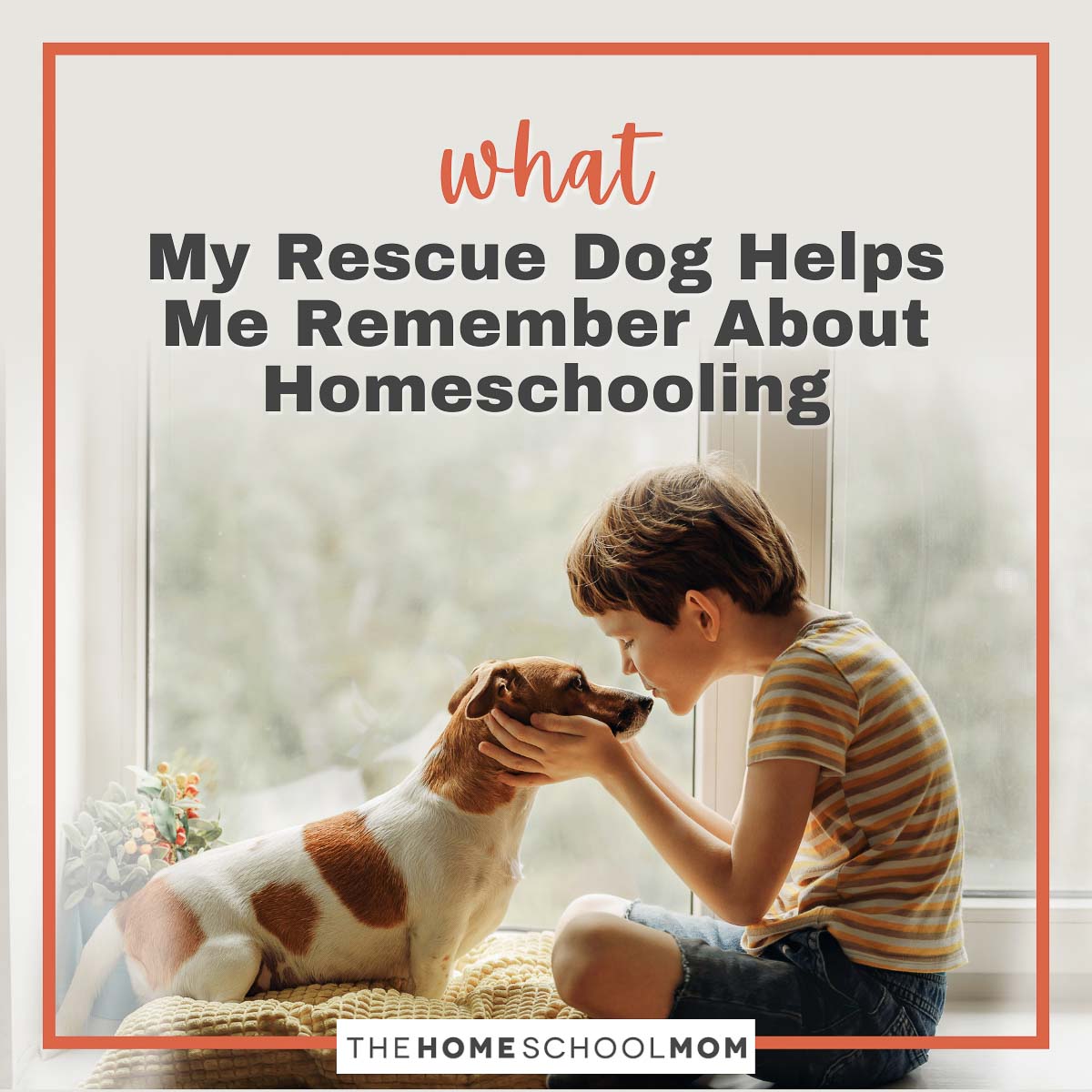 I've worked with dogs before, but Hershey is helping me remember:
My dog learns best in short positive sessions.
I have to prepare the environment for my dog, so he'll be relaxed and successful.
This dog does not learn at the same pace or in the same ways as other dogs I've seen.
This dog is more active, more strong willed, and had more negative experiences than some dogs have had.
Sometimes I have to break skills down into smaller activities than I expected, so he can learn in tiny increments.
When he is distressed, excited, or distracted, my dog is not capable of learning from me. Plus? Yelling at him or punishing him for being in these states does not increase my dog's ability or calm him down.
My dog needs to spend quiet time just being with me, without demands on either of us.
My dog responds to physical affection and kind words.
A short leash sometimes feels necessary, but the long term plan must be that my dog has room to explore on a longer leash while still learning and wanting to be near me.
My dog wants to be with other dogs but doesn't always know the etiquette for being with them. I have to help him learn and, on his behalf, I have to respect the space other dogs need.
Sometimes I can't do what I want because my dog needs me.
My dog learns best when he is not hungry, sleepy, or in need of relieving himself.
My dog can learn when he feels well, so I need to remember to give him the medicine that is helping him stay physically healthy.
My dog responds both to some novelty and some routine. Too much novelty, and he is overwhelmed. Too much routine, and he is bored.
I want a dog who wants to learn from me, not a dog who responds to me out of fear and threats.
Dogs and their trainers like snacks.
A dog needs a safe place where the rest of the family won't disturb him.
My dog needs a lot of exercise and fresh air before he can concentrate for our intentional lessons.
Sometimes I might need help or outside resources to benefit my dog.
There are a lot of charlatans out there peddling harsh dog training advice that backfires.
My dog does not need me to be perfect but does require my commitment.
Turns out, working with a rescue dog, even one who is a handful, is a lot like homeschooling, right? Just substitute the word child or children for dog and dogs in the bullet list, and you'll see what I mean!
I'm not just trying to tune this dog up, I'm trying to create a lifelong relationship we will both enjoy over many years. There are hard days, but there are walks in the park to look forward to.