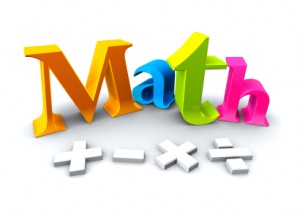 Memory and Math: Multiplication
There comes a point where your times tables MUST be memorized. You want students to be able to instantly recall all of their math facts — faster than a calculator!
A big component to our Discovery Multiplication Goal Setting Program is learning memorization skills. In fact the student workbook leads students through a process of effectively memorizing a new tough math fact. This article has been written to provide parents and teachers with the background information on how memory works.
There are four types of memory:
sensory memory
working memory
short-term memory
long-term memory
Your sensory memory is whatever you see, hear and feel. It lasts for a few seconds and then fades from your consciousness. Working memory lasts a few minutes and has a small capacity. Seven seems to be the magic number. On average, only seven items fit in this stage of memory at a given time. Short-term memory is like a holding bin or like RAM. Memories stay here for only 1-2 days. Information here will need to be processed before they go into long term memory. Long-term memory is like your computer's hard drive — with an unlimited amount of storage! Memory saved here is for good except you need to make sure the path is good so that you can recall the fact quickly when you need it.
Every time you repeat a math fact there is a signal going through your brain. This signal can create a new path but will tend to follow the established path it created if it is learned clearly. As more signals pulse through, the path becomes stronger. This is LEARNING. If we process facts clearly on the way in, we will be able to retrieve them later when we want.
The trick with learning the times tables is getting those facts to stick in long term memory. Many activities and games you do put the facts into working memory. With some repetition, you can get them to stick in short-term memory. Finally, you have to move these facts into long-term memory through repeated exposure to the facts, making sure they are learned in a clear way and through learning memorization tricks.
Tips for Building Better Memory Skills
Pay attention! Concentration, focus and minimal distractions will make the learning path clearer.
Rehearsal — saying or doing something over and over again will make it stick.
Learn and use tricks to make memorizing easier.
Use your time wisely by working on the facts you do NOT know.
Memorization Tricks
Group information to reduce their number. In memorizing the times tables, start off with one table at a time. We can also group related math facts 3x4=12, 4x3=12 12÷3=4 and 12÷4=3. This is called a fact family.
Tie each fact to something already in memory. Link new facts to familiar facts. Link the new fact you are learning to its table rule or strategy "Cool Rule."
For example let's look at the strategy or rule for the fours:

Fours are easy, once you know how: You double it twice then take a bow.

We can link the math fact 4x4 to this rule and also to the math fact 2x4 (4x4=16 and 2x4=8 doubled is also 16). Other natural groupings are 5s and 10s, 3s and 6s or 6s and 12s. As more facts are learned try linking 2, 4 and 8s or 3, 6 and 9s.

Link each tough fact to a ridiculous image, song, a rhyme or a silly story. Use multiplication songs for the harder tables. Make up silly rhymes or story (often called mnemonics) to remember other difficult facts. If you are using a mnemonic method, make sure the picture and story tie in with the math fact so in essence it's like a word problem. This helps create understanding while you memorize.
Take some time to practice memorization skills as you learn your facts. This is an important skill to build that will help you all over the place including math facts, formulas, spelling words, names, dates, telephone numbers, shopping lists, geography and more!
Susan Jarema is the founder of Googol Learning, the Crazy 4 Math Contest [link no longer active], TVvgFREE.com, New Earth Marketing and Kidzinfo. The Googol Learning Website has many free resources to inspire mathematics and family learning in your home through music, games, stories and layered learning.