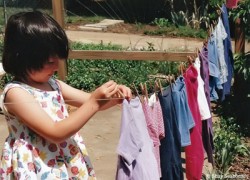 When my children were small, I was a SAHHM ("stay-at-home"-homeschooling-mom), and laundry responsibilities were a natural part of our "curriculum." This was because I intended for my children's education to include equipping them with basic life skills, like self-care, financial responsibility, and household maintenance.
My daughters began taking responsibility for their laundry when they were quite little. I guided them through putting clothes in the washer, and I would haul the heavy basket of wet clothes up the basement steps so we could hang them to dry on the big clothesline out back.
Taking a cue from Mary Poppins, I "found an element of fun" in this otherwise possibly tedious chore. I set up a production line and each part--each person--made silly "machine" sound of their choosing. "Beeping", "bing-bing-binging" and "woo-wooing" in sync, my children learned the value of teamwork and cooperation, as easily as they made a rhythm of their sounds. This focus on interdependence helped develop independence; my younger daughter eventually asked for her own clothesline so she could hang just her clothes, her way.
When the clothes were dry and hauled in to the living room, I would turn on the stereo and the girls and I would fold laundry to music. Then each of us would put our laundry where it belonged.
Among this laundry work/play, I let my youngsters know that, if they did this sort of thing for themselves, the things they could do for themselves, then I would have more time to do something else for them. This would be something they couldn't do for themselves, something fun, like drive them to the park- or play dates or take them out for ice cream.
This "laundry curriculum" philosophy applied to other areas of household chores, including cooking, dish washing, vacuuming, pet care and gardening. There were times when I felt frustration in their slowness, inefficiency or their resistance. Sometimes, I would think, "it's easier to just do it myself" than to slow down and take the time to involve young children in the simple household tasks that they are capable of learning and performing. Now that my kids are 18-years-old and 21-years-old, I see clearly that it was actually easier to teach responsibility when children are young than to try to get them to start taking responsibility when they are older.
When I had to become a SEHM (Single Employed Homeschool Mom) a few years ago, I was particularly glad that laundry--and other responsibilities--had been part of my children's education. There is no more demanding job than parenting, and it becomes much more demanding when going it solo. The kids *have* to take on new responsibilities, just as Mom does.
As my daughters have grown into young women, their maturity includes handling many of the "laundry curriculum" tasks entirely on their own, without my having to worry whether they have clean clothes and if they can prepare a healthful dinner on evenings when I am busy with other tasks.
Though their young people's perspective still doesn't consciously appreciate the "laundry curriculum," there are moments when they give me a glimpse of the depth that it reached. For instance, when I come home from a meeting and discover a big bowl of fresh salad in the refrigerator--made by my daughter, with her mother's health and enjoyment in mind. The "laundry curriculum" not only taught my daughters how to handle common life skills, it also helped them grow into thoughtful young adults.
Copyright 2011 by Shay Seaborne. All Rights Reserved.