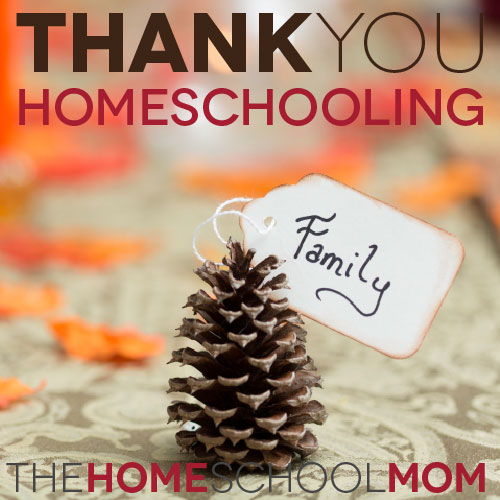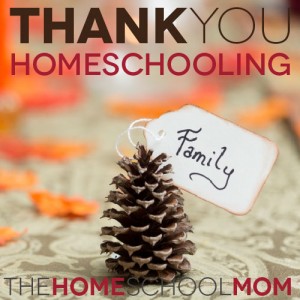 There's kind of a holiday about gratitude coming up, in case you haven't noticed.
You know that time when you give thanks for all of your blessings? Well, this whole home education list falls pretty close to the top of my gratitude list. The longer I do it, the more I love it, and the more I realize its value.
Let's be honest -- homeschooling is a luxury very few people in this world can afford. Whether it is an issue of needing two incomes to make ends meet, single parents being the sole breadwinners, political opposition, or something else...home education is a phenomenal blessing for which each of us who are able to participate in it should be tremendously grateful. Take a few moments to appreciate the beauty of the opportunity you have.
For me, it helps to write it out. It's one thing to think my gratitude, but when I put pen to paper, somehow the feelings become real, visceral. Last year, with Thanksgiving just a few months after losing my son, simply giving thanks at all was a challenge. But I have come a long way in a year. And this year, I am overwhelmed by my gratitude for being able to homeschool.
Losing my son has made so much clearer for me what really matters in life. And, for me, it is not whatever my being out in the workforce can attain. No, this past year has shown me just how brief this life is, and how short a time I have to impact the lives of my children.
This year has shown me how very thankful I am for the opportunity to homeschool.
So, here it is – my thank you to Homeschooling.
Thank You, Homeschooling. I never knew, when I started this journey, just what you would end up meaning to me:
You have given me snuggle time, every day, with each of my children.
You have forced me to learn patience, even when I thought there was no way I could.
You have shown me that the world's standard for my children or my family isn't the one I want to follow.
You have taught me to do what is right, rather than what I feel like doing.
You have made my children each other's best friends.
You have let me be privy to the moments of my kids' learning and development that will never again be repeated.
You have caused me to reevaluate the idea that significance is found in one's career.
You have encouraged me to do projects and art and to be fun, when I otherwise would be efficient, disciplined, and…boring.
You have exposed me to a new world of amazing friendships and experiences I never would have otherwise had.
You have given me not only a way of education, but a way of doing life.
You have made my values the values of my children.
You have taught me History, since I never learned it in school growing up.
You have afforded me the chance to see and treat each of my children as the unique, irreplaceable, completely one-of-a-kind persons they are.
You have given my kids' grandparents a meaningful role and special relationship in each child's life as they have participated in my children's education.
You have opened my eyes to the fact that there isn't just one curriculum per subject...there are virtually endless options, and that they can be tailored to the kind of learner each student is!
You have provided a way for responsibility and service to others to be just as important learning objectives as mastery of arithmetic and phonics.
You have let my children see that the best learning comes through relationships.
You have helped me admit that I cannot do it all, and have pushed me to look outside myself for the resources and support I need.
You have gifted me both with a sense of accomplishment and a sense of humility.
You have impressed upon me the value of enjoying the process rather than working to attain the end result.
You have gifted my children with the ability to socialize effectively with people beyond those of the same age and place in life that they are.
You have shown me that education is a closer to feeding a caterpillar and then watching it metamorphose into a butterfly than coaching a runner who wins a race.
You have impressed upon me that, whatever the challenges involved, there is little in this life that I am more thankful for than being able to impact, each moment of each day, the kinds of persons my children become.
Happy Thanksgiving!