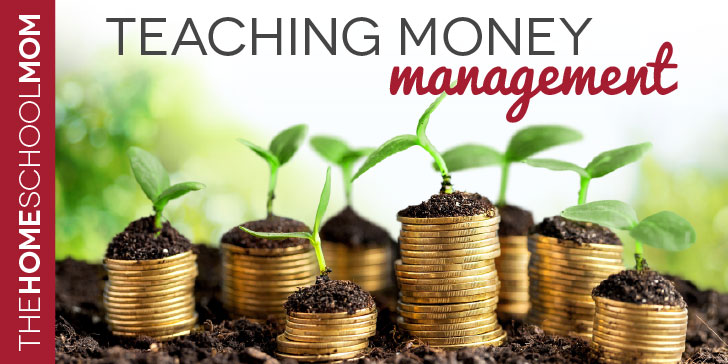 There just doesn't seem to be a lot of point in spending tremendous time and energy to homeschool children in an array of academic subjects, in order to prepare them for becoming responsible adults, if they are sent out in the world completely unprepared to handle money effectively. Part 1 and Part 2 of this series took a look at some of the ways homeschoolers can teach children money management skills, and set them up for success for the rest of their lives. Two of the principles for teaching children sound financial skills addressed thus far are:
Money should be managed with the Give, Save, Keep approach: The first portion of money earned is given away, the next portion is put into savings for the future, and what is left is kept for personal use.
Children should be taught that money is earned through work.
Another fundamental principle for effective money management is to teach children to use cash to make purchases. Whereas the issue of credit will be addressed in a future article, it is quite common for people to spend money with debit rather than cash. Electronic methods of payment increased from 15% in 1979 to 55% in 2004. And the 2005/2006 Study of Consumer Payment Preferences found that 83% of consumers own a debit card. Debit cards are convenient and safe, so why teach children to use cash instead of debit cards?
First, people who use cards, rather than cash, to pay for items spend more money. A study of credit card usage at McDonald's found that people spent 47% more when using cards instead of cash.[1] Likewise, A 2008 study found that "the more transparent the payment outflow, the greater the aversion to spending", with cash being the most transparent form of payment.[2] Psychologically, it is more painful to pay with cash (which can physically be seen) than with a card (which is tied to money that cannot be seen). Interestingly, another study found evidence of this link between card purchases and impulsivity – researchers discovered that credit and debit increased impulsive food purchases.[3] Using cash helps to safeguard against impulsivity and encourages children to make wise spending choices.
Next, purchases made with debit are more difficult to track than cash purchases. When cash is spent, it is gone. However, if the consumer is not extremely diligent about recording all purchases with a debit card, it is easy to lose track of how much money has been used, which can lead to overspending. Research indicates that consumers who use debit cards are more likely to overdraw their bank accounts.[4] Doing so often invites overdraft fees from the bank, eating away at whatever money the child has earned.
A final reason for teaching children to use cash is because of the problem of holds. Some retailers put a hold on funds in the consumer's account until the debit transaction is processed, which can take several days. The amount that is blocked can be larger than the amount of the purchase, as well. Both of these factors increase the likelihood of multiple overdraft fees. Youth, who generally maintain relatively small balances in their accounts, are particularly susceptible to overdraft fees as a result of holds. For example, if the teenager puts gasoline in the car and spends $25, some gas stations can put a hold on the account for as much as $100 until the actual purchase is processed. If the teen only has $75 in the account, he/she can receive overdraft fees for any purchases that are made during the time of the hold (thinking that he had $50 available in his account when, because of the $100 hold, he was actually overdrawn by $25).
Teaching children to use cash for purchases will greatly increase their chances of making responsible spending decisions, and will safeguard against losing excessive amounts of money to the bank in the form of fees. It also encourages children to remain in total control of their finances by knowing what money they have and what money they spend at all times. The truth is that it is just harder to hand over cash (and watch its amount dwindle with each purchase) than it is to use a piece of plastic that is not visually tied to physical money. Children, who are still developing the skill of self-discipline and the ability to delay gratification, need all the help they can get to curb spending. Simply using cash is a wonderful way to build in an additional layer of visual accountability, and to help kids develop the responsibility they need to become effective money managers.
Part 4 of our Teaching Money Management series discusses helping kids learn to manage money effectively by avoiding borrowing.
---
[1] http://www.daveramsey.com/article/the-truth-about-credit-card-debt/
[2] http://www.sciencedaily.com/releases/2008/09/080907123704.htm
[3] http://www.sciencedaily.com/releases/2010/10/101018174345.htm
[4] http://www.consumerreports.org/cro/money/credit-loan/debit-cards/the-dark-secrets-of-debit-9-07/overview/the-dark-secrets-of-debit-ov.htm
Save
Save
Save
Save