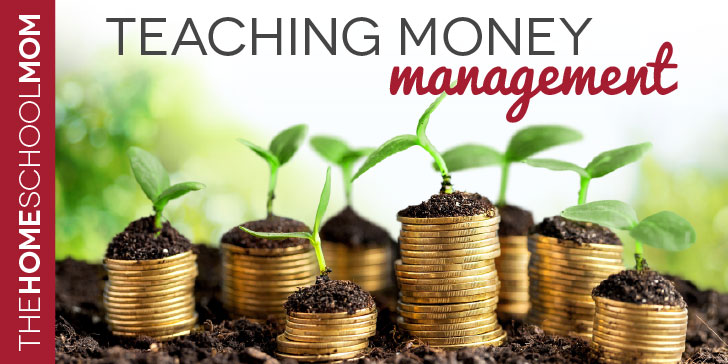 Math, English, History, Writing, Spelling, Science... few would disagree that these should be included in the homeschool curriculum. But one of the unique opportunities homeschooling affords is the ability to train children in areas that go far beyond simply the academic. The ability to manage money can impact a child's future as much as or more than his or her academic knowledge, yet this subject is rarely (if ever) found in a typical public school academic plan. Consider these statistics as of 2011[1]:
For those households with credit card debt, the average amount of debt is $14,750.
In 2004, the average family with credit card debt used 21% of its income to pay monthly debt.
In 2007, prior to the current recession, 14.7% of families had debt which exceeded 40% of their income.
84% of undergraduate students have credit cards.
Undergraduate students carry an average credit card balance of $3,173, according to a 2009 Sallie Mae study.
Children who do not learn to manage money responsibly can spend the rest of their lives trying to undo the damage they cause, financially and emotionally. Career choices can be dramatically affected by financial needs and decisions. Relationships can suffer from poor money management; money disputes were the best predictors of divorce, in one recent study.[2] Even the ability to homeschool (whether one parent can stay home, what resources can be provided, etc.) can be directly impacted by the ability to handle finances effectively.
Responsible money management should begin early, and is best learned as children have the opportunity to earn and handle money themselves, with guidance from parents. Whether through a job outside the home, or money earning opportunities provided by parents within the home, a money management strategy for children should include three areas: Give, Save, and Keep. Unfortunately, most American children only focus on one area: Keep. For children to develop sound financial habits, parents should guide children to properly balance each of these three areas. Future articles will look at specific strategies for teaching these skills. As children earn money, parents should encourage them to first put money into the Give category, next fund the Save category, and put whatever is left into Keep. Starting this method early will establish the discipline needed for financial freedom and well-being, and will develop character qualities that are critical for the child's future success.
GIVE:
Money put into the Give category is given away. It can be given to God in the form of a tithe through a local church, to a charity organization, to a person in need, or to a deserving group. Helping children gain the discipline to give first, every time they earn, develops a character of generosity, which affects not only themselves, but others around them. Interestingly, one recent study found that kindness and generosity created a domino effect that spread to others when people had the opportunity to cooperate with one another.[3] Giving also makes people happier. For example, giving money has been shown to stimulate the areas of the brain that are associated with pleasure and reward. In addition, a number of studies have demonstrated that giving to other significantly increases personal happiness and well-being (even decreasing depression and improving health, in one study). Maybe even more importantly, establishing the habit of giving helps children to put money in its proper perspective. It helps to inoculate against the never-ending, self-defeating quest for more. Money is more than a resource; it is power. Consider, for example, a study published in the Association for Psychological Science, which found that subjects who were simply exposed to reminders of money were less helpful or sensitive to others. Choosing to give first when money is earned, ensures that the person controls the money, rather than the money controlling the person.
SAVE:
After giving, the next priority is for children to save. Every time children earn money, they should be required to put some of it away in savings. This money is not touched; it is not used to "save up" for a purchase the child wants to make (which is essentially the same thing as keeping the money). The money in the Save category is kept for the future; what this "future" is should be determined by parents, and should be long-term. It is as much a discipline for the child as it is a safety net. The Save category helps the child learn to delay gratification for his or her future best interest; a skill every responsible adult needs. Saving also serves to provide the child with resources for future needs; needs that cannot necessarily be known or seen until the child is older. For example, due to the miracle of compound interest, if a 5 year old puts $10 into savings, and adds to it only $10 per month every month, if that money is invested at a 6% yearly interest rate, she will have $68,144 when she is 65[4]. Children must develop the discipline to save money before they spend any of it, in order to create a habit where saving for the future is prioritized over gratifying immediate desires.
KEEP:
This is the easy part! Every child inherently knows how to keep things for him or herself. The challenge for parents is to develop the discipline in children to only keep what is left after they have given to others and saved for the future. Children can choose to spend the money in this category as they decide. Allowing children the freedom to make some shortsighted purchases (if they choose to do so) can be a valuable learning lesson, and has fewer negative consequences if the child also has money in long-term savings. When the impulsively bought toy from the dollar store breaks, it can be a much more powerful teaching tool than anything a parent could say about money management. If children find a more expensive item they desire, they can save up money from within this category on a short-term basis in order to be able to purchase the item. Using the Give, Save, Keep approach functions to teach children discrimination about how they use their money; money has greater value when it is conscientiously placed into specifically chosen areas, rather than spent without thought.
There are few things a parent could teach that will more dramatically affect the future of their children than money management. Homeschoolers have a unique opportunity to incorporate this life skill training into the daily flow of education. By doing so, kids not only learn financial management skills and build resources for the future, but develop critical character qualities such as discipline and delaying gratification, which will serve them for the rest of their lives.
Read Teaching Money Management, Part 2 for more specific ideas on how to teach money management skills to children, based on the Give, Save, Keep approach.
---
[1] http://www.creditcards.com/credit-card-news/credit-card-industry-facts-personal-debt-statistics-1276.php
[2] http://economix.blogs.nytimes.com/2009/12/07/money-fights-predict-divorce-rates/
[3] http://www.sciencedaily.com/releases/2010/03/100308151049.htm
[4] http://www.moneychimp.com/calculator/compound_interest_calculator.htm
Save
Save
Save
Save