This post was originally published as the introduction to an issue of TheHomeSchoolMom newsletter. Sign up here and get access to subscriber exclusive printables.
Are you trying to decide whether to homeschool again for the coming year?
If you've only homeschooled a year or two, you may be concerned you and your kids will be isolated or lonely because you're basing your decision on your experience of homeschooling during shut-downs.
How will homeschooling be different going forward, with business openings and more normal activities?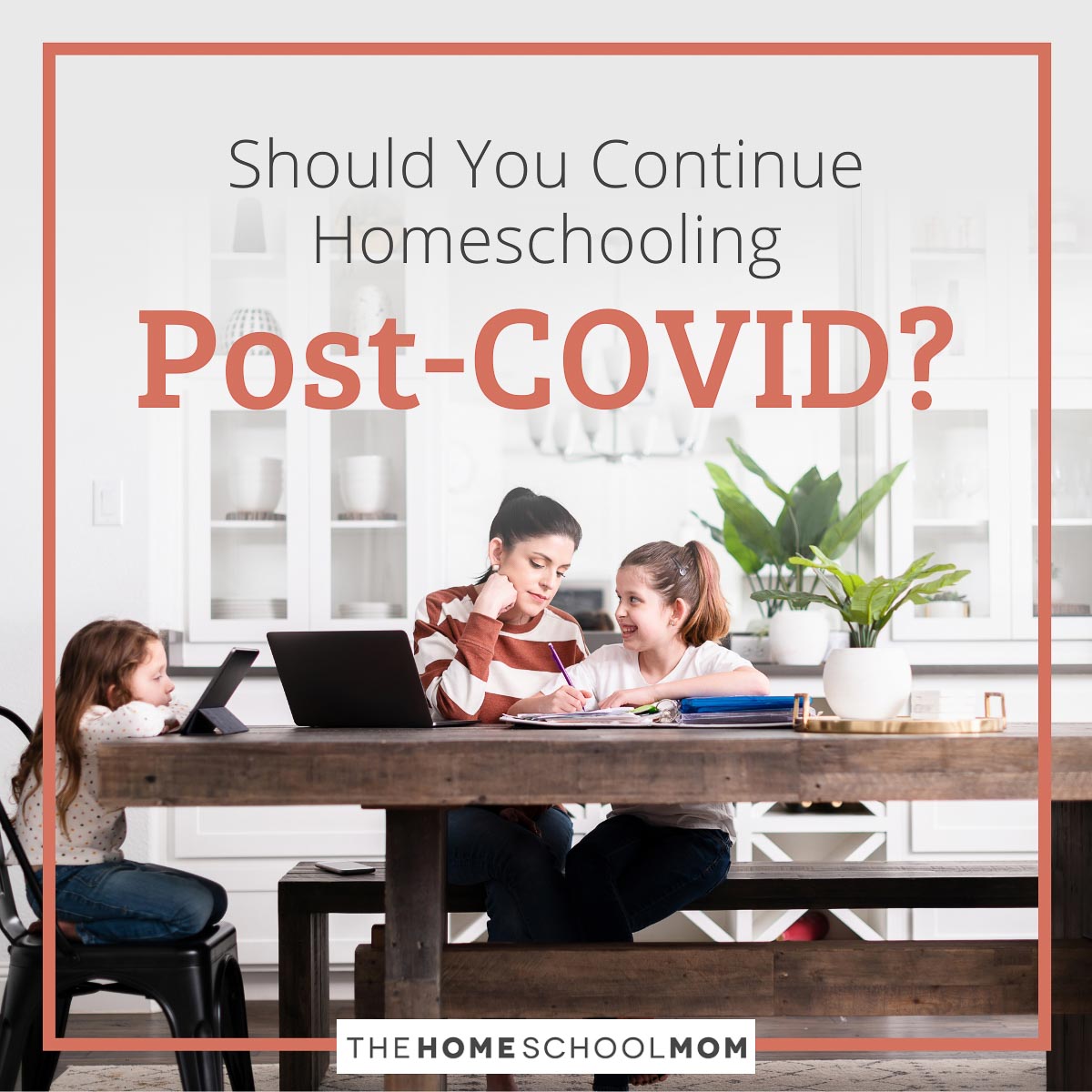 Homeschooled kids in many communities will be able to:
Meet for in-person co-ops
Attend in-person academic classes offered in their communities
Go into the library to check out books, attend library programs, and get librarian recommendations
Participate in sports
Attend in-person meetings of 4-H, scouts, and other youth groups
Visit museums, cultural sites, and historical areas for field trips
Spend more time with grandparents and other relatives
Attend in-person dual enrollment classes at community college or part-time enrollment in some public high schools (depends on your state and locality even during non-pandemic times)
Go on college tours as prospective students, experiencing residence life and sampling in-person classes
Meet with a tutor in person at tutoring centers
Volunteer or do service work more easily and in more places
Have more regular in-person medical visits, dental check-ups, and vision checks
Have friends come over for sleepovers and playdates
Get together with friends at business kid zones for roller skating and trampoline jumping
Take part in in-person milestones like homeschool graduations and homeschool dances
Join in community or local homeschool arts offerings, such as youth theater, band, choir, or dance
Take lessons and do music recitals and performances in person
Go camping and to camps with other kids
Attend church and participate in church activities
Go to various therapies in person
Play with neighbors and friends—even indoors!
Work with friends to create projects
Homeschooling parents will be able to:
Attend in-person homeschool conferences, conventions, and curriculum swaps
Meet for Moms Night Out or Parents Night Out sponsored by local homeschool groups
Get together for lunch or park days where parents can chat about homeschool and non-homeschool issues
Hire babysitters and mothers' helpers from outside the family
Attend church and participate in church activities
Lean on field trips and activities scheduled by homeschool groups
Swap with another family to share learning—I'll teach all of our kids English; you teach all of them science
Socialize with neighbors, family members and friends
Use carpools to get the kids where they need to go
Take classes and go to club meetings yourself
Go to the gym or yoga studio
Homeschool your kids at the coffee shop—or slip off for a latte and some third place time for yourself
If homeschooling seemed a little sparse in terms of social opportunities and collaboration, well, yeah, that was not the norm for homeschooling. Wherever these activities existed before, they will again, perhaps with pent-up demand creating a lot of activities for families to be together while homeschooling.
Be sure to ask homeschoolers in your area, what was homeschooling like here in the before times? Don't base your decision to homeschool again on your social life during a time when homeschoolers were often as restricted as everyone else.
There are no doubt more of these activities in towns, cities, and suburban areas. Rural homeschoolers have always had to travel or find ways to make do with fewer city and suburban activities and amenities. And homeschoolers know, sometimes you have to find a partner to build an activity for homeschoolers that exists only in your imagination—so far.
Of course, the end to the pandemic and its restrictions are not precisely predictable, and activities have opened up and will continue to open at different times in different places, but just so everyone knows: homeschooling is not always this way!