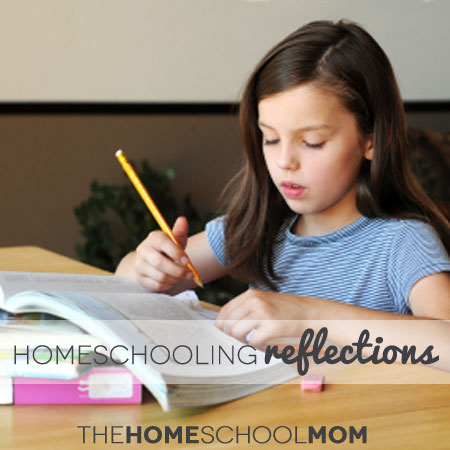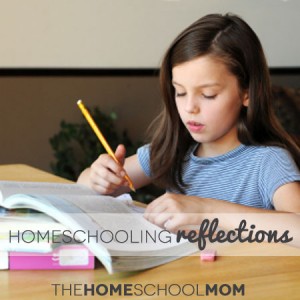 Even though we technically school throughout the whole year, since summer for us is more relaxed, the beginning of June feels like the end of the school year. And, like at any ending, I end up reflecting. I mean, as a homeschooler I'm pretty much solely responsible for the academic well-being of my kids, so I figure I'd better make sure I learn something from each year of teaching, right? I like to think I can be in a better position each year to help my children learn what they need to learn.
And each year is truly different. The kids grow and develop and have different needs, and our homeschooling changes accordingly. What started out as play dough and number flash cards has turned into science projects and writing assignments. And it has changed so quickly! Each year is a new journey, and I want to do the best I can to use last year's wisdom to benefit the coming year's progress. After all, isn't that one of the greatest things about homeschooling – the ability to individualize everything to the specific needs of each child?
So as we move into summer, with all of its trips and extra-curricular activities and camps and fun projects, here are some of my reflections from this past year of homeschooling:
Children do not usually progress equally well (or quickly) in each subject. It's ok for my first-grade-aged child to be working in a third grade English book but still need to review concepts from a Kindergarten Math curriculum.
We need an endless supply of erasers; simply buying pencils is not sufficient. Otherwise, we end up with 375 pencils, none of which have erasers on them. It is also worth every penny to get a high-quality, automatic pencil sharpener.
Devotion time and character development are easy to sacrifice at the altar of academics. Yet having influence over my children's character and spiritual development are two of the most primary reasons I homeschool – so I've got to make sure those things take top priority.
I don't have to do every subject every day. My children will not be academic rejects if we do Science 3 times a week, alternated with Spanish or Art 3 days a week.
My new rule is "hardest work first". If Math is the least favorite, we do it first while minds are fresh. Piano, science projects, and read-aloud literature time get saved for the end of the school day.
Extra-curricular activities work best when tailored to the strengths and interests of my children. Soccer may be fun and a great team sport, but if my child would rather pick daisies on the field than compete for the ball, she'll be better served in an activity (uh, flower arranging?) that is better geared to her talents and personality.
Consistency in our schedule of schooling helps us all. The more erratic our schedule, the more the kids will complain about "doing school".
Dining room tables, if used for homeschooling, need an endure-anything, high-gloss, space-age durable coating on them. Something that will withstand punctures, markers, paint, banging, mad erasing, and toddlers' scribbles. And still be able to look decent for double duty as an actual place to eat with guests.
Contrary to popular belief, Mom is not omnipresent. Or omnifocused. Ergo, kids must learn to be patient. If there's only one of me, and lots of you, you will just have to wait your turn.
Younger siblings love to "do school". The more I can make it feel like they are joining in (even if they're not school age) and give them something academic in nature to do, the more excited they will be about learning, and the sooner they will be ready to work on their own.
Reading time (even for young children) works best for me if we do it as part of school time. Waiting to read books before bedtime just means Mom is exhausted and ready to be off duty, while reading books during school means Mom is engaged and energized. So snuggle time at our house occurs when we read during school hours, and when bedtime comes Mom is officially done!
All of those cool science kits and special games and History figurines at the homeschool convention look like tons of fun, but I probably won't end up using most of them. It's better to invest in one or two things that I know we will use consistently than to stock up on "neat" resources that I never have the time to bring out!
Organizing (and cleaning out) of homeschooling paraphernalia should be done every year. Otherwise, we must build on to the house to have enough room for the next year's stuff.
A low-key, relaxed attitude about standardized testing makes all the difference. No test-prep this year resulted in happier students and teacher, less stress, and better scores.
The ability to work independently is most definitely a skill that must be learned. I have to be extra conscientious about helping my children work well without always relying on me being next to them to guide and organize them.
When kids complain about doing schoolwork, the "grab a dust cloth and start dusting the baseboards and then you can come back and finish your work later" technique is surprisingly effective at changing around poor attitudes.
Used curriculum rocks! Why buy new when there are so many great homeschool book sales and conventions and friends selling their old stuff?
Maturity is worth a lot. Many of the things my child struggles with academically in any one year are ameliorated simply by time and maturity. The  "relax and try again at a later time" approach is often a good one.
Life moves faster than you think. It seems like just yesterday my oldest was learning her letters, and now my youngest is reading, writing, and doing her Math curriculum right alongside us. It's so much better to enjoy the journey than to push through with intensity, because the journey is really, in the grand scheme of things, so very brief.
What have you learned from this year?