Homeschool Resources Newsletter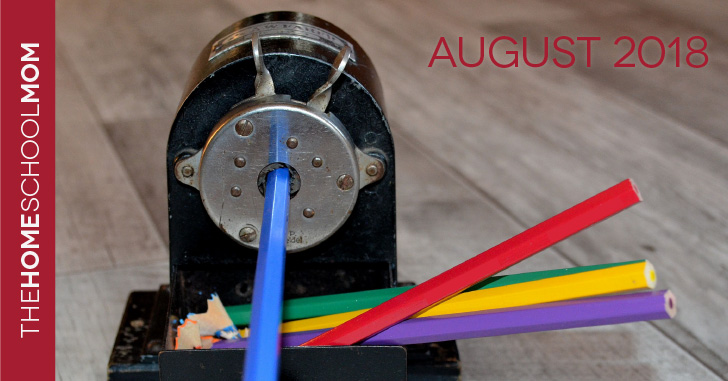 In the back room here at TheHomeSchoolMom, the publisher and I are rummaging around to get things ready for homeschoolers who are hitting new stages. I just finished putting together a Quickstart Guide to Homeschooling for both new and returning homeschoolers; Mary Ann has been working on a new piece that pulls together our resources on high school transcripts.
The thing about homeschooling is, just about the time you figure things out, something changes, and you need new information, different resources, or fresh inspiration.
It can feel hard - or hard all over again!

(Continued below sponsor banner)

Kids get older. Some parents are flustered when the "same ol'" doesn't work for the kid who had settled in so well during the elementary years. Suddenly he wants grades, or he doesn't want grades. She stops going to bed at a reasonable hour, or she is determined only to read books about horses, no matter what the curriculum says.
Family situations change. Mom needs to return to work, or dad needs to work second shift. There's a need to take care of a grandparent. A new baby is on the way. You're contemplating a move. Somebody wants to learn German. It's time to think about college.
Mary Ann and I have lived changes similar to the ones many of you are facing. We keep you in mind as we sharpen our pencils using the old fashioned pencil sharpener we keep next to the box of fresh fonts here in the back room.

Some of our kids have graduated from college. Some have lived internationally. Some are indeed speaking a bit of German. We have looked after aging parents, nursed babies, and boy have we moved.
We know you need what's in the boxes here in the back room: ideas on curriculum and transcripts and Not Back to School picnics (our featured article this issue) and deschooling. We unfold them, look for wear and tear, design new pieces to fill out the wardrobe, and offer our ideas for you to try on, just as homeschool moms did for us a few years back.
Some ideas will fit; some won't. We trust you to figure out what works for your family.

And we know you'll find a way to pass the ideas on: Recycle, reuse, renew.
Looking forward,
Jeanne Faulconer
Recent & Relevant Blog Posts



Homeschooling parents whose kids will likely seek admission to college usually realize their homeschool graduates will need parent-made homeschool transcripts. They will probably also need "outside evidence."
Continue reading »




Preparing for a new school year is challenging. There are many things that you may want to do now, such as reviewing the past year, evaluating your curriculum needs, preparing a game plan, creating a budget, and developing a schedule.
Continue reading »




The yellow legal pad had a line down the middle: the pros and cons of homeschooling were written on opposite sides of the blue-inked vertical line. Not content with that, I flipped to the next page and drew another line down the middle: pros of public school to the left and cons of school to the right.
Continue reading »




What if you asked, "What does my child need right now?" and immediately began working on it, with little to no red tape? Homeschooling allows the choice to prioritize what your child needs today, while one of the problems of public education is that it can be too much about preparing kids for "the future."
Continue reading »
Teaching Calendar
August 19, 2018 — National Aviation Day
August 28, 2018 — "I Have a Dream" speech given by Martin Luther King, Jr.
August 29, 2018 — Hurricane Katrina anniversary - 2005
September 2, 2018 — V-J Day (Victory over Japan, WWII) - 1945
September 3, 2018 — Treaty of Paris signed - 1783
September 9, 2018 — Rosh Hashanah Begins
September 11, 2018 — Patriot Day
September 14, 2018 — Frances Scott Key wrote the Star Spangled Banner - 1814
September 16, 2018 — Mayflower Day
September 16, 2018 — Collect Rocks Day
September 17, 2018 — US Constitution Day - Constitution was signed today in 1787
View the full teaching calendar »
Celebrate Homeschooling with a Not Back to School Party (Featured Article)
In the midst of back-to-school sales and school orientations, many homeschoolers are now planning something different for September—a Not Back To School party or event. Even homeschoolers who don't organize academic learning by a traditional school calendar enjoy this type gathering, which celebrates the distinctiveness of homeschooling.
It seems that most Not Back To School (NBTS) events include picnics. I've hosted numerous NBTS events, inviting homeschoolers to our home, to a nearby park, to a rec center with a pool, and to a family campground. We usually ask everyone to bring food to share and plan some homeschooling-friendly activities. At the park, we've had kids bring their bikes and riding toys; at the campground, we enjoyed a hayride and story telling. Depending on your venue, you may also want provide or ask people to bring such things as sidewalk chalk, bubbles, lawn chairs, yard games (cornhole, bocce ball, etc.), skateboards (and helmets), or craft supplies.
Some NBTS events are "members only" activities for those who belong to a specific homeschool group or co-op. These events provide a great way for member families to launch their year, which will include future in-person activities…
Read the rest on TheHomeSchoolMom »
Homeschool Links
There are more and more podcasts available for kids. Here are four of our favorites:
Wow in the World is a free science podcast with NPR hosts Guy Raz and Mindy Thomas. They take kids (and the adult driving the minivan) on journeys to learn about exploding ants, how to talk to dogs, how ear shape affects hearing, all about thunderstorms, and so much more. Their friendly and approachable stories make science interesting and clear.
Visit now »

SmashBoomBest is a whole new way to get kids to think about things. Which is better: cats or dogs? Fire or lasers? Lava or quicksand? The podcast pits two things against each other in a debate format. As the website says, the "debaters use facts and passion to make their case, teaching listeners how to defend their own opinions along the way." I mean, who wins when it's pizza vs tacos?
Visit now »

Circle Round is a family-friendly storytelling podcast for kids, featuring folktales from around the world. The podcast includes coloring pages and ideas for discussion and enrichment. Stories feature a varying cast of characters, including fairies, animals, and your not-so-usual farmers and fishermen. New this year are Road Trip Reels: 60-, 90-, and 120-minute versions of the podcast to make your travels a little easier!
Visit now »

The Music Box is a podcast about music for kids and their families. Consider how music is made, meet a composer, and learn about classical music in this podcast by public radio station WFPL. Your kids will hear the instruments played and hear kids talking about music. These podcasts are shorter and of varying lengths, offering bite size pieces of the musical pie.
Visit now »