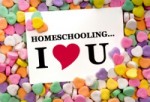 Valentine's Day…the holiday of love. While many will be sending chocolates to loved ones, and telling that special someone just how important they are, I'm writing a different sort of valentine this year. And though it might not be accompanied with any candy, my valentine this February is to my love Homeschooling.
He and I have a bit of a tumultuous relationship. Even though I'm committed over the long haul to him, there are days when I feel completely in love, and others when I'm ready to completely throw him out. I mean, if I'm completely honest, it seems like quite a bit of the time I give a lot more to this relationship than I get out of it. I had no idea, when we first got together, just how much work this relationship would be…I have to consciously plan time for him and rearrange my life in order to make him a priority. And, frankly, he doesn't give me much feedback on our relationship; it's like I'm just supposed to figure him out. Many days I wonder why we're even together, and whether or not I've made a mistake. Ultimately, though, I love him. And I know he's good for me; he challenges me and helps me become a better person. He's taught me patience and perseverance and has helped me see the benefit of a long-term, committed relationship. He has helped me prioritize what is really important in life, and he has been a comfort to me amidst many other stresses in life. And, of course, he and I have produced children who are bright, loving, sociable, and excited about learning.
With all of those blessings, how can I not let Homeschooling know just why I love him? After all, we're going to be together for a very long time.
So, here, Homeschooling, is my valentine to you:
You keep me focused every day on the well-being of our children, and don't ever let me be content with just "good enough".
You've encouraged me to find and make new friends, and to get support from others in similar relationships
You support my values, and help me pass those values on to our kids
You've helped me move past my "everything has to be in its place" obsessive-compulsive tendencies, especially about cleaning
You've given me confidence in my ability to parent and to educate
You've reminded me to savor each moment of the time I have with our children, and to revel in the ways they grow and learn
You allow me to spend most of the day in sweat pants and a t-shirt, and you don't ever criticize me or pressure me into dressing up – even if I go two days without showering
You treat each one of our children as individuals, and provide opportunities for them to grow and develop according to their own unique strengths
You've shown me that helping the kids to manage their money and know how to make simple meals is just as important as Math and Science
You shield our kids from bullying, overwhelming negative peer pressure, violence, and other negative social ills
You help me prioritize our family life over endless academics or extra-curricular activities
You've shown me the value of the worthwhile over the popular
You are flexible, and are fine with us changing our routine at the drop of a hat to accommodate crazy work schedules, vacations, sickness, or anything else
You let us take vacations during the off-season, when we can get the best prices
You handle our children's learning and emotional challenges without labels or disdain and support me in focusing on their strengths
You've taught me patience and have helped me overcome perfectionism, while showing me how to love and appreciate each of our children individually
You provide opportunities for our kids to socialize with people of all different ages, races, and backgrounds
You've introduced me to a whole new way of doing life; a path that challenges the status quo rather than simply accepting "the way things are done"
You've given me my greatest desire – the ability to directly influence the kinds of persons our children become
So just know, Homeschooling, on this Valentine's Day, just how much I truly love you!