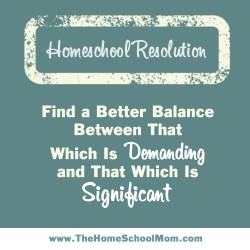 How is it already a new year?
I think I ask that question every year. The time just seems to pass by so quickly. And, let's face it, the year passes by quickly because each day passes by quickly. Every morning I wake up with a slight nagging sensation of stress, as I calculate the things that I have to get accomplished.  Let's see…the kids need breakfast, I have to start a load of laundry so that can be going before I get to the kids' food, I need to check my e-mail, I need to pull out from the freezer the meat for the soup I'm going to make so it can be thawing by the time I need to use it later on today, I've got to get on the computer and start my online work, but first I need to get daughter #1 started on her Math, I've got to make sure the girls feed the dog before they get started on their school work…
Wait. Have I washed my face yet this morning?
And isn't that how it goes? Thinking about what we've got to do before we even do it, and then rushing to get it all done.  So goes the day. So goes the month. So go the years. And when we look back, we wonder where the time went, and how we can get so much done and still wonder what, exactly, we've actually accomplished.
This new year, I want to do it differently.
I mean, just think about it. If somehow it all-of-a-sudden turned out to be our last moments in this world, and we had to reflect on what mattered to us to have accomplished in our lives, I doubt any of us would mention 90% of the things on our daily mental to-do list. Breakfast prep? Nope. Laundry starting? Nope. E-mail checking? Definite no. Of course many of those things do need to be done, so life can move forward. Yes, kids do need to eat. But what percentage of our time is spent doing the urgent rather than the important? And aren't we homeschooling, at least on some level, in order to have more time for the important?
This past year, I realized just how precious the "important" is, because I only had days. A little less than 4 days, to be exact, before our newborn son passed away. We celebrated Christmas with him, this year, not by helping him open gifts of new baby toys, but by placing a small Christmas tree on his grave. Instead of looking at my 5-month-old try to eat discarded wrapping paper, I got to look at an ornament with his photo in it on our tree.
Suddenly, a lot of the things I'd thought were so important this past year just don't seem to be so crucial as I enter this new year.
It has changed how I will do things as I home school from now on. It brought to my attention just how much of my life is spent accomplishing rather than enjoying; the amount of time wasted in pursuing the tasks I feel are obligatory rather than reveling in the lives I now know are temporary.
Homeschool Resolutions
My new year's resolution this year? To find a better balance between that which is demanding and that which is significant.  Instead of feeling sorry about what I haven't done well in the past, or stressing about what I need to get done with my kids for the future, I want to focus on the right now. I want to enjoy the right now. Every moment. Even the hard moments. I want to drink in each moment fully, with a realization that all of our moments are numbered. Busyness is the enemy of joy. And I really, really want joy.
So, I've got a plan. I'm going to make a list of the 3 things that really matter to me to have achieved in my homeschool when it's all over. All over, as in not just homeschooling, but life itself. And then I'm going to make sure every day I have worked in some meaningful way toward one of those three goals. To do so is going to require me to change some things. I'm not going to be able to steamroll through every day, like a commuter train perpetually off-schedule. I'm going to have to intentionally go slower; I'm going to do less and make the things I do do truly count. I'm going to have to choose, every day, things that are meaningful over things that are pressing. And I'm going to have to focus much more on the people in my life than on the tasks I'm doing for those people.
The truth is, one day, it will be done. Homeschooling, child raising, all of it. It will come to an end. With my little man, it was done much, much sooner than I could have possibly imagined. And when it's over, I want to know that I spent my time working toward the things that really matter, rather than the things that simply took up my time. This new year, I want to live as if I don't have years, but only moments.
I have a feeling that if we can live like that, when we do get to the end, we'll be very pleased with what we have accomplished.