Congratulations to Noe S. who won the Learning Through History Back Issue Set for her review of Time 4 Learning, and also congratulations to Vicki S. who won a WriteShop Primary Book with Teacher's Guide for her review of Math Mammoth.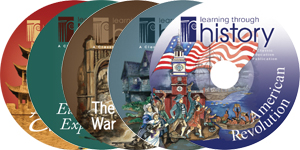 Noe and Vicki, please contact us to claim your prizes.
Want to enter for a chance to win? The basic idea is that you get one entry for each review that you leave in our Homeschool Curriculum Review area. Entries are cumulative for each giveaway but you can only win once. It's easy to enter and there are lots of great prizes! Please visit the contest page for the Official Rules.
Our next two prizes are a beautiful James Herriot book, The James Herriot Treasury, provided by Oak Meadow, and the winner's choice of a Figures in Motion pack: Famous Figures of the American Revolution, Famous Figures of Medieval Times, Famous Figures of Ancient Times, or Dinosaurs on the Move.