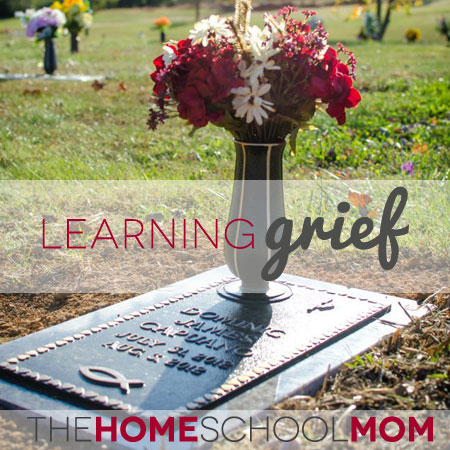 "Mom, am I going to die, like Dominic did?"
The question knocked the wind out of me. You'd think that months after losing our newborn baby, just 4 days after he was born, I'd be ready for all of these things by now.
Nope.
It's just one of the many things I'm learning in our new homeschool of grief -- that just when I think I'm doing ok, and that I've experienced all of the emotions tragedy can bring... I get knocked a new one. These children I have left, my sweet girls, have taught me so much about grieving. Whereas before I was always the teacher, we're definitely learning together in this new classroom of grief. And I'm so thankful to be doing it as a family.
Homeschooling has allowed me the blessing of being able to emotionally monitor my kids. To see how they're doing -- to be attuned to their needs throughout this journey of grief. And it's afforded me the opportunity to get closer to them and share with them this most personal and intimate of experiences. I get to see their toy horses "go to heaven" together as they play, or the way their dolls get sick and go to the hospital. I am there, when a song on the radio suddenly sends both of them weeping. I get to give hugs, and cry with them, when they get teary-eyed and say "I really miss Dominic". Most of those opportunities, of those precious grief moments, have happened during school hours. Homeschooling makes sure I don't miss them.
And I've learned so much. In Part 1, I shared the first four of my lessons in grief. Here are my other lessons:
5) Children need opportunities to remember the one they have lost.
The worst thing I could do for my children would be to pretend as if nothing had happened – to try to put on a brave face and soldier on as if everything were ok, in a misguided effort to "shield them from the pain". To do so would convey the message that their baby brother wasn't important. Grieving people need, probably most important of all, to know that the person they lost was significant. When we feel, when we are sad, it reaffirms that the person who is gone mattered to us.
My girls want to talk about their brother. They draw pictures about him and for him. They like to look at the photos we took of him before he died, and they reminisce about what it would be like if he were still here with us. We take them to the gravesite and we talk about how we wish he were with us when we do some fun fall activity. Remembering the loved one is critical to the grieving process, both for them and for us – and I've learned that we have to create ways to remember our son, if we are to move forward in healthy ways. We will put a special ornament on our Christmas tree for Dominic, and we will create a special tradition, such as releasing balloons at his gravesite, on his birthday. I want my kids to know that their brother was loved, that he will never be forgotten, and that his life was incredibly meaningful for the short time he was with us.
6) Children don't abide by societal standards of what is "appropriate" as they grieve.
Kids make grieving, shall we say, a little less neat. Whereas we adults know there are times when you say certain things and times when you don't, and we know how to put on a smile even when we don't feel it – kids do not. I've gotten socked quite a few times by unexpected questions, comments, and actions as my girls have grieved. Things that make your hand fly to your mouth in embarrassment, things that punch you in the stomach for their emotional impact, or things that make you unsure whether to weep or guffaw. For example, at the visitation, upon feeling her baby brother's skin (after his body had been embalmed and placed in the casket), my 4-year-old commented, "He feels like play dough". And when coming up with ideas for her next birthday party, she suggested, "I know, Mom! We could do a dead Dominic cake!"
Yeah, those things weren't in the grief manuals in grad school.
So, when you're grieving with children, you have to learn to go with the flow. Expect the unexpected. Allow yourself to laugh. Be prepared for surprise insights from your children that leave you breathless, such as the time when I was grieving at the table and my daughter came in and told me, "Mom, I just heard Jesus speak to me. He said, "I love you." Sometimes those improper, brutally honest things that come from your kids are just the thing you need to help you with your own grief.
7) Children grieve anew as their understanding increases.
Grief is not a one-time thing. Or even a one-year thing. Children continue to grieve over time, as they grow and develop and gain maturity and understanding. How a child grieves at age 4 is not the same as she will grieve when she is 14. And, although the years will pass and the sting of the grief will lessen, at each new stage of development she will go through some level of processing the loss according to her more mature awareness.
Even in the short time since our son's death, I have seen this re-processing in my children. My 4-year-old, for example, comes armed with new questions every couple of weeks or so. And her questions sometimes review territory we've covered previously. One of the ways I realized this was when we went for the first time to Dominic's gravesite. Although we had talked a number of times about the burial of the body, while talking to my daughter on the way, I realized that she thought she was going to literally see her baby brother – that we were going to visit him, somehow. We had to explain, again, about what happens to the body, and how it is buried, because his spirit isn't in it anymore. Sometime later, on one of our subsequent trips to the grave, she informed me, "We're not going to see Dominic, because his body is in the ground". I've learned to be patient with my girls' understanding, and their need to re-process and grieve anew as they gain new insight as a part of their maturity. And I plan to be there for them, and support them, in the upcoming years as they grieve the loss of their brother at each stage of their development.
8) Children need security.
Grief turns our world on its end. Schedules change, emotions seesaw, and life changes dramatically. To be healthy and to move forward, children need to find security in the turmoil – to have an anchor in the storm. Of course, it can be hard for parents to provide this security when their own lives have been completely torn apart. But one of the best ways parents can provide security for kids in times of grief is by demonstrating daily that they love them. Hugs and kisses need to increase. More bedtime stories need to be read. Momentary snuggles should be given for no reason. "I love you" should be spoken multiple times per day. Kids need to see that they still matter, that they are still loved, even though a loved one was lost.
Grieving takes a toll on your energy. One of the first things I did, after the death of our baby, was to reduce our extra-curricular activities, and to strip down our family's obligations to the bare minimum, so the little energy I had would go toward helping my children feel loved and secure. At this point in our lives, I don't want my energy to go toward chatting with other moms at soccer practice or being the field trip coordinator for our homeschool group. I want my energy to go to my family – to letting my girls know that I love them, and that our family is still intact, even though it has been ruptured. And I believe that decision has kept us going; has helped us continue to move forward.
Another way I try to give my children security is by keeping a regular schedule. Immediately after our son's birth, this was impossible, of course. But as soon as we could, we tried to go back to some semblance of our regular life. We started homeschooling again. And making beds. And eating regular meals. And doing the evening routine. And as we did, we eased back into life, and saw that life would keep going. For us as well as for our children, a regular (albeit somewhat stripped down) routine gave us the structure we needed to have some sense of security, in a new life that seemed anything but secure.
Finally, children can gain security when you rely on your faith. I try to never give my children a false sense of security, by promising them things over which I have no control (such as, "Don't worry, I'm not going to die"). Instead, I've found that it helps to acknowledge the insecurities of life, and point them to the unchangeable nature of God. There is a security that comes through acknowledging our own lack of control in life, while placing trust in a God who is able to bring good things even out of the most broken of circumstances. Faith reminds children that this world is not all there is. When everything feels out of control, security comes from knowing that you are in the hands of the One who has it all in His control, and is working within it for your good.
9) Children need to see you count your blessings.
When someone dies, life suddenly looks different. It is so easy to let the blackness surround you, and to get sucked down so far into the hole of sorrow that you lose the ability to see anything but darkness. But the truth is that even when our world only looks like death, death is not all there is. There is still goodness and beauty and love in the world. And the more we are able to focus on those good things, on our blessings – the more we will be able to climb out of the hole into the light.
I felt like my world caved in when my baby died. There are still many days when I see, I feel, darkness. But I have two children who are still alive. And I have made the choice, sometimes on a moment-to-moment basis, to give thanks for what I do have, rather than lament what I do not. My children need to see that death is not the totality of life. That, yes, there is pain and sorrow and loss, but that there is also joy and peace and love, and that life is worth living because of those things. As you count your blessings with your children on a daily basis, you will give them hope. Yes, something big was taken away. But I choose to help my children focus on the multitude that we have been given, rather than on what was taken away. And I hope, that by doing so, we will all end up, at the end of this journey, in the light.