This post was originally published as the introduction to an issue of TheHomeSchoolMom newsletter. Sign up here and get access to subscriber exclusive resources.
I'm reading lots of frantic posts on social media requesting help finding the best homeschool curriuculum (or at least better-than-what-we're-using-now curriculum). I'm seeing lots of concern over creating the perfect homeschool corner or classroom. I'm feeling your worry, but I'm here to ask you...
Where are you in your taking-a-walk game? 
Because taking walks ended up being far more important in our twenty years of homeschooling than curriculum or classroom.
I know. That sounds ridiculous when you're asking yourself, "but what will I teach them, and how, and where?"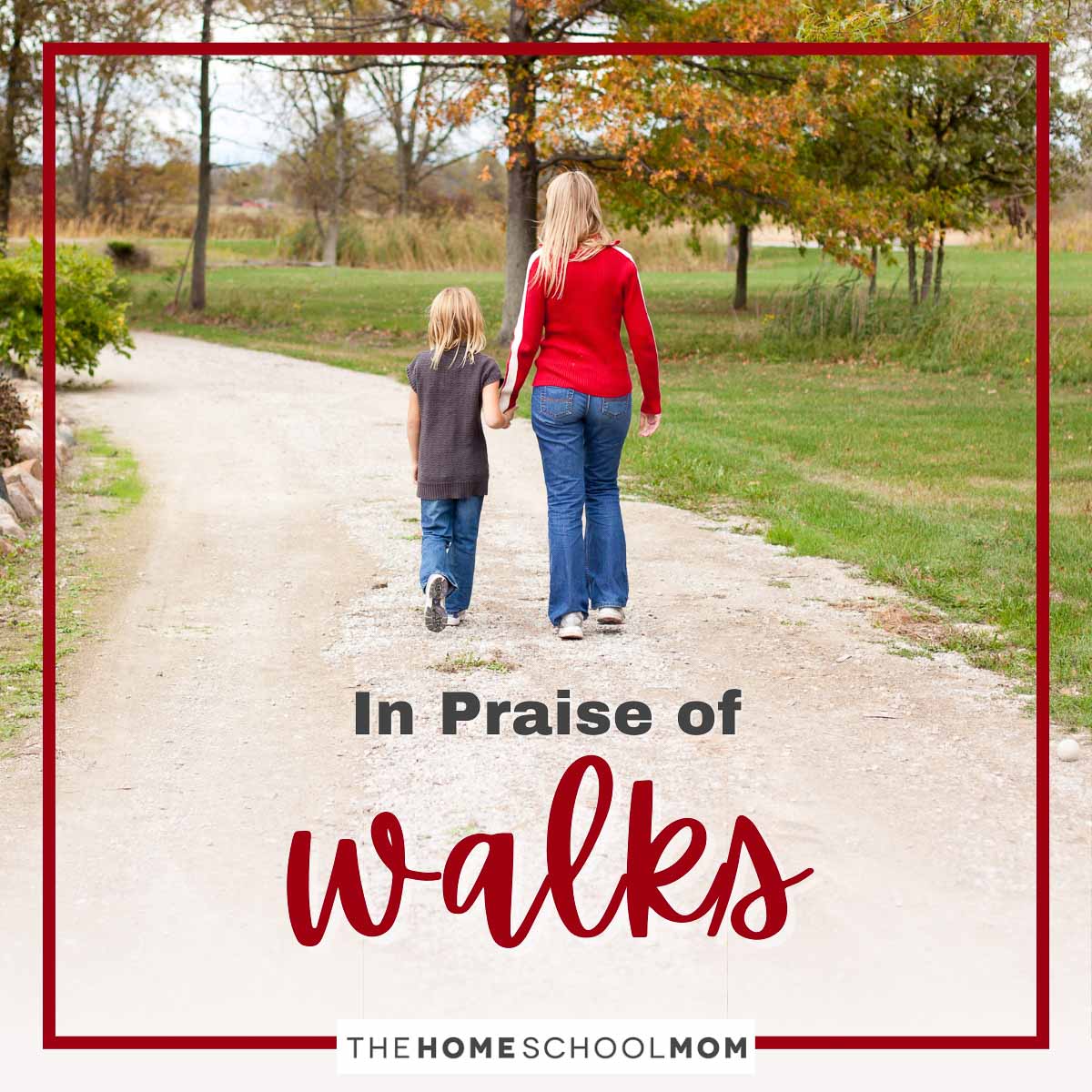 I'm not saying don't do the thinking ahead on good books to read and the right lamp to read by. Do that. But I am saying, homeschooling is ultimately not just about the things you surround yourself with and the academics you intend to accomplish. Homeschooling is about child and adult bodies moving side by side, it's about transition after transition (and then another transition), it's about being tired enough to sleep and getting enough sun to feel energized. It's about the weather, inside and out.
Need a break between math and handwriting? Take the kids for a walk. Need to get out of the house after a video game marathon? Take the kids for a walk. Need to see science and nature in action? Take the kids for a walk. Need a change of scenery or a lift to the spirits? Take a walk. Need to communicate with a kid or partner? That would be time for a walk-and-talk. Need time alone? Take a walk on your own.
Depending on where you live, taking walks will help you meet your neighbors, learn the details of your streetscape, introduce you to wild plants and animals, or some combination of all three. Educational? These experiences can lead to richer relationships, expanded vocabulary, and rabbit trails of learning.
Walks occupy a misty space between helping you and your children get moving when you've been sloth-like and helping you all slow down when life (or curriculum or co-op) has been coming at you fast.
You may have spent a lot of time on some aspects of you homeschool logistics; I encourage you to make walking easier for your future self by setting yourself up with:
Water bottles!
Stroller or baby carrier
Your own hip bag or backpack with bandaids, flashlight, bug spray, sunscreen, field guides
Small backpacks for kids with magnifying glass, bug jar, notebooks, colored pencils
Rain ponchos and umbrellas
The right dog harness and leash if you take a pet
Simple scooters for the kids who need to move more or faster than you do
When we lived in the country, we kept paths mowed around the hayfield for our walks. When we lived in town or in suburbia, we enjoyed sidewalks and cul de sacs. When we lived in apartment buildings, we explored the edges of our parking lots, yes, but we also visited parks and more walkable neighborhoods. Sometimes the latter took a little bit of doing, but honestly, we benefited more from our walking excursions than we did from many of the "homeschooling activities" we squeezed in. Worth the extra effort.
There are purposeful walks, like exercise walks and nature walks. We even recommend alphabet walks as a way to help kids recognize letters and enjoy word play. Maybe this year you'd even like to get your homeschool community involved in a magical night-time lantern walk in a Waldorf-inspired tradition.
But there are also every-day walks to decompress, walks to get fresh air, walks to appreciate being silent together, and walks that loosen the tongue of kids who want to tell you something but haven't found their moment.
Over many years, we walked at night under the full moon and talked about lunar phases, constellations, and friendships. We walked in the snow and rain and talked about the weather, the world, and Wednesday's soccer practice.
On a recent weekend when my husband and I were camping, we were delighted to have all our young adult sons show up from various parts of the state to hike with us at a state park. As happy as I am that they all got into college and are productive human beings, I have a special delight that they still show up in the woods to walk together, to walk with us.
I wish that for you and yours.