"How to Shop for Online Curriculum at Homeschool Conventions" is a post from our contributing sponsor Time4Learning.
If you're shopping for a homeschool curriculum program (and even if you're not!), a great place to see the products in action is at a homeschool convention. Think about it, you have all the vendors in one place and they've been preparing to showcase their products for weeks -- all for you and your fellow homeschoolers.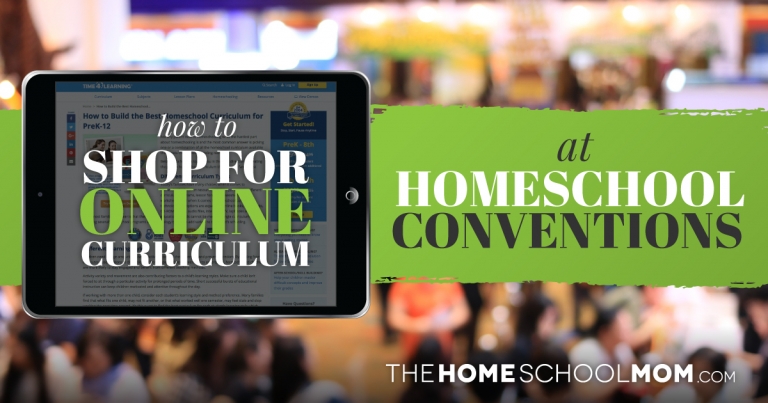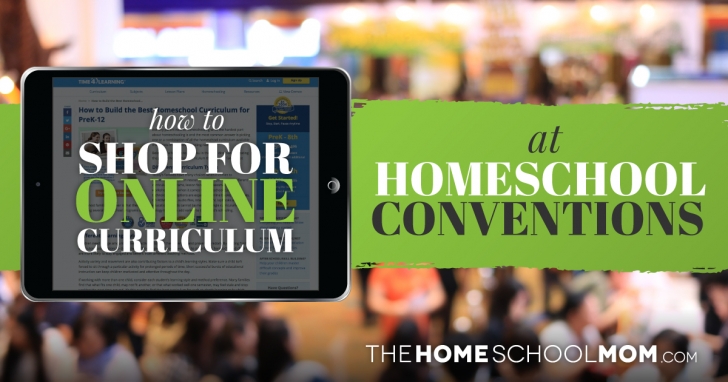 Like many homeschoolers, you may not be sure what type of curriculum will fit your family's needs. Perhaps you have a curriculum that you're using now and it's not a good fit. It happens. In today's world, many homeschoolers are looking toward online curriculum programs. Parents have found them to be beneficial for themselves as well as their children. Let's take a closer look at what steps you can take to find an online curriculum at a homeschool convention.
Prep for the Event
Think of yourself as a coach who's investigating an upcoming opponent. What do the best coaches do? They prepare. They research. Find out which homeschooling vendors are showcasing their online curriculum, note their booth number, and visit their websites. Once you're on their site, here is a quick list of what you should do:
Find out what their products offer (subjects, grades, support, etc.)
Write down as many questions as possible to ask when you're onsite
Contact the company to find out if they're offering any bonuses at the conference (free trials, discounts, etc.)
Ask if they're offering workshops or demonstrations
Find out if the curriculum will easily work with other programs
Determine if the online learning environment is secure (this is also something you should discuss at the convention)
These are just a few things to do before the convention. If you can't find out the information you're requesting, write down your concerns and voice them at the conference. Vendors are there to answer your questions and ease your worries, especially if you're not quite sold on their products.
Analyze the Features
At a conference, vendors will actually provide demonstrations of their online curriculum, and detail how it will benefit your homeschooling experience. Some features you should look for in an online curriculum, that many other traditionally school-based curriculums don't offer, include:
Multimedia lessons that interact with students like video games and present difficult concepts in a fun manner
Short lessons that teach concepts, which can be evaluated later with online quizzes and tests
Detailed reporting and automated grading for portfolio usage and transcripts
Detailed, printable lesson plans and homeschool teaching tools to review lesson contents
No software to install, no CDs and nothing additional to purchase
Unlike other curriculum options, online programs also encourage independent learning, which helps if you have multiple children. For example, while one student quietly engages his or her online lessons, you can provide one-on-one instruction to your other child -- or get other work done.
Pricing
Sometimes, it's all about the price. You, like most other parents, probably have a budget. And if you're seriously thinking about purchasing any curriculum at a convention, you should know if it's affordable.
Most online curricula programs use a monthly subscription structure. This means you pay month-to-month. The ideal program allows you to cancel or pause your subscription at any time without penalty. Some online programs are packaged purchases, or all-inclusive programs, that are sold by the year -- but they may give you the option to cancel, so be sure to double check.
As noted earlier, be sure to find out ahead of time if there are any bonuses or sale events at the convention. Many vendors offer specials at conventions as an incentive to buy. If you find a program that suits your needs, this works in your favor.
Advantages and Disadvantages
With any curriculum, there are advantages and disadvantages. Many online curriculum users point to the automated grading system and detailed reporting as an advantage. Some parents don't like all the administrative work that comes along with homeschooling, and with the online option, many times, it's done for you.
If you don't have access to a computer or tablet, or don't feel comfortable using electronics as part of your curriculum, the online option is obviously a disadvantage.
As far as the advantages of online programs, you can:
Have your children access their lessons 24/7 as long as they have an internet connection
Watch your children become more independent learners
Have them learn and progress at their own pace
There are a lot more advantages, but the ultimate decision is in your hands. You know what learning style best fits your children's needs, and what you're comfortable with as the teacher.
In the end, the great thing about homeschooling is you don't have to choose just one curriculum. You have flexibility. Many children perform best with a curriculum that combines a few different options. It keeps them motivated and it stimulates different learning styles. So, if you haven't tried an online program or want to switch the one you're currently using, a convention is a great place to explore what's available.