By Barbara Frank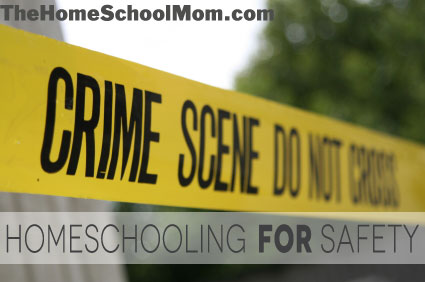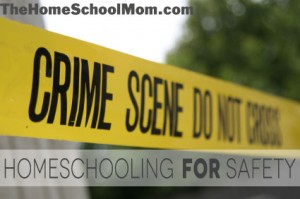 This morning, my jaw dropped when I heard radio host Dennis Miller repeatedly tell a caller who was upset about the horrendous school shootings in Connecticut that he should consider pulling his young daughter out of school and homeschooling her. Miller was clearly serious.
Can you protect them?
I'm not used to hearing homeschooling being recommended by people like Dennis Miller, but in the wake of the awful event at Sandy Hook, I can see where shaken parents all over the country are looking at their children and thinking, "How can I protect them?" when dropping them off at school each day no longer looks like a safe thing to do.
I get that, and being as pro-homeschooling as I am, I agree. BUT, please know that homeschooling isn't something you do impulsively. It requires serious thought. Most importantly, it requires at least one highly committed parent (ideally, two).
As I said in The Imperfect Homeschooler's Guide to Homeschooling (affiliate link), I never pulled any of my four children out of school because I never sent them there in the first place. But I know plenty of parents who did pull their children out of school to homeschool them, and they've told me what worked for them. So if the Connecticut tragedy has you ready to pull your kids out ASAP, please read this:
So what do you do with this child whose days are no longer filled with school?
The parents who came before you have found that you must begin deprogramming him. After months or years of being trained in the routines of school, he needs freedom in order to see that there are other ways to live. Neither of you are accustomed to that freedom, so this may not be easy. For you, it probably won't seem like freedom, because you're not used to having him home every day. So this will be a learning experience for you, too. You'll have to be patient; helping him become more self-reliant will take time, but will eventually bear fruit.
The days stretch out before you. If you don't "do school" with him, how will you keep him busy? Busywork is the hallmark of public education, not real education. Your best bet right now is to provide him with learning experiences in an unstructured way, so that he learns to become comfortable with unscheduled time. School trained him to follow its schedule; now you have to train him to follow his own. Instead of diving right into a formal school plan, why not try what has worked for other parents?
You can start by hanging out together at the public library. Encourage him to choose a stack of books to take home. If available, play with educational software together while you're there. Help him get to know the librarians; in time, they will become partners in his learning.
At home, make regular time to read books aloud together and talk about them afterwards. Even older children enjoy being read to; it doesn't seem like work, as independent reading often does. One book I highly recommend is Diary of an Early American Boy by Eric Sloane.
What can you do that doesn't involve curriculum?
The parents I know who have plenty of "deprogramming" experience tell me there are other things you can do before you get to the point of adding any formal homeschooling to your day:
Visit museums and zoos, letting your child take the lead in deciding which exhibits to look at first. He's used to the teacher calling the shots, but now he needs to learn his own mind.
Plan meals together. Take him to the grocery store so he can help choose what to buy. Follow recipes together; allow him to do as much of the work as you believe appropriate for his age and skill level.
Schedule a family vacation (the school year is a great time to do this: lower rates and no crowds!)
Play age-appropriate board games with your child, including checkers and chess.
Give your child free reign with art supplies, and the time to be creative.
Make sure he has ample time to develop and indulge his own interests.
Put him to work on useful things, like small repairs around the house. This is a good place for dads to get involved, especially if your child has only had female teachers in school.
As he becomes used to the rhythms of home instead of school, you'll want to establish new ways of thinking. Perhaps the most important is the primacy of family over friends. This won't be easy if your child has already become peer-dependent. You'll have to make this change subtly. Don't drop everything for play dates; instead, fit them in around your family's plans. While you don't want to take away your child's social life, the goal is to replace peer dependency with self-reliance as well as increased identification with his own family.
This is also a good time to help your child reconnect with his roots by taking him to visit grandparents and other relatives.  Seeing where he comes from will help him reestablish his identity. Spending time with them will help strengthen those family ties.
Encourage individuality and taking the initiative by offering your child choices in clothes, food and daily activities. School, by necessity, encourages conformity and submission to someone else's agenda. By suggesting he choose between alternatives that you have provided, you re-establish your child's autonomy without handing over the reins of daily life to him (you've probably seen the chaos in families where parents have abdicated their roles and put the children in charge.) You also wean him from his dependency on the teacher and school for the patterns of his day.
Take time to listen to him when he wants to talk. What better use of your time can there be than getting closer to your child when he wants to share something with you? As he talks, he will learn more about himself, a sure step on the way to becoming himself again.
How long does it take?
All of these things take time, and as the days and weeks go by, you may begin to feel as though you should be "doing school" with him so that he doesn't fall behind. Don't worry; the concept of "falling behind" is a school idea. There are no rules as to when a child should learn something. You want to get back to the idea of self-directed learning, which is the only kind of learning that sticks anyway. If you're worried about his progress, have him tested (privately) in a year or so if it makes you feel better.
It's hard to take the time to deprogram a child who has just come out of a difficult school situation. All that pent-up desire to help him doesn't want to be held back. But it's important to realize that you need to give your child time to find out who he really is, not who he was within the framework of Ms. Smith's classroom, or as a student at Hometown School.
The earlier he began school (or preschool), the longer this could take, so you'll have to be patient. In time, as he becomes re-accustomed to his role in the family and the freedom of being at home, he will become the individual he was meant to be.
© 2013 Barbara Frank/ Cardamom Publishers; Used by permission
Barbara Frank homeschooled her four children for 25 years and has written several books related to homeschooling. You'll find her on the web at www.cardamompublishers.com, www.barbarafrankonline.com and www.thrivinginthe21stcentury.com.