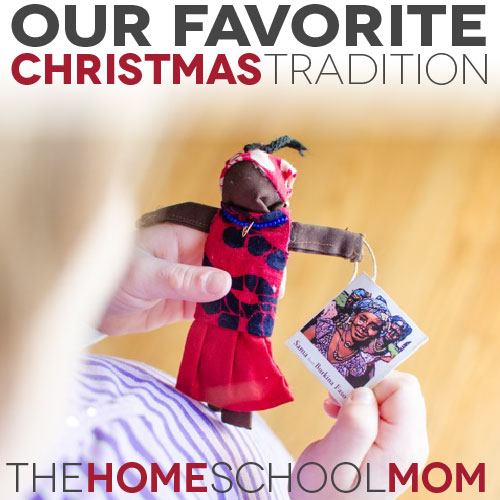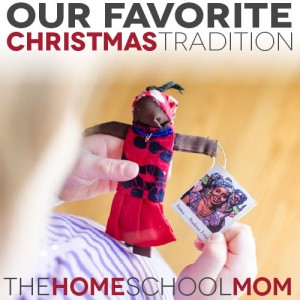 It's like fall comes and then…
Boom! You're getting ready for Christmas.
Now, I'm certain that many of you homeschoolers out there already have your December homeschool-worthy Christmas plans in the works before Thanksgiving rolls around, and, well...yay for you. Me? The thought of Christmas plans doesn't usually seriously cross my mind until the turkey and dressing have become turkey sandwich leftovers.
Christmas Traditions
That being said, it's usually not too much of a deal to get prepared, because many of our family's Christmas preparations are traditions that we do every year. No stress, no planning -- just pull most of it down from the attic on Nov. 30 and let 'er roll. Homeschoolers tend to be big tradition-ers; traditions, after all, are things we do as a family over and over again each year, and Christmas traditions are especially meaningful.
No doubt there is the Christmas tree, but many homeschoolers include uniquely teachable Christmas traditions that help kids truly understand the meaning of the holiday. Putting together a Jesse Tree, baking Christmas goodies for neighbors, purchasing gifts from a relief catalog for those in poverty, doing a Christmas unit study, and putting up the nativity are all December traditions in which our family engages – the things that make the season meaningful, educational, and special.
But there is one tradition that might just be my favorite of all...
Our Advent calendar.
Everyone knows what they are – those things you hang on the wall which, in some way, help the kids count down the days till Christmas. There are endless versions, but our Advent calendar is special, and it conveys the incredible meaning of the season to our whole family:
Our Advent calendar was made in India, by impoverished women and orphans, and the money donated to obtain it goes toward helping those who made it.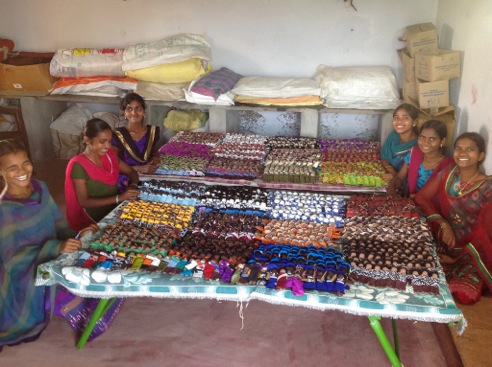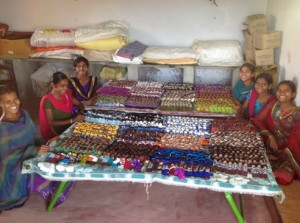 That's right –Global Partners in Peace and Development (GPPD), an amazing relief organization run by friends of ours, created this Advent calendar idea as a means for people who had no other resources to earn a living. My sister was actually part of a team (see her story at Steph's Clean Water Well) that went to India to help women living in poverty begin their own sewing microbusinesses. GPPD, with her help, taught them how to sew, provided each woman with a sewing machine (that they were able to earn by making GPPD product, such as these calendars), and helped them learn how to make these Advent calendars. The calendars are then brought back to the United States by GPPD staff, and made available to the public. For $150 donation to Global Partners, all of which goes directly to help the women and orphans who make the calendars, families receive a calendar and transform the lives of others.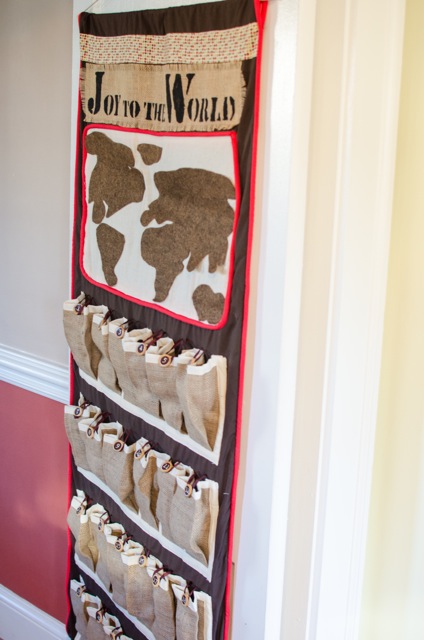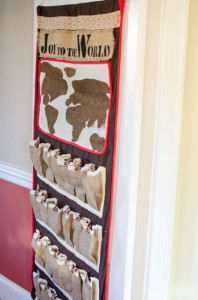 The calendar is large enough to fit on our door, but the best part is what is on it. There are pockets on the front for each day of December, and in each pocket is a little handmade doll. Each doll is unique, dressed to look like the people group that it represents – people who have not heard about the news of Jesus Christ. A card accompanies each doll, explaining about that people group. The intention is for children, each day throughout December, to take a doll out from the appropriate day's pocket, read about that people group, and then pray for those people. The dolls are then hung on the tree – they each have small hooks in their hands that interconnect so that they can surround the tree, hand-in-hand.
But it gets even better. While the calendar itself is made by women who have begun their own micro-businesses, the dolls in the pockets are all made by hand by children in GPPD's Indian orphanages – orphans my brother-in-law just met in person in November of this year when he went on a mission trip.
Talk about having a personal connection with Christmas.
Yes, our Advent calendar tradition not only helps us count down the days until Christmas, but it reminds us about needy people all over the world, encourages us to focus on the true meaning of the season, supports impoverished Indian women who are beginning their own micro-businesses, and provides for orphaned children.
Global Partners has a variety of items available for a donation fee, including apparel, jewelry, handbags, home décor, and Nations Hope Dolls for children, the proceeds of which support impoverished persons in GPPD projects. These items make wonderful Christmas gifts, and also provide life-giving necessities to the poorest people in the world. The organization also facilitates sponsorships for children in its orphanages.
There is no doubt – Christmas would not be the same without our Advent calendar. Each time we use it, we are reminded of the beautiful dark faces we saw over Facetime when my family members were ministering in India. We are reminded of how we are so phenomenally, amazingly blessed – so that we can give to others. We are reminded that the true gift of Christmas is not the things we can buy, but the gift of the One for whom we celebrate the season.
Our Advent calendar incorporates the best of the homeschooling world: education, fun, family tradition, faith values, and service to others.
I'd say that's a tradition worth keeping.