Topic: Math Meets Science
Resource of the Week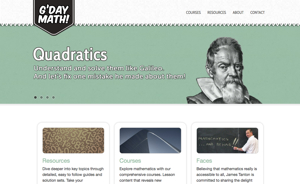 Dr. James Tanton loves math, and his teaching approach encourages what most homeschoolers try to accomplish — producing students that are life-long learners.
James Tanton believes that the ultimate goal of the mathematics curriculum is to teach self-reliant thinking, critical questioning and the confidence to synthesize ideas and to re-evaluate them. The content of any curriculum, of course, is important but the path through it should be uncluttered. We want to promote thinking and joyous doing, conceptual understanding over rote practice and memorization. Our complex society demands of its next generation not only mastery of quantitative skills, but also the confidence to ask new questions, explore, wonder, flail, innovate and succeed.
To that end, G'Day Math offers mathematics courses to engage students and produce inquiring minds. Only one course is complete, but 3 more are coming soon. Quadratics, the currently available course, is where the practical application of math meets scientific inquiry. Tanton's Quadratics course is available as a complete, free online course combining video lectures and written lessons. A corresponding course guide is available for under $10 that contains solutions to all of the practice problems. Tanton writes an ongoing series of mathematics essays available on his Thinking Mathematics website. His Think Puzzles and Think Cool Math are a neat way to extend math — he points out something about clocks that I never noticed, and he offers and explanation of lattice multiplication, which is a completely different way of multiplying large numbers. If you have or want to encourage a math-lover in your home, check out Dr. Tanton's resources.