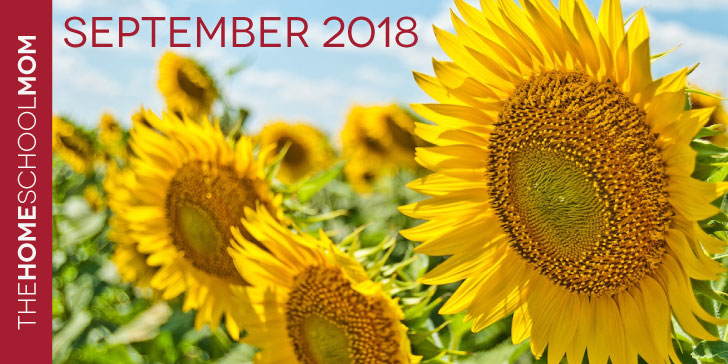 September is the season of change and newness for many homeschoolers: new routines, new resources, new hopes. We here at TheHomeSchoolMom share that with you. We're bringing you new content, a new writer, and a new reminder of the national holiday just for homeschoolers—created for you by TheHomeSchoolMom. More about that in a minute.
First, please join me in welcoming TheHomeSchoolMom's new writer, Vanessa Wright, to TheHomeSchoolMom. Vanessa is in the thick of homeschooling her 11-year-old twins and her 13-year-old, and she already has years of homeschooling experience to share with us. I met Vanessa through homeschooling, and I am always impressed with her ideas, her warmth toward her children and other moms, and her knowledge of resources, from perennial solid standbys to the latest and greatest. Look for Vanessa's first article in this issue about transitioning to more self-directed work in middle school.
You'll also be interested in reading our new article about homeschooling and accreditation by guest blogger Karen Skelton. New homeschoolers and non-homeschoolers frequently assume that using a program from an accredited school is a generally important aspect of homeschooling, and that not doing so will have serious consequences. Karen updates us with her article, "What is Accreditation?" and explains accreditation's relevance—and lack of relevance—for homeschoolers.
Finally, it's almost time to celebrate that most vexing of national holidays, Curriculum's Not Working Day, coming up on October 1. A few years ago, we created this holiday to provide some comic relief to the stress many homeschoolers feel as our well-laid plans and new hopes start to skitter when Mom's Homeschool Plans meet Real Live Kids.
But our essay on Curriculum's Not Working Day also provides tips for regrouping, so you can have more of the homeschool you want. What we're really celebrating is the flexibility of homeschooling, and our own ability as parents to change things—and to embrace change in ourselves—to better meet the needs of our children. Everyone needs new hopes, and everyone needs encouragement for dealing with the reality that inevitably follows.
Wishing you hope and encouragement,
Jeanne
Recent & Relevant Blog Posts
With the growth of distance learning programs, choosing a provider for this type of homeschooling naturally leads to an increase in questions about accreditation: what is accreditation exactly, and how does it pertain to homeschooling?
Continue reading »

One of the things that intimidates people the most about homeschooling high school is how to make homeschool transcripts—create and print your own transcripts with our free homeschool transcript template for Excel.
Continue reading »

Academic and lifestyle flexibility, efficient and meaningful learning, and prioritizing a child's mental, emotional, behavioral, and physical health are just a few of the many and varied benefits of homeschooling.
Continue reading »

It's the time of year when families are suffering from Sudden Onset Homeschooling Syndrome, or the tendency to jump into homeschooling with too much, too fast, and for too long.
Continue reading »
Teaching Calendar
September 16, 2018 — Collect Rocks Day
September 16, 2018 — Mayflower Day
September 16, 2018 — Mexican Independence Day
September 17, 2018 — US Constitution Day – Constitution was signed today in 1787
September 18, 2018 — Yom Kippur
September 19, 2018 — International Talk Like a Pirate Day
September 23, 2018 — Sukkot (Feast of Tabernacles)
September 24, 2018 — US Supreme Court Established – 1789
September 24, 2018 — Dr. Seuss died this day in 1991
September 28, 2018 — Native American Day
September 30, 2018 — Elie Wiesel born this day in 1928 (Holocaust)
October 4, 2018 — Sputnik launched – 1957
October 8, 2018 — Columbus Day
October 13, 2018 — Cornerstone of the White House laid – 1792
View the full teaching calendar »
Middle School Mania: How We're Transitioning to Homeschooling Middle School (Featured Article)
Last month, I innocently walked into Target. There it was. The Target Dollar Spot section. Filled to the brim with all kinds of back-to-school supplies, gadgets, posters, pens, pencils, books, and more. So much stuff for such great prices.
My eyes lit up (which is not unusual for me when I walk in to Target—just being honest). I slowly meandered through the entire section—taking in all the primary colors. An ABC felt banner? Darling. Montessori-ish toys? Yes, please! Adorable flashcards with states and presidents! Get in my cart! A wooden clock and matching workbook? Adorable AND functional!
I drowned out all the noise around me—reveling in the sweet goodness of the imaginary homeschooling room in my head. You know, the one where my kids are little and we're sitting around our old farmhouse table and they are cutting and gluing things, and I am reading a sweet picture book and I am interrupted 27 times to assist or ensure that my oldest isn't standing on the table again.
"Mom!"
"Mom! C'mon!! We're not here for this stuff!"
"Mom! Seriously!! COME ON!!!!"
I snapped out of my daydream to my three kids standing with an empty red cart with slightly annoyed looks on their faces.
"Wait! Don't you guys want to look at any of this stuff? It's so cute! Don't we need some new things for homeschooling?" I am sounding desperate at this point, clinging to a set of brightly colored string lights.
And then it hit me.
We really didn't need any of these things. My kids are now 13, 11, and 11. We are fully into the tween/teen years. It's all hormones, sleeping, eating, self-directed learning, eating, sleeping, and me eating chocolate. . .
Read the rest on TheHomeSchoolMom »
Homeschool Links
| | |
| --- | --- |
| Fourth graders and their families can have year-long free access to national parks, lands, and waters through this program. | High schoolers will enjoy this free podcast series covering classical, Roman and Hellenistic, Islamic, and other philosophy. |
| If all the LEGO® bricks have migrated into one big tub, these small project instructions can bring back the fun, step by step.   | Submit spider photos for ID, and help others identify spiders from their pictures. Enjoy arachnophiles' posts from all over the world. |