Birds, Writing Prompts, Writing, U.S. History, and More…
From the Editor
Welcome to the September issue of TheHomeSchoolMom newsletter. As you can see in the above image, we have a new subscriber freebie for you! We were a little late getting the September calendar published, but look for a new writing prompt calendar each month going forward. I hope to have each calendar ready before the beginning of each month in the future.
We have lots of good stuff for you in this issue, and I am especially pleased to bring you the feature article about "How to Raise a Wild Child." If you enjoy our newsletter and subscriber benefits, please feel free to forward this to your friends. Enjoy the newsletter!
Warm regards,
Mary Ann Kelley
Editor
Teaching Calendar
September 16, 2017 — Collect Rocks Day
September 16, 2017 — Mexican Independence Day
September 16, 2017 — Mayflower Day
September 17, 2017 — US Constitution Day – Constitution was signed today in 1787
September 19, 2017 — International Talk Like a Pirate Day
September 21, 2017 — Rosh Hashanah
September 23, 2017 — Native American Day
September 24, 2017 — US Supreme Court Established – 1789
September 26, 2017 — Johnny Chapman (AKA Johnny Appleseed) born this day in 1775
September 30, 2017 — Yom Kippur
October 4, 2017 — Sputnik launched – 1957
October 5, 2017 — Sukkot (Feast of Tabernacles)
October 13, 2017 — Cornerstone of the White House laid – 1792
Homeschool Links
How Do Hurricanes Affect Migrating Birds?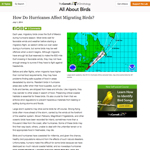 When students are following along with current events, they may have a higher interest level in topics related to those events. The recent devastation caused by hurricanes Harvey and Irma had tragic results for people and wildlife. This article from the Cornell Lab of Ornithology from 2014 discusses how hurricanes can cause problems for migrating birds and has been updated to include information about birds known to have been displaced by Harvey's path. The eBirder of the Month Challenge for September might be of interest to students with an inclination toward observing birds. The eBird Mobile app makes submitting checklists easy, and it a great way to get outside (as suggested in our feature article below about encouraging "wild" children) while participating in citizen science. The latest copy of Bird Sleuth Investigator is also available for free download from the Cornell Lab (email required).
Stossel in the Classroom 2018 Edition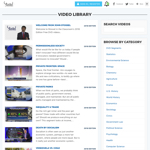 The 2018 Stossel in the Classroom streaming content for educators is a free resource created with video segments covering social studies, civics, economics, government, and technology from a libertarian point of view; both English and Spanish subtitles; and an accompanying Teacher Guide (available in English and Spanish) containing lesson plans, graphic organizers, activity suggestions, viewing guides, assessment, and vocabulary.
The eight topics included for 2018 are:
1. Permissionless Society
2. Private Frontier: Space
3. Private Parks
4. Inequality and Trade
5. Death by Socialism
6. Venezuela vs. Chile
7. Robots & Driverless Cars
8. YouTube: Now, We're the Gatekeepers
There are also six bonus videos from the Institute for Justice, the Foundation for Economic Education (FEE), the Mercatus Center at George Mason University, and Learn Liberty.
[ED note: TheHomeSchoolMom does not advocate any one political viewpoint over another and encourages parents and their students to research various positions from a variety of viewpoints as advocated in our post, "College prep Homeschooling: Worldview & Confirmation Bias."]
Calderwood Writing Course: U.S History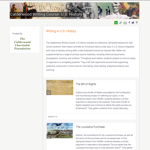 Available through PBS Learning Media,"he Calderwood Writing Course: U.S History includes six interactive, self-paced lessons for high school students. Each lesson provides an immersive look at a key topic in U.S. history integrated with tools to develop writing skills. Lively illustrated lectures by historian Ben Weber are supplemented by a range of primary source materials, including historical documents, photographs, cartoons, and artifacts. Throughout each lesson, students prepare to write an essay in response to a compelling question. They craft their arguments around three supporting questions, using built-in online tools for note-taking, close reading, analyzing evid
ence, and outlining."
Recent Blog Posts
How to Raise a "Wild Child" (and Why You Should!)
by Alan Fortescue, PhD, Oak Meadow High School Director
Research has shown that the simple the act of getting children outside is the most effective way to foster environmental consciousness. As prominent environmental educator David Sobel eloquently stated, "one transcendent experience in nature is worth a thousand nature facts."
It turns out that children who have an immersive experience in nature develop a deep love of the environment that they carry with them their entire lives.
Aside from significantly increasing the likelihood that they will actively work to preserve the important life-giving aspects of the environment as adults, an engagement with nature has other positive cognitive impacts, from an improved performance in school to a greater involvement and concern for community well-being. A study of 300 of the world's most innovative thinkers and leaders showed clear links between childhood immersion in nature and an out-of-the-box creativity and tireless commitment to society.
Here are some ways you can (safely) launch your child into the wild…
Read the rest on TheHomeSchoolMom »
You are subscribed as: newsletter@thehomeschoolmom.com | Unsubscribe
(Unsubscribing will remove your address from both regular issues and sponsored mailings)
TheHomeSchoolMom, P.O. Box 5292, Fredericksburg, VA 22403 | Terms
–_———-=_150546960321090–