New Homeschool Planner Pages, Full World History Course, Elections, and More
From the Editor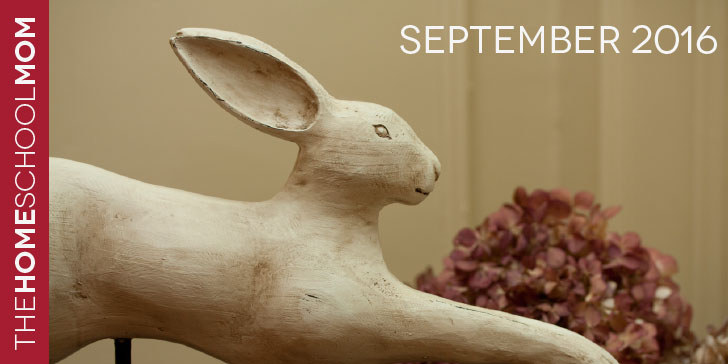 As homeschoolers begin to head back to classes and/or co-ops, inevitably the age restriction question comes up. In our featured article, Jeanne takes a look at the situation where an advanced child might not fit in academically in his age group at homeschool classes and co-ops.
If you haven't seen our new additions to TheHomeSchoolMom's planner, check them out. The planner is completely free for newsletter subscribers and includes year and month view calendars, weekly planner and menu planner pages, assignment sheets, unschooling record keeper pages, attendance records, and more. Newly added for 2016:
Today's Plan
Short Term and Long Term Goals
High School Credit Planners
Homeschool Annual Budget Planner
Have a suggestion to add to the planner? Just reply to this email and let me know. Enjoy the newsletter!
Warm regards,
Mary Ann Kelley
Editor
Our Sponsor: Colonial Williamsburg

Teaching Calendar
September 16, 2016 — Collect Rocks Day
September 16, 2016 — Mexican Independence Day
September 16, 2016 — Mayflower Day
September 17, 2016 — US Constitution Day – Constitution was signed today in 1787
September 19, 2016 — International Talk Like a Pirate Day
September 23, 2016 — Native American Day
September 24, 2016 — US Supreme Court Established – 1789
September 24, 2016 — Dr. Seuss died this day in 1991
September 25, 2016 — Bill of Rights proposed to states – 1789
September 26, 2016 — Johnny Chapman (AKA Johnny Appleseed) born this day in 1775
September 27, 2016 — Sukkot (Feast of Tabernacles)
September 30, 2016 — Elie Wiesel born this day in 1928 (Holocaust)
October 2, 2016 — Rosh Hashanah
October 4, 2016 — Sputnik launched – 1957
October 10, 2016 — Columbus Day
October 12, 2016 — Yom Kippur
October 13, 2016 — Cornerstone of the White House laid – 1792
October 14, 2016 — Martin Luther King, Jr. awarded the Nobel Peace Prize – 1964
Educational Resources
Free Crash Course Full World History Curriculum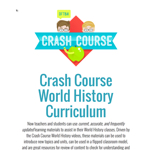 Crash Course has long been known for John Green's video review courses, and they have recently released the first in a collection of full curricula.
"Now teachers and students can use current, accurate, and frequently updated learning materials to assist in their World History classes. Driven by the Crash Course World History videos, these materials can be used to introduce new topics and units, can be used in a flipped classroom model, and are great resources for review of content to check for understanding and application. You may use these lessons, activities, and video questions in your classroom today!"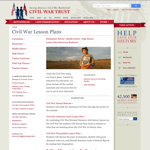 The Civil War Trust is a nonprofit organization dedicated to the preservation of America's battlefields."Through educational programs and heritage tourism initiatives, the Trust seeks to inform the public about the vital role these battlefields played in determining the course of our nation's history."
"Some of our most popular civil war lesson plans for grades four through eight include the Uncle Tom's Cabin Lesson Plan, the Civil War Photography Lesson Plan: Photography As a Primary Source, and the Civil War Newspaper Lesson Plan. The popularity of these lesson plans are due in major part to their ability to encourage creative processes and their reliance on multimedia outlets for completion.
"For the ninth through twelfth grade levels, some of our most popular civil war lesson plans include the United States Colored Troops Lesson Plan: The Black Soldier's Role in the Civil War, the African-American Civil War Soldiers Lesson Plan: Fighting For Rights and Responsibilities of Citizenship, and the Civil War Photography Lesson Plan: Technological Development and Social Impact. These lesson plans introduce students to the interdisciplinary manner in which historical studies are conducted in universities today."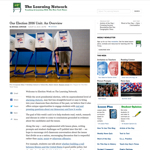 "While the 2016 presidential election, with its unprecedented level of alarming rhetoric, may feel less straightforward or easy to bring into your classroom than elections of the past, we believe that it also offers unique opportunities to engage students with real and pressing questions about our democracy and how it works… To do this, the unit puts students in the role of investigative reporters who go behind the sound bites to inform voters about what past experiences, qualities, and values each candidate will bring to the presidency.
"We guide students to find out what these candidates think about the important issues facing the country. And, we help them pull back the curtain to see how campaigns are run and fought, so they can think more critically about what they see and read in the media leading up to Election Day. At the end of the unit, students write an endorsement for the candidate they support, based on all their research, and then hold a mock election."
Every November political candidates take to the airwaves, plan town hall meetings, and go door to door looking for votes. The Elections A to Z Unit Study looks at the history of elections and how they work in the United States. Using online resources to complete the unit, students will research the election process and learn what a privilege it is to vote for our political leaders.
Our Sponsor: Time4Learning
When you homeschool with Time4Learning, the possibilities are endless. Our flexible, easy to use Prek-12th grade curriculum instills a can-do attitude towards learning in your children while allowing time to pursue their passions and dreams.

Time4Learning is an award-winning, comprehensive curriculum that includes over 3,000 interactive activities in math, language arts, science, social studies, and starting this year, foreign languages. Parents have access to lesson plans, homeschool resources and an automated system that takes care of grading and recordkeeping.

Visit www.Time4Learning.com to learn more.
Recent Blog Posts
10 Ways to Create and Maintain Balance as a Homeschooling Parent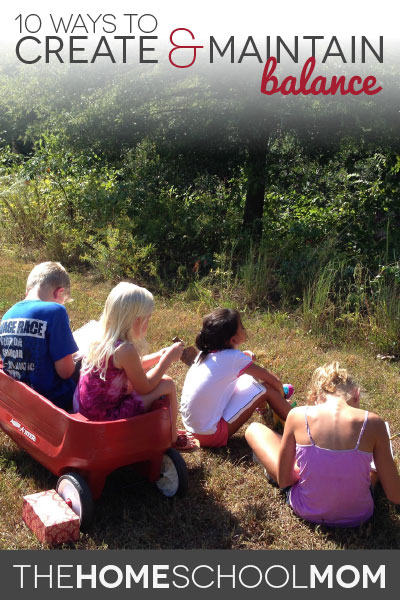 1. Know your priorities. Be clear with yourself about what is most important. Make sure everyone in the family knows what those things are. Talk regularly about the reasons why your family does things the way you do. Be open with each other when it feels like it's time to revisit or reaffirm your family's priorities.
2. Always start with a plan, and be flexible enough to…
Continue reading »
Ten Things Homeschoolers Don't Have To Do
You're excited about the new homeschool year, and you have a list of things to do to get ready. Do you have a list of things you don't have to do? Homeschoolers don't have to… Continue reading »
Ask Jeanne: Age Restrictions in Homeschool Co-ops and Classes
I'm a new homeschool mom with an eight year old who is really advanced in his academic skills. My problem is that the people who run the classes and co-ops we're interested in won't let me sign him up above his age group. This includes our county recreation department, the local history museum, and activities sponsored by our local homeschool group. How can I get them to place him correctly so he won't be bored?
This is one of the reasons we took him out of school. He started reading and writing at an early age, and he got in trouble in school because he already knew how to do everything they were working on in the classroom. I'm frustrated that people don't seem to accept that he is gifted and should be in higher level classes. People talk about homeschoolers being able to work at a customized level, but then they apply restrictions that are similar or identical to school. What gives? ~ Frustrated Mom

Welcome to the world of homeschooling, where everyone is scrambling to create the best possible scenarios for their own children and many are trying to create welcoming classes and activities that work for groups of kids and their parents.
First, know that many parents have shared your frustration. Lots of parents start homeschooling because their child is ahead in school but not learning new material or skills, and they look forward to being able to help their child learn at his or her own individualized level. Frankly it is just as much a problem for a child who was behind in school, and the parents find the child doesn't fit grade level expectations for outside activities in the homeschool world or general community.
I am a strong advocate for the point of view that grade level doesn't matter most of the time, but of course an exception is when you are placing your child in an activity or class that uses grade levels or ages to group children or to qualify for participation.
Perception
Let's address a perception problem first. And by that I mean how you as a parent are going to be perceived… Continue reading »
Read the restSave
Save