New Homeschool Planner Pages, Full World History Course, Elections, and More
From the Editor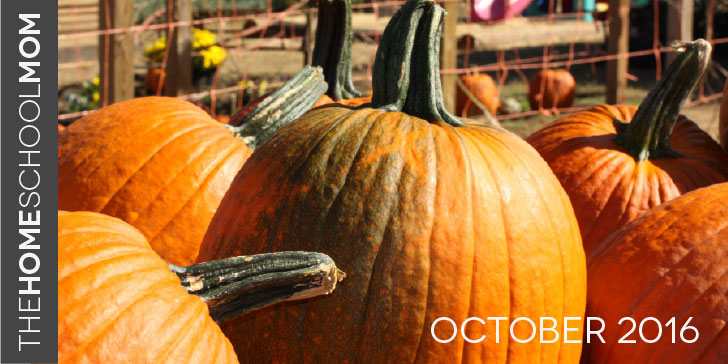 It's finally fall! I've been so ready for my favorite season of the year. I am mixing things up a bit in the newsletter and am featuring encouraging posts from homeschool bloggers among the usual educational resources. Years ago when I started TheHomeSchoolMom, online resources were hard to find and highlighting them each issue was one of our most popular features. Now with so many homeschool bloggers and education websites publishing lesson plans, unit studies, worksheets, and more, there is less of a need for us to find them for you.
My thought is that it would be more valuable to offer a mix of links to blog posts and education resources so that we could focus more on giving encouragement to moms who are overwhelmed, doubting, or just need to be reminded of the bigger picture. I'd love to hear what you want to see from this newsletter – just hit reply and tell me what you think!
In our featured article this issue, Jeanne takes a look at situations where teens are reluctant to attend homeschool activities planned for them and gives some suggestions for improving attendance. Our sponsor, Colonial Williamsburg, has scheduled their 2017 Homeschool Days; Colonial Williamsburg has always been one of our favorite history field trips so be sure to check out whether those deeply discounted admission days would work for a field trip for your family or support group. Enjoy the newsletter!
Warm regards,
Mary Ann Kelley
Editor
Our Sponsor: Colonial Williamsburg

Teaching Calendar
October 12, 2016 — Yom Kippur
October 13, 2016 — Cornerstone of the White House laid – 1792
October 14, 2016 — Martin Luther King, Jr. awarded the Nobel Peace Prize – 1964
October 17, 2016 — Sukkot (Feast of Tabernacles)
October 18, 2016 — Alaska purchased from Russia – 1867
October 23, 2016 — Women's Suffrage March in NYC – 1915
October 24, 2016 — Rosa Parks died this day in 2005
October 28, 2016 — Statue of Liberty dedicated – 1886
Homeschool Links
Stossel Free DVDs for Educators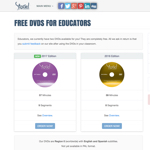 Every year John Stossel puts together a selection of segments from his telvision program for teachers to use. The 9 segments in this year's collection are compiled into a 57 minute DVD (the segments can be viewed online if prefered) and are chosen specifically to "spark thoughtful, engaging, curriculum-driven class discussions." Also offered for free is a downloadable and printable teacher guide (available in English and Spanish). The teacher guide contains "suggested lesson plans, discussion topics, worksheets, and activities".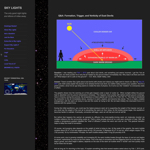 From Dan Heim, the blogger: Sky Lights "is an ad-free website already in use by many teachers and students. I cover topics from astronomy, meteorology, and
earth science. I also take questions from readers. With over 400 posts
to date there's a wealth of information available in the archives, and
more to come. The content includes 2D and 3D animations, slideshows,
and original photos and graphics. Links are included in most posts for
greater depth and further research. I taught science for 30+ years, am now retired, and provide this content gratis." Dan has a page for educators explaining how to best make use of his blog and he welcomes questions.
15 Easy Pick-Me-Ups for Difficult Homeschool Days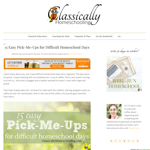 You may have seen our recent blog post about National Curriculum's Not Working Day. Homeschool moms everywhere experience this at one time or other, and whether you are having one of those days or a day where the toilet overflowed and the middle child decided to cut his own hair, this post from Classically Homeschooling has the perfect way to take your mind off of it in this list of 15 pick-me-ups.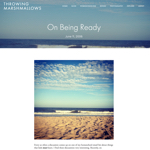 Stephanie at Throwing Marshmallows recently was recognized as having one of the top 100 homeschooling blogs at Healthy Moms Magazine. Her blog is named for one of my favorite quotes by homeschool mom Katrina Gutleben: "Learning can only happen when a child is interested. If he's not interested, it's like throwing marshmallows at his head and calling it eating." I've known Stephanie for over a decade and love her perspective and balance. Her youngest is now a freshman in college, so it's fun to look back over some of her earlier posts knowing how things turned out for her kids. This post from 2006 about readiness is spot on – kids grasp concepts in less time with less stress when they are ready. If you are at a brick wall with a particular skill, take a look at On Being Ready and consider what it would look like if you backed off on that skill.
Our Sponsor: Time4Learning
When you homeschool with Time4Learning, the possibilities are endless. Our flexible, easy to use Prek-12th grade curriculum instills a can-do attitude towards learning in your children while allowing time to pursue their passions and dreams.

Time4Learning is an award-winning, comprehensive curriculum that includes over 3,000 interactive activities in math, language arts, science, social studies, and starting this year, foreign languages. Parents have access to lesson plans, homeschool resources and an automated system that takes care of grading and recordkeeping.

Visit www.Time4Learning.com to learn more.
Recent Blog Posts
Homeschooling Middle School: 8 Ways to Motivate Young Teens
There is no doubt that middle school students can be difficult to engage at times, and this can be especially true for home teachers who are also parents. Middle school aged students are holding on so fiercely to their newly discovered independence, and at the same time they need some guidance while they learn to develop their own thoughts and opinions about the world around them. As your child's home teacher, you have the difficult position of being both the parent and the educator of your child who is quickly learning to assert themselves. Learning with middle school age student might require a shift in thinking and planning for the home teacher, but it can also be the start of a new dynamic in your homeschooling relationship. Continue reading »
Fun Ways To Teach Parts of Speech
Learning does not have to be boring. Hands-on, active lessons are best for engaging the child and for memory retention. Below are five fun activities to teach the parts of speech. The 9 Parts of Speech: Before participating in any of the activities, review the following parts of speech with your student. Continue reading »
Can Your Child Rhyme? Understanding Phonological Awareness
What is Phonological Awareness? Phonological awareness is an important skill in learning how to read. Simply put it is the ability to distinguish sounds within words when heard in spoken language. For example, a child who has developed phonological awareness skills will be able to rhyme, distinguish individual sounds within a word, beginning sounds and Continue reading »
The Truth about Attendance at Homeschool Activities for Teens
"We offer homeschool activities for teens, but they don't come."
If this sounds like your homeschool group, you are probably wondering why teens aren't interested in attending your events. Many groups are sincere in wanting to offer activities for older homeschoolers, and want to figure out why it's not working.
As someone who has created multiple homeschool groups and co-ops in the many communities where we have lived, I have a few ideas about some of the reasons that may contribute to low attendance by teens. Continue reading »