Doubting Dads, Teaching Copyright, Career Readiness, Homophones, and More
From the Editor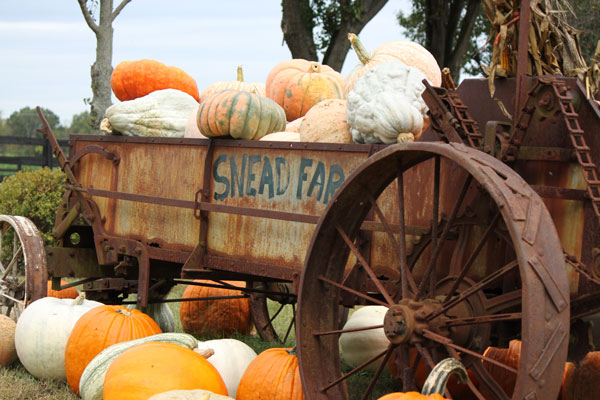 Each October our family spends an afternoon at Snead's Farm, a local pumpkin patch, asparagus farm, and Christmas tree farm. We enjoy the zip line, fields of sunflowers, swings attached to long ropes hung from the barn rafters, and lots and lots of pumpkins. This is the first year that our children's adult responsibilities and busy schedules might prevent all of us from spending this traditional day together. Last year when we were enjoying our day together, it didn't occur to me that it could possibly be the last one with all of us there. Traditions and family time are an important part of our kids' stories — make the time for them while you can.
Enjoy the newsletter!
Warm regards,
Mary Ann Kelley
Editor
Teaching Calendar
October 18, 2015 — Alaska purchased from Russia – 1867
October 23, 2015 — Women's Suffrage March in NYC – 1915
October 24, 2015 — Rosa Parks dies – 2005
October 28, 2015 — Statue of Liberty dedicated – 1886
October 31, 2015 — Nevada Admission Day – 1864
November 2, 2015 — North Dakota Admission Day – 1889
November 2, 2015 — South Dakota Admission Day – 1889
November 3, 2015 — Election Day
November 6, 2015 — Abraham Lincoln elected – 1860
November 8, 2015 — Montana Admission Day – 1889
November 11, 2015 — Veterans Day
November 11, 2015 — Washington Admission Day – 1889
November 11, 2015 — WWI Armistice Day – 1918
Educational Resources
Joy at FiveJs.com has been working on a list of homophones for almost 30 years (the story behind the creation of the list is worth reading) and she has newly updated it. It now has 1,683 sets of homophones and a downloadable PDF. Printing the PDF file and highlighting each pair as it is used/discussed would be a useful ongoing process for homeschoolers.
With easier access to resources online, students need to understand the restrictions and permissions granted to them under copyright law. Beyond educational use, students will be expected to have an understanding of copyright as it applies to them in the workplace as well. This website from the Electronic Frontier Foundation offers an "honest, accurate, and balanced curriculum that would help students understand and exercise their digital rights and responsibilities. Working with educators from around the country, [EFF] aimed to design a fun and flexible plan that would not just provide information, but also help foster basic skills in research, writing, and critical thinking." This high school level resource includes the following: "the history of copyright law; the relationship between copyright and innovation; fair use and its relationship to remix culture; peer-to-peer file sharing; and the interests of the stakeholders that ultimately affect how copyright is interpreted by copyright owners, consumers, courts, lawmakers, and technology innovators."
Free Job Readiness and Career eBook
This 146 page resource will introduce the life skills youth job and career excellence. Job applications, interviews, resumes, career planning, and success on the job are just some of the topics covered in this downloadable file that includes forms and practice sheets. Additional resources are available for a fee on their website.
Recent Blog Posts
I am Homeschool Mom. Watch ME Change
You might have seen that the publisher here at TheHomeSchoolMom memed a couple of my sentences: I am Homeschool Mom. Watch Me Change Stuff. She did that when I designated October 1 as Curriculum's Not Working Day, a holiday honoring new homeschooling parents who are struggling with getting their kids "through" their new curriculum at this time of year. The piece was about homeschoolers' freedom to make changes and do what works, rather than sticking with an arbitrary curriculum. I encouraged parents to think more about how their children learn and to think more about the differences between school and homeschooling. I got a comment on Facebook that stopped me in my tracks. A friend of mine, Heather Jeffrey, a long-term homeschooler, made a quick comment by just rewriting the meme, striking out the last word… Read More…
October 1: Curriculum's Not Working Day
October 1. We shall declare it an annual homeschool holiday. We'll call it Curriculum's Not Working Day — because now we have reached the time of year when so many of the new homeschooling parents who bought curriculum when we said, "Don't buy curriculum yet," are concerned about not being able to get through Read More…
When Grandparents Don't Like Homeschooling
Dear Jeanne,
I have made the decision to homeschool my son again for his 4th grade year. He also has a two-year-old baby sister whom I also intend to homeschool. I homeschooled my son up until 3rd grade, when I made the choice to allow him to go to public school because of personal health issues. Also contributing was the fact that my mother and younger sister would not stop arguing with me about how he needs this that or the other that he can get "more" of in public school, which I knew was wrong, but here I am having this argument again, and I don't know how to deal with them. They have a tendency to be very opinionated — mostly behind my back but in front of my children. I don't want to tell them they can't take the kids anymore, but I'm tired of this! Do you have any suggestions that might help dealing with family that disagrees with you??? PLEASE HELP! Read More…
Instead of Curriculum: Tech with Raspberry Pi
This year as I was making my rounds as a homeschool evaluator in Virginia, I ran across a number of homeschooled kids who were using an affordable mini-computer called a Raspberry Pi in order to do computer projects and learn programming. According to the Raspberry Pi Foundation: The Raspberry Pi is a low cost, credit-card sized computer that plugs into a computer monitor or TV, and uses a standard keyboard and mouse. It is a capable little device that enables people of all ages to explore computing, and to learn how to program in languages like Scratch and Python. It's capable of doing everything you'd expect a desktop computer to do, from browsing the internet and playing high-definition video, to making spreadsheets, word-processing, and playing games. Read More…
Homeschooling With a Doubting Dad
We will be homeschooling all three of our daughters this fall (ages 9, 12 and 17). I am excited and nervous about this new adventure, but my husband still has a lot of doubts that this will work for our family. He recently said "I'll never see you" and thinks homeschooling will take over our life. Are there any resources out there to educate him on the benefits, and to somehow involve him more in this change? Thank you.
Your concerns about your husband's doubts and feelings about homeschooling show you're on the right track. While more and more dads are taking on the role of "primary homeschooling parent," and many other couples are tag teaming the homeschool duties, the dominant homeschooling model is still one where the mom is the instigator, organizer, and implementer of most homeschooling activities.
Depending on how Mom handles this, Dad can certainly feel left out. And, frankly, if Dad is the primary homeschooling parent, the reverse can also be true. However, homeschooling allows for so much more family time than other educational models that, handled well, homeschooling can be a boon to fathers' relationships with their kids and their wives.
First, I think you're onto something. You have heard his concerns and want to take them seriously. I read in your letter that you're getting both his emotional worry — that he'll not see you and lose connection with the kids — and his practical worry — his doubts about the benefits of homeschooling. Try to hang on to this, because he's done a great job of expressing himself, and you're seeing his worries clearly. This is Homeschool Win #1 for your family, because family communication wins are homeschool wins!
You might even write down those two concerns of his and put them on your desk or bulletin board or inside a kitchen cabinet door, so you'll have a reminder of his perspective.
Here I'll address his concern about losing his connection with family.
Read the rest on TheHomeSchoolMom »