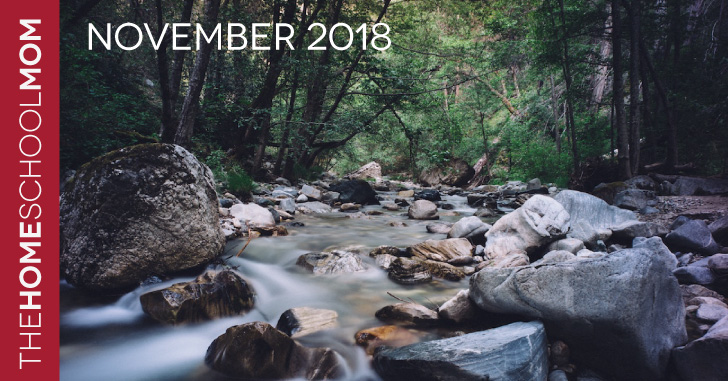 A walk down to the river less than a mile from our house was always a good way to get the cobwebs out of our homeschool days. My three sons and I loved jumping from rock to rock, poking around at the river's edge to see the creatures stir.
On one of our excursions, the boys noticed the crayfish in the water and got especially interested in them. They observed them in the river, took some home to look at more closely, and then they carefully returned them to their habitat. They wondered about their species (probably Appalachian Brook Crayfish), how to tell males from females, what they ate, and how long they lived. This turned into a search for information online and at our library. They used our hand magnifying lenses to get a closer look, and they took pictures and made sketches. They learned how the words "invertebrate" and "exoskeleton" applied to the crayfish.
Had I begun with the definition of invertebrates and asked the boys to list examples, that might have also resulted in learning. But our trek to the river worked the other way: finding something big and working backward until they learned the details. That's whole-to-part learning.
The crayfish encounter also worked because it was spurred on by innate curiosity.
And it also worked because the boys themselves initiated the search for learning more. They were driving the learning experience, though I was right there asking questions, handing out the magnifying lenses, steering them toward resources—without pushing them beyond their natural interest.
And finally, it worked because it was in the context of a positive emotional experience. We were outside, relaxed, doing something we enjoyed doing together.
This was no "memorize-the-parts-of-an-arthropod" lesson I had planned so I could check it off our science standards. That would be a parts-to-whole lesson, in which kids would have learned about crayfish-the-crustaceans by learning about their characteristics.
School tends to use lots of parts-to-whole lessons. Some logical person somewhere logically decided that this linear approach to learning would be a systematic way to work through things people should learn.
The problem is, this is a narrow view of learning. Yes, a logical, linear approach to presenting information will create learning in some of the kids some of the time—but it will not work for all of the kids all of the time. It may not even work for most of the kids most of the time. This means our public education system, with its standards-based parts-to-whole objectives and testing, fails to reach lots of kids.
As homeschoolers, we can let the crayfish that appear in our children's lives do their work. But for crayfish to materialize, we have to make time and space for the riverwalk amidst the mud and rocks. We have to honor learning that's unexpected, messy, out-of-order, and sparked by our children, or we'll squeeze it out in favor of checking boxes in the linear plan, even if little authentic learning takes place.
The crayfish are still there, but nobody sees them.
Many of the strategies that let the crayfish into our kids' lives fall under the category of right-brained learning. While recent science is turning some of the ideas behind brain-hemisphere dominance into myth, the metaphor is still useful.
TheHomeSchoolMom recently revamped its Right-Brained Learning resources, and I think you'll see how the ideas in our articles leave space for whatever big things you and your kids find, along whatever is your river.
Looking forward,
Jeanne
Recent & Relevant Blog Posts
I wanted our homeschool geography study to be something that we naturally discussed in fun and hands-on ways, using a variety of resources. A geography club in the style of the TV show Survivor was greated with enthusiasm.
Continue reading »

Homeschoolers often seek to go beyond simply a festive meal to create a culture within the home that encapsulates a sense of belonging, security, and love. One important way to do this is through creating Thanksgiving family traditions.
Continue reading »

You'd kind of think that I would have this whole Thanksgiving-focus-during-the-month-of-November thing down. But, here I am, already into November, and realizing I'm not prepared, so I turn to ready-to-use Thanksgiving unit studies.
Continue reading »

With the growth of distance learning programs, choosing a provider for this type of homeschooling naturally leads to an increase in questions about accreditation: what is accreditation exactly, and how does it pertain to homeschooling?
Continue reading »
Teaching Calendar
March 1, 2019 — Ohio Admission Day – 1803
March 1, 2019 — Nebraska Admission Day – 1867
March 2, 2019 — Read Across America Day
March 2, 2019 — Dr. Seuss' Birthday
March 3, 2019 — Florida Admission Day – 1845
March 4, 2019 — Vermont Admission Day – 1791
March 11, 2019 — Johnny Appleseed Day
March 13, 2019 — Uranus discovered – 1781
March 14, 2019 — Pi Day
March 14, 2019 — Albert Einstein born this day in 1879
March 15, 2019 — Maine Admission Day – 1820
March 17, 2019 — St. Patrick's Day
March 20, 2019 — Purim begins at sundown
April 2, 2019 — Hans Christian Andersen born this day in 1807
April 4, 2019 — Martin Luther King, Jr. Assassinated – 1968
View the full teaching calendar »
Tips for Homeschooling an Anxious Child (Featured Article)
Homeschooling an anxious child is a common response to the high stakes testing, stressful early academic lessons, bullying, and other problems that may occur in public school. Sometimes this school anxiety manifests itself as school refusal, and sometimes just getting away from high stress situations that cause anxiety is enough; however, for the child who struggles with abnormal anxiety, more may be needed.
Homeschooling an Anxious Child
Get help
Combine homeschooling with professional treatment for abnormal anxiety, which may include

counseling or therapy
stress management
focus on self-care (nutrition, sleep, and exercise)
medication

Consider cognitive behavior therapy (CBT) for your child, which helps many people manage abnormal anxiety.
Seek a counselor or therapist who is knowledgeable and unbiased about homeschooling.
Know that homeschooling brings with it the "Power of Now" – you can do what's right for your child now, even if that means you prioritize mental health over academics.
Find support for yourself, the parent. Friends, books, counseling, support group, online groups. Parenting an anxious child is hard, and you need someone who understands and information about how to do it.
If you remove your anxious child from school to homeschool
Remember, removing a child from a negative school situation may reduce stress and thus lower anxiety, but there may be leftover trauma your child might need help with….
Homeschool Links
| | |
| --- | --- |
| Hour of Code is coming up December 3-9. Plan now to use the resources at the nonprofit Code.org to help kids in your family or co-op learn to code. | Free short videos and lesson plans from PBS, covering math, social studies, language arts, foreign language, science, and more. |
| For a new angle on math, browse Vi Hart's videos on YouTube with your tween or teen to hear and see this mathematician and philosopher's creative thinking. | Teaching Tolerance put together resources for Teaching Thanksgiving in a Socially Responsible way, addressing stereotypes of indigenous people. |