Math, Hamilton's America, Interest-led Learning, and More
From the Editor
We have had a tumultuous and divisive election that culminated in the first steps of a process that – despite our policitical disagreements – gives us hope: the peaceful transfer of power. Let us be kind, strive to understand ourselves and those with whom we disagree, and move forward with civility.
Enjoy the newsletter!
Warm regards,
Mary Ann Kelley
Editor
Teaching Calendar
November 15, 2016 — Lewis and Clark Expedition reached Pacific Ocean – 1805
November 19, 2016 — Gettysburg Address – 1863
November 22, 2016 — John F. Kennedy Assassinated – 1963
November 24, 2016 — Thanksgiving Day
November 29, 2016 — Louisa May Alcott born this day in 1832
November 30, 2016 — Mark Twain born this day in 1835
December 1, 2016 — Rosa Parks Day
December 7, 2016 — Pearl Harbor Day – 1941
December 14, 2016 — South Pole First Reached – 1911
December 15, 2016 — Bill of Rights Day
Homeschool Links
Hamilton's America Streaming on PBS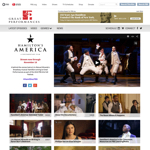 Hamilton has taken Broadway (and America) by storm in a way that no other musical has. PBS recorded a behind the scenes look at the musical as part of their Arts Fall Festival. The 83 minute documentary can be viewed online as well as on the PBS app on Roku boxes, smart TVs, and other streaming devices through November 18. The play features some mature themes and while the documentary does cover basic facts of Hamilton's life, it does so briefly and is focused on the history behind the story and the making of the musical. It features interviews with many of the cast including Lin-Manuel Miranda, the creator.
"…Hamilton's America delves even deeper into the creation of the show, revealing Miranda's process of absorbing and then adapting Hamilton's epic story into groundbreaking musical theater. Further fleshing out the story is newly shot footage of the New York production with its original cast, trips to historic locations, such as Mt. Vernon and Valley Forge with Miranda and other cast members, and a surprising range of interviews with prominent personalities, experts, politicians, and musicians including President Barack Obama, President George W. Bush. Speaker of the House Paul Ryan, Senator Elizabeth Warren, Secretary Hank Paulson, Secretary Timothy Geithner, Questlove, Black Thought, Jimmy Fallon, John Weidman, Nas and Stephen Sondheim."
Build Your Own Inaugural Address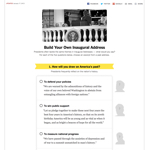 Drawing from wording from actual inaugural addresses by U.S. presidents, this interactive learning activity from the NY Timesallows students to create their own address. It is formatted with 5 multiple choice questions designed to show students how speeches are constructed to elicit specific emotional responses with examples that have varying effects on the listener. This exercise could be expanded with student-written responses, discussions of which answers best serve the country, discussions of the presidents quoted, and more.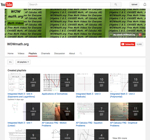 Videos on the WOWMath YouTube page cover the entire year of AP Calculus AB,
the entire year of Algebra 1 & 2 (CA standards),
the entire year of Algebra 2(CC standards). Integrated Math 3 is currently in development.
"There's kind of a holiday about gratitude coming up, in case you haven't noticed. You know that time when you give thanks for all of your blessings? Well, this whole home education list falls pretty close to the top of my gratitude list. The longer I do it, the more I love it, and the more I realize its value…"
Recent Blog Posts
Love of learning. What does that phrase mean to you? When I began homeschooling, I figured my children would naturally love to learn. I would not need to teach them how to do this. Instead, my goal was to fill their minds with as much knowledge as I could possibly pour upon them. My experiences as a public school student and teacher taught me that children could easily make it from K-12 and beyond attaining titles such as "top of their class" without truly learning anything more than how to study, memorize, and regurgitate facts. I was one of those types of kids and I definitely wanted my children to get more than this from their education. Continue reading »
The Truth about Attendance at Homeschool Activities for Teens
"We offer activities for teens, but they don't come."If this sounds like your homeschool group, you are probably wondering why teens aren't interested in attending your events. Many groups are sincere in wanting to offer activities for older homeschoolers, and want to figure out why it's not working.As someone who has created multiple homeschool groups and co-ops in the many communities where we have lived, I have a few ideas about some of the reasons that may contribute to low attendance by teens. Continue reading »
Homeschooling Middle School: 8 Ways to Motivate Young Teens
There is no doubt that middle school students can be difficult to engage at times, and this can be especially true for home teachers who are also parents. Middle school aged students are holding on so fiercely to their newly discovered independence, and at the same time they need some guidance while they learn to develop their own thoughts and opinions about the world around them. As your child's home teacher, you have the difficult position of being both the parent and the educator of your child who is quickly learning to assert themselves. Learning with middle school age student might require a shift in thinking and planning for the home teacher, but it can also be the start of a new dynamic in your homeschooling relationship. Continue reading »
Fun Ways To Teach Parts of Speech
Learning does not have to be boring. Hands-on, active lessons are best for engaging the child and for memory retention. Below are five fun activities to teach the parts of speech. The 9 Parts of Speech: Before participating in any of the activities, review the following parts of speech with your student. Continue reading »
Interested in Interest-Led?
What is interest-led learning, and how can it fit into your homeschooling?
Interest-led learning is just what it sounds like — letting a child's interests lead the learning process.
This means parents take note of what a child is curious about, enjoys doing, and is naturally drawn to. Then parents help a child learn about that interest. Since this may involve field trips, library books, research, projects, and more, there are many academic skills which are practiced, and a lot of content knowledge is learned — just by helping a child pursue specific interests.
You'll also hear it called delight-directed learning, passion-oriented learning, and even rabbit trailing — meaning we homeschoolers follow the rabbit trails of our interests as one thing leads to another.
Use Interests and Traditional Academics
Some families use interest-led learning alongside traditional academics. They work through a curriculum or use their chosen eclectic resources for learning, allowing children generous time and opportunity to pursue interests as diverse as baking, art, sports, music, animals, black holes, chess, Minecraft, money, or Medieval times.
Interests will vary from child to child and family to family. Parents may look for ways the interests can lead to more academic practice or knowledge, such as…