Periodic Table, Maps, Poetry, Curriculum for Active Boys, and More
From the Editor
I'm excited to introduce our newest feature at TheHomeSchoolMom, Ask Jeanne. You may recognize Jeanne Faulconer as one of our regular blog contributors. She is a popular speaker at homeschooling conferences, a former college faculty member, former editor and book reviewer for Home Education Magazine, a long-time editor for VaHomeschoolers Voice, and a recent news correspondent for an NPR-member station.
More than anything, Jeanne is a student of how learning works – at home, in the music room, in small groups, in the college classroom, on the soccer field, and in the car to and from practice. In this new series from TheHomeSchoolMom, Jeanne answers your homeschool questions. You can check out the first Ask Jeanne column (help for teaching spelling) on the website, and the second – curriculum suggestions for the outdoorsy, active boy – is included in this issue. Let us know if you have a question for Jeanne!
Have a wonderful Thanksgiving, and enjoy the newsletter.
Warm regards,
Mary Ann Kelley
Editor
Teaching Calendar
November 19, 2014 — Gettysburg Address – 1863
November 21, 2014 — North Carolina Admission Day – 1789
November 22, 2014 — John F. Kennedy Assassinated – 1963
November 27, 2014 — Thanksgiving Day
November 29, 2014 — Louisa May Alcott born – 1832
November 30, 2014 — Mark Twain born – 1835
December 1, 2014 — Rosa Parks Day
December 3, 2014 — Illinois Admission Day – 1818
December 7, 2014 — Pearl Harbor Day – 1941
December 7, 2014 — Delaware Admission Day – 1787
December 10, 2014 — Mississippi Admission Day – 1817
December 11, 2014 — Indiana Admission Day – 1816
December 12, 2014 — Pennsylvania Admission Day – 1787
December 14, 2014 — South Pole First Reached – 1911
December 14, 2014 — Alabama Admission Day – 1819
December 15, 2014 — Bill of Rights Day
December 16, 2014 — Hanukkah
December 16, 2014 — Boston Tea Party – 1773
December 18, 2014 — New Jersey Admission Day – 1787
Educational Resources
Scholarship Search by Sallie Mae®
"Not every scholarship is based on academic performance or financial need. There are thousands of scholarships offered no matter where your interests lie — from music to community service, baking to martial arts, and much more." Sallie Mae's Scholarship Search has a database of over 3 million scholarships offering up to $18 billion. Create a profile and they will automatically send you email alerts when scholarships that match your profile are posted. You can view the Sallie Mae privacy policy here.
Even students who aren't poetry fans may enjoy this cool way of "writing" poetry. "Using a black marker," Austin Kleon "takes away the words he doesn't need, creating new poetic verses. He has compiled his poetry into a book called Newspaper Blackout and invites others to upload their own blackout poetry on his Tumblr page." Take a look at the examples on the linked page and let your kids try it out. The user submissions on his Tumblr page come from all ages, so if you visit that, preview for appropriateness for your family. Reading through the submissions inspires creativity and may encourage your budding poet to create his or her own blackout poetry.
TEDed, the branch of TED developed specifically for educators, offers this interactive periodic table with a video (approximately 6 minutes each) about each element. Also included is a link to a page with ways to Dig Deeper (for example, one of the Dig Deeper links for aluminum is to a video of aluminium soda cans being tested with both an acid and a base to see what kind of reaction they produce) and a page with examples of products that contain the referenced element and how they are used.
The Arizona Geographic Alliance website features a wide selection of
classroom-ready maps free for download, as well as over 300 lessons and hundreds of map masters to assist
in teaching
geography. The Alliance is funded by the National Geographic Education Foundation (NGEF) and
Arizona State University School of Geographical Sciences and Urban Planning.
Recent Blog Posts
Ask Jeanne: What Curriculum for Homeschooling Active & Outdoorsy Boys?
20 Topics for a Nutrition Unit Study
An Answer For Our Constant Christmas Quandary
Ask Jeanne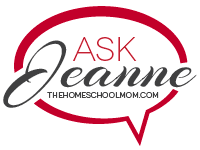 What Curriculum for the Active, Outdoorsy Boy?
We just started homeschooling about a month ago. Our son is in first grade. We purchased the curriculum (here she named a specific well-known Christian curriculum), but it's not going as well as I had hoped. My son really doesn't like the structure of the program. He's a six-year-old boy who loves to be outside. Any encouragement, advice, resources, wisdom, or thoughts would be appreciated! Thanks so much!
It's wonderful that you are homeschooling! Yes, that can be a great curriculum; I am very familiar with it and have used aspects of it. However it is a lot to cover and does not fit all personalities and learning styles.
Truthfully I think that six is too young for a formal curriculum, especially for many boys, and especially with a curriculum that is as involved as the one you mention.
If I were you, I'd try very hard to get to an inclusive homeschool conference (like the VaHomeschoolers conference in my home state), which would be a really good place for you to get a feel for the many different homeschooling approaches people use. These are homeschooling styles, and not all of them involve formal curricula.
Now as for what you can do at home, consider informally putting a plan together yourself or else go with unit studies — your own or those you can find online — or at least consider using a less ambitious curriculum. One good possibility as far as a pre-done unit study curriculum is Five in a Row — but if you use that, I would not feel bound to using it exactly according to instructions because it might drive your busy son crazy. For example, the instructions say something like read the same book each day and do a related activity. Well, my experience is, despite what their FAQs indicate, many kids can't take the "read-the-same-book-each-da
y" part for five days, even though this is a very good program. So, you adapt it. Read the children's book with your son and do activities that appeal to you and you think will appeal to your son, but don't read to him to the point of him being sick of the book, which is counter productive.
Another more relaxed curriculum is Oak Meadow. I have also used this curriculum, though always tweaking it in ways that worked well for us. Here is a review I wrote of Oak Meadow: https://www.thehomeschoolmom.com/homeschool-curriculum-reviews/oak-meadow/
So those are several curricula I'd recommend over the curriculum you chose for a little guy — but overall I'd say — Do What Works! Try living a learning lifestyle.
So living a learning lifestyle means that if you have an active busy boy who will play with LEGO bricks and cars while you read good books from the library for a bit each day, then do that. Have him cook with you. Make things with him. Take him for long nature walks and collect things along the way — a fallen bird nest, a red leaf, a locust shell — and arrange them on a nature table and talk about these treasures. Supply him with a magnifying glass and a bug book so he can look at the details of the locust. Set up a bird feeder and feed the birds, with a bird book and binoculars right there at the kitchen table, so you model looking things up for him. Sketch the birds or color pictures of the species you find. Go to the play ground, ostensibly to see if you can "also" find cardinals there — but really you are also letting him run off more steam.
In other words, I think that with a six year old energetic boy, mainly you want to live with him and do things to encourage and engage him. Take walks and skip count. Let him count and sort Daddy's socks. Read little readers about math concepts (see www.LivingMath.net) Go to the library. Go to a play or music performance. Take field trips. Make art. If he likes animals, do an animal "unit study" and let that be science. If he likes robots and electricity, make that your unit study and let that be science. The Radio Shack guys gave me great guidance on what supplies we needed to build a little circuit board for the guys to play with, or you can buy electronics kits for kids.
Here is an example of something I wrote about a kind of "live and learn" project I did with my children, Creating a Calendar with Children.
Note the tone of this article — which is that it is about doing as much as the child can tolerate in one day – not as much as possible! The idea is creating engagement.
Here are a couple of relevant articles that will help you explore these ideas more:
I think if you take some of these ideas into consideration, you might find your son enjoys homeschooling more. Good luck!
Stay tuned for the next installment of Ask Jeanne — when this same homeschool friend responds that some of the problem adjusting to homeschooling seems related to her previous job — as a public school elementary teacher!

A popular speaker at homeschooling conferences, business groups, and parents' groups, Jeanne Potts Faulconer has homeschooled her three sons in North Carolina, Mississippi, and Virginia. She is a former college faculty member, former editor and book reviewer for Home Education Magazine, a long-time editor for VaHomeschoolers Voice, and a recent news correspondent for WCVE, an NPR-member station. Jeanne teaches writing and literature for her youngest son's homeschool co-op, and she is a student of how learning works — at home, in the music room, in small groups, in the college classroom, on the soccer field, and in the car to and from practice. Holding her Master of Arts degree in Communication, Jeanne conducts portfolio evaluations for Virginia homeschoolers for evidence of progre
ss. To read more of Jeanne's writing, inquire about a homeschool evaluation, or ask her to speak to your group, see her blog, At Each Turn.