Instead of Curriculum, Thanksgiving, Art, Citizen Science, and More
From the Editor
I hope your school year is going smoothly and fall is finding you encouraged and energized. For those encountering rough seas this year, I'll share something here that I posted on our Facebook page a few days ago:
Watching Walking Dead (yes, I'm a huge fan) and there was a quote on a sign in the prison that said 'Smooth seas do not make good sailors.' If your seas aren't smooth right now, know that they are making you a better homeschool parent. Be encouraged… this too shall pass.
We have some great content for you this month, and I'm very excited about our featured article. We've been doing a series on the blog called Instead of Curriculum, and "Citizen Science" fits right in with that theme. Julie West, a science teacher at Oak Meadow, shows you a cool way your kids can get involved with real world science right at home.
Free offer: Do you have a blog? Would you be interested in reviewing Menus4Moms for your readers? Our sister site, Menus4Moms, is looking for bloggers to review our dinner menu plans. If you are interested in trying the dinner menus for free for 5 weeks and posting a review on your blog, just contact us (please include the URL of your blog) and if your blog is a good fit, we'll let you know how you can get started with the menus right away.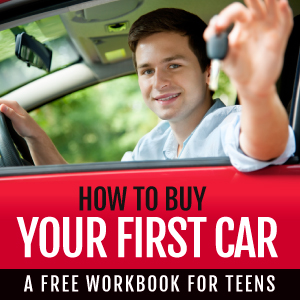 New free download available for subscribers: We offer newsletter subscribers first dibs on our downloads, and we have a new one for you this month. We just put the finishing touches on Buying Your First Car: A Workbook For Teens and it's ready for download. So many resources are for young ages, and we are pleased to offer this fantastic workbook for teens. Buying a car is excellent opportunity to learn how to evaluate any major purchase decision, not just based on the item itself but also on the long term cost of owning the item. The workbook covers both aspects of the purchase and will help teens understand the bigger picture of purchase decisions.
We have a new subscriber download area where you can access Buying Your First Car: A Workbook For Teens, so you'll need to enter the email address with which you are subscribed to this newsletter along with the password morningcoffee to access the download. If you are not a subscriber yet, you can subscribe here.
Have a great month, and enjoy the newsletter!
Warm regards,
Mary Ann Kelley
Editor
Our Sponsor: Beyond Organic
Teaching Calendar
November 2, 2013 — North Dakota Admission Day – 1889
November 2, 2013 — South Dakota Admission Day – 1889
November 5, 2013 — Election Day
November 6, 2013 — Abraham Lincoln elected – 1860
November 8, 2013 — Montana Admission Day – 1889
November 11, 2013 — Veterans Day
November 11, 2013 — Washington Admission Day –
November 11, 2013 — WWI Armistice Day – 1918
November 13, 2013 — Vietnam Veteran's Memorial dedicated – 1982
November 15, 2013 — Lewis and Clark Expedition reached Pacific Ocean – 1805
November 16, 2013 — Oklahoma Admission Day – 1907
November 19, 2013 — Gettysburg Address – 1863
November 21, 2013 — North Carolina Admission Day – 1789
November 27, 2013 — Hanukkah
November 28, 2013 — Thanksgiving Day
November 29, 2013 — Louisa May Alcott born – 1832
November 30, 2013 — Mark Twain born – 1835
Educational Resources
Erin Bittman is a graphic designer pursuing a degree in elementary education, resulting in a blog that is full of unique learning activities presented beautifully. Mostly geared towards elementary ages, the posts are tagged and organized so that you can click on links in the sidebar to view the activities for specific topics. From simple ideas like using animal crackers to illustrate the food web to downloadable worksheets, the site has hundreds of ideas in science, math, art, language, and seasons/holidays.
Thanksgiving Interactive: You Are the Historian
"In this fun, award-winning activity, kids take on the role of 'history detectives' to investigate what really happened at the famous 1621 celebration. (Hint: It was a lot more than just a feast!) Along the way, they'll read a letter written by an eyewitness to the event, learn about Wampanoag traditions of giving thanks, and visit Pilgrim Mary Allerton's home. As a final activity, kids can design and print their own Thanksgiving exhibit panel." From Plimoth Plantation's website, the Thanksgiving interactive also offers a Teacher's Guide (it is readable but does have some issues with the character set not rendering properly). A download of the interactive is also availablenear the bottom of the main page so that you can use it offline.
What to Draw and How to Draw It
This free book download is an easy to use art resource for any age. Similar to the Draw Write Now series in its instruction style, the 78 page publication breaks down drawings into simple shapes that add build upon each other to create more complex drawings. Kids will enjoy drawing the many animals featured, but there are also instructions for drawing people and a few other subjects. You can preview the book online at the link above, then download the file in PDF, Kindle, ePub, or Daisy format.
Our Sponsor: Menus4Moms
Free Downloads With Dinner Menu Plan Subscription

When you subscribe to Menus4Moms, you get Frugal Mom's Guide to Once a Month Cooking AND Bulk Cooking for the Freezer: Ground Beef for free in addition to our 3 Planned Leftover bonus downloads!

The weekly menu plans:

Include well-planned dinner menus for 5 nights
Feature tried and true recipes with grocery lists
Feature full color photos
Take advantage of stocking your pantry, planned leftovers, and cooking for the freezer
Cost less than $2 each week!

Start Your 2 week trial for just a penny »

Your satisfaction is guaranteed.
Recent Blog Posts
Instead of Curriculum: D'Aulaires' Mythology Books
Homeschooling With… Not Just Mom
Fun Fall Homeschooling Activities With Leaves
Featured Article
Citizen Science
by Julie West, Oak Meadow Science Teacher
Citizen Science: How YOU can get involved in real science!
There is a new craze hitting the streets, and hopefully this one is here to stay. It's called citizen science. With the advancement of technology, smartphones, and instant data retrieval and input, it has become easier and easier for "regular" people to do real science.
So much of science research is the methodical, sometimes tedious, collecting of data. When you read scholarly scientific articles and reports, it is not readily apparent how much time went into collecting that data. Not only time, but often infinitely monotonous hours of recording time in seconds, counting, observing, watching, etc. And then sometimes the technology breaks down. Cameras freeze up in the Arctic. Animals shed their radio tags, data cards go bad, or electrical systems short out. My daughter, whose research entails recording whale sounds, had a hydrophone in the ocean for seven months. With excitement, they went to retrieve the appliance, only to find that something had fried inside and they had only three weeks of data. There goes another season!
The fieldwork is the fun part! Now we have to go back to the office or lab, do more observations, and then spend days and weeks at the computer, entering data, collating, interpreting… And then we have to go back out there and do it again, and again, and again, because as any scientist knows, the more samples that are studied, the more validity there will be in the results.
You Be the Analyst
Why not get some help? The old answer was, "because it costs too much, and we have no funding." Now we have a new answer: Yes, let's! There are people everywhere interested in contributing to science, especially if it's made easy for them. With citizen science, it is. Citizen science is rapidly gaining acceptance in scientific circles. Not only do citizens collect and report data, but they are becoming valuable helpers in analyzing the vast amount of data that is now available due to increased technology.
For example, here is a project where you can help identify what is on the ocean floor. We have technology to take millions of pictures, but who is going to look at all these pictures? This is something you can do at your leisure. Read the rest…