Connecting With Your Child, Memorial Day, Free Audiobooks, and More
From the Editor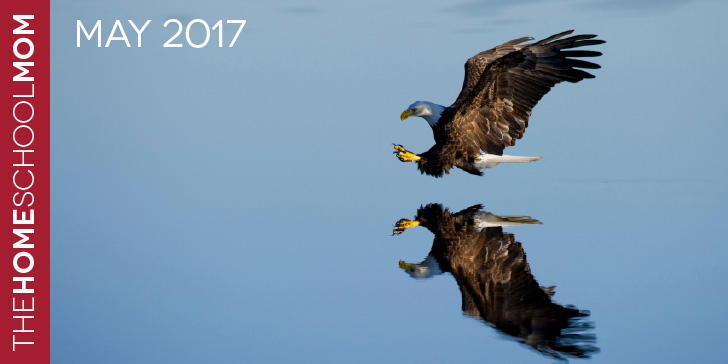 Photo credit: Ray Hennessy at Unsplash
Spring is settling in and Memorial Day is just around the corner with summer on its heels. This month while enjoying the long Memorial Day weekend, you can bring the meaning behind the holiday into your homeschool with the ideas below in under Homeschool Links. It's time for free weekly audiobooks again, and our featured article highlights 12 great ways to stay connected to your kids.
I'd like to welcome two new sponsors this issue, Compass Charter Schools, a charter school offering both online and home study options for California residents, and Guard Up! Family Swordsmanship, an adventure company offering some pretty cool STEM-based summer camps that combine mystery, monsters, and fun education (check out this article on NPR about the camps).
Enjoy the newsletter!
Warm regards,
Mary Ann Kelley
Editor
Teaching Calendar
May 14, 2017 — Lewis and Clark Expedition Commenced – 1804
May 20, 2017 — National Armed Forces Day
May 29, 2017 — Memorial Day (Observed)
June 2, 2017 — Native Americans granted US citizenship – 1924
June 11, 2017 — Great Barrier Reef Discovered — 1770
June 12, 2017 — Anne Frank born this day in 1929
June 14, 2017 — Flag Day
Homeschool Links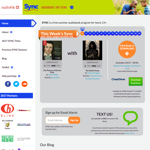 2017 Sync titles are out! Every summer, AudioFile offers two free audiobooks for teens each week. Titles and topics vary and include both fiction and non-fiction. Files are only available for download during the week they are featured. Two deadlines have passed already, but there are still 14 weeks left with two titles each week to download for free. You can see all of the titles by week here, and if you sign up you will get an email reminder each week with the current week's downloads. The free Overdrive player, which has apps for mobile
devices as well as downloads for Windows and Mac, is needed to download the audiobooks.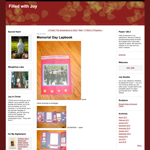 Many children do not know the difference between Veterans Day and Memorial Day. Creating a Memorial Day lapbook like this one from Filled with Joy blog is a great way to let kids research the difference and create a project that they will be proud to display. Lapbooks could include a copy of the poem "In Flanders Fields," a Venn diagram for the characteristics of Memorial Day and Veterans Day, Memorial Day printables from Enchanted Learning, and more. The VA website has resources as well. For older students, there is a moving performance of "In Flanders Fields" by Leonard Cohen on YouTube (visual content for mature audiences). You might consider visiting a National Cemetery on Memorial Day as a tribute to fallen servicemembers to culminate the learning experience. (If you aren't familiar with lapbooks, you can find out more here.)
Angie's Homeschool Day in the Life (with a newborn, 3, & 7-year-old)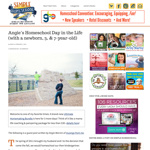 Angie Warren blogs at her own site, but this is a guest post she did at Simple Homeschool. If you are homeschooling with any kind of an unexpected interruption to your daily routine (or even an expected one), Angie's post will encourage you. After making the commitment to homeschool, she unexpectedly became pregnant, then was confined to bed rest. Her tips for not just surviving, but thriving, during times of disruption in the homeschool (or just living in a new normal) are practical and encouraging.
Recent Blog Posts
Homeschooling: You're the Expert!
Have you ever wondered how homeschooling works for ordinary parents? It's true: Most of us do not have advanced degrees in education or child development. Most of us are just ordinary people who went to school like every other kid we knew and never imagined we'd be homeschooling our own children someday. How can an ordinary parent possibly be qualified to be a home teacher? Continue reading »
Adulting 101: Daily Resources for Financial Literacy Month
This calendar for Financial Literacy Month has ideas and activities that will engage and educate your middle school and high school students. These FREE resources can be used sequentially, or you can pick and choose to suit the needs of your students. Continue reading »
Instead of Curriculum: Boomerang Audio Magazine
Those of us who have been homeschooling a while know that sometimes the best resources aren't the newest or flashiest. That's the case with Boomerang Audio Magazine for kids. A big benefit of these audio resources is that kids can be busy doing other things with their hands or bodies while listening. For some kids, this actually enhances learning, because they're not focused on having to keep still, which can take a lot of energy. Continue reading »
12 Strategies for Staying Connected to Your Child
by Amanda Witman (a Living Education Contributor)
As we move through the years of parenting and homeschooling, maintaining our connection with our children is essential. Nurturing this connection is the most important thing we can do as parents. We sometimes hear parents lamenting that they feel they've lost the connection with their child and are not sure how to get it back. Sometimes, especially when transitioning from school to homeschooling, we want to deepen the connection but aren't sure where to start.
How can we as parents invite and strengthen a healthy connection with our children at all stages of development? Here are a dozen suggestions to foster a strong connection with your child:
Listen to your child with the attention and focus you would give another adult. Be fully present – make eye contact; stop multitasking; concentrate on what they are trying to say. Show with your body language that their words and thoughts are your priority in that moment. If they have a hard time getting words out, let them take the time they need, without giving up on the conversation. Attention is a big part of connection.
Let your child take the lead It may mean things will be slower, messier, or less efficient. Give your child the gift of your patience and the opportunity to spread their wings and feel your trust in them. As their confidence grows, so will their effectiveness. Believe in them and they will believe in themselves.
Read the rest on TheHomeSchoolMom.com »